Rihanna x Dior Short Film Sparkles Even More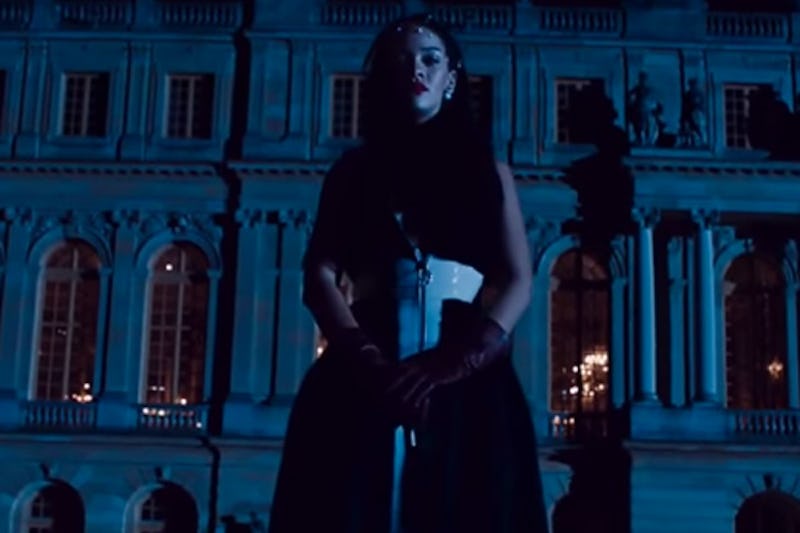 Rihanna dropped her fabulous and fashionable Dior "Secret Garden IV" ad last week, which was a minute or so in length, but the brand has followed up with the extended, four-minute short film. The new Rihanna x Dior "Secret Garden" video spot offers even more sweeping views of her ensembles and of Versailles at night.
It's like a noir thriller, with the camera taking a voyeuristic look at Rihanna as she traipses through the iconic French palace, in heels, in couture, and moving under the cover of night.
There's brand new Rihanna song, which has been reported as being titled "Only If for a Night," featured in the spot and supporting the action.
Dior's official Twitter account shared the full Rihanna x Dior film, which follows what we saw in last week's minute-long ad. It's just longer, more up close, and more expansive.
I appreciate this better look at the sparkly dress that looks like liquid metal painted on RiRi's body. Her gait—make that her strut—is sexier and she is totally sure of herself as she moves in serpentine fashion.
So if you felt like you didn't get enough of Rihanna x Dior before, well, you will get your fill with this short film, which also finds the pop diva walking with a cane.
Let's look at the sparkly dress from all the angles and the other fashions in the film that we didn't get as good of a look at last time.
It's dark at Versailles, but the palace is lit up by Rih's dress and the chandeliers.
Who needs gold when you have silver sparkles?
Notice how high the collar is, hitting her chin? Being totally covered up can be sexy when a neckline mimics a choker.
Is this her best side?
Rihanna was busting a move to her own song while running through Versailles. Where was Louis XIV, or at the very least, where was his spirit?
The dress looks painted on.
That dot on the horizon that is Versailles? That's Rihanna, holding her own.
The previous video clip didn't give this quality of a view of her black dress with the white embellishment. And there's Rihanna acting all boss with her cane.
This is the most badass the "Only Girl In the World" has looked in forever.
Rihanna was also running on the grounds in a white gown, which clung to every curve.
Images: YouTube (11)