Where Is 'Lizzie McGuire's Dad Today?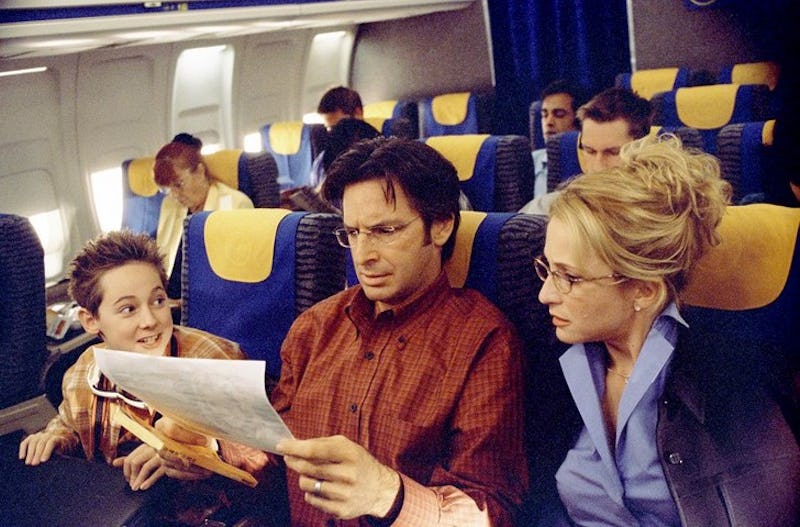 Disney Channel was full of wacky fathers, but perhaps none made quite as big of an impression as Lizzie's dad Sam on Lizzie McGuire . He was goofy, perpetually skeptical of his children, and a fan of gnome painting, which is pretty much everything that a sitcom dad should be. He stood by Lizzie when things got tough (and she was in middle school, so that happened a lot) and happily engaged in Matt's crazy schemes, even when they teetered on the edge of completely ridiculous (which they never didn't). Heck, he was such a loyal dad that he followed his daughter halfway across the world to Rome to make sure she wasn't impersonating a famous pop star. We can thank Robert Carradine for the performance of such an epic dad, but where is this actor today? You might be surprised to learn just how busy this former Disney dad has been.
I knew that Carradine was a big deal in my world, but I had no idea how notable his own family actually was — and I'm not talking about the McGuire clan. Acting runs in the Carradine family. Robert's father is John Carradine, who appeared in films like The Ten Commandments and in the television series The Munsters, and even has a star on the Hollywood Walk of Fame. Carradine also has three children of his own.
You may have heard the 61-year-old actor's name in the news recently for an upsetting reason: In March of this year, he and his wife were involved in a horrible car accident, but luckily, they both survived without any life-threatening injuries. Fortunately, the rest of Carradine's post-Lizzie McGuire days have been filled with exciting acting roles. The Disney series may not have launched his career (that'd be his role in Revenge of the Nerds in 1984), but everyone who grew up right alongside Lizzie will always think of him as Sam McGuire. Here are some notable projects Carradine has worked on since his memorable time on the Disney Channel came to an end in 2004.
Supercross (2005)
You might not remember this movie, but it starred some of your favorite actors of today long before they became super famous. Carradine appeared alongside Channing Tatum, Sophia Bush, and Mike Vogel in this motocross flick.
Hoboken Hollow (2006)
Carradine came a long way from Lizzie McGuire when he appeared in this indie horror flick. Check him out at the 1:15 mark in the trailer above.
Tooth And Nail (2007)
Carradine starred in this movie as a survivor of an apocalypse who must fight off a bunch of cannibals. Also in the flick? Rider Strong, aka Shawn Hunter of Boy Meets World!
Slumber Party Slaughter (2012)
Carradine starred in yet another horror flick as a psychotic strip club patron. Sorry to ruin your childhood with all of these terrifying roles.
Django Unchained (2012)
Carradine made a brief appearance in this Quentin Tarantino movie — check him out at the 0:17 mark in the scene above!
Sharktopus vs. Pteracuda (2014)
Carradine's mad scientist game is strong in this "killer creature" TV movie. You can make watching it into a fun game if you play spot-the-terrible-CGI.
King Of The Nerds (2013-2015)
Carradine returned to his "nerdy" roots in 2013 to host this competition show on TBS, which is currently in its third season.
Check out some photos of the former Lizzie McGuire dad below!
Images: Disney Channel; Getty Images (4)