How To Make Bronzer Out Of Cinnamon & Cocoa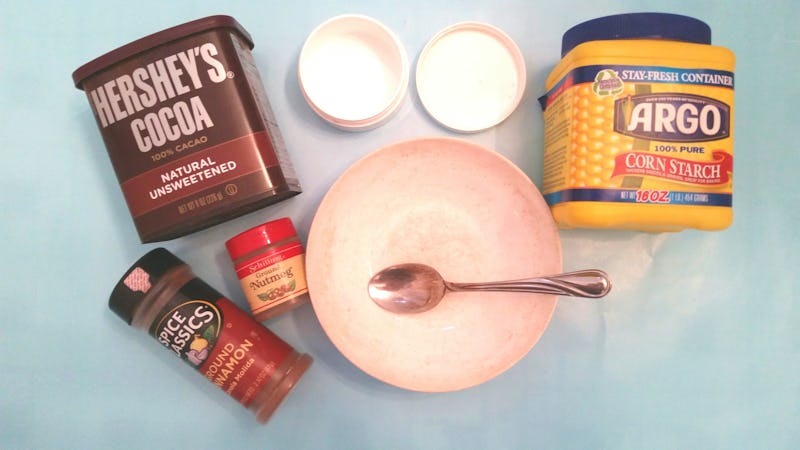 Besides salted caramel ice cream and Netflix staycations, DIY beauty is one thing I really can't resist. Perhaps it's the unhinged creativity that comes with learning how to make bronzer, scrubs, and lotions yourself, or maybe it's the mere fact that you're saving tons in comparison to costly products. Whatever the case may be; cooking up wild and exotic recipes always seems to gets my motor going.
Lately I've been hooked on trying to make my own bronzers, being that those store bought compacts and creams have left me and my bank account on edge. I spend a lot of time online researching kitchen cures and DIY treatments, so chances are, if there's a totally out-there recipe, I've probably already tried it.
Luckily, I didn't have to go far from my own kitchen cabinet to get that decadent bronze, as most online recipes I found recommended using ingredients like cinnamon, cornstarch, nutmeg and cocoa powder. OK, yes this may sound like a concoction from yesteryear's home economics class, but I was surprised to see how natural the cinnamon mixture looked against my skin.
Here's how to whip up your own bronzer yourself, plus tips and tricks on how to get the formula just right.
1. Raid Your Pantry
To get that come-hither color, you want to start first by finding the perfect ingredients inside your kitchen pantry. Most online recipes called for cornstarch and cinnamon, but I definitely wanted to add some nutmeg and cocoa powder for that gorgeous sun kissed glow. Plus, who wouldn't want to smell like cinnamon and chocolate?
To store your product, you'll need a proper storage/mixing container. Feel free to grab an inexpensive mixing jar or bowl at your local craft store. However, an old product jar works well too, as I basically used an old lotion container and got the same results.
2. Mix It Up
Although lots of recipes will give you exact measurements, feel free to experiment with the amounts of ingredients you want for that faux color. It's definitely wise to include a teaspoon or two of cornstarch, being that it keeps your face matte and oil free. But, you can always change up your ratio of cinnamon, nutmeg and cocoa powder need be, depending on the amount of color you want.
Once you've mixed your desired ingredients together with a bowl and a spoon, simply pour ingredients into your storage container, and shake it up for best results.
3. Use Your Brush
A makeup brush is definitely necessary for this application. I love a big Kabuki brush for example, as it gives you that evenly applied look in seconds. Stippling and powder brushes work great too, but for all-over coverage, a kabuki is the way to go.
4. Build Up Your Color
Once you've grabbed your brush, it's important to remember the key to proper application is layering. Unlike liquid self-tanners and cream bronzers, powder bronzers prove to be more build-able, meaning you might have to apply on several coats for that fun in the sun effect.
After seven coats later, I finally got to that warm golden glow i've been waiting for. Sure you may have some spots that don't look evenly blended, but that's totally natural when it comes to all bronzing products. Just be sure to brush out any uneven patches with your brush.
Overall, this DIY cinnamon bronzer recipe is a fast trick that's definitely worth trying if you're feeling crafty. It gives you a dose of natural-looking bronze, but it won't stain or stick to your hands in the process. It may not work as well as your store bought favorites, but it's a valid alternative that leaves your skin matte and smelling like yummy spiced hot chocolate.
Images: Courtney Leiva