Christina's "Ain't No Other Man" Vid Is A Classic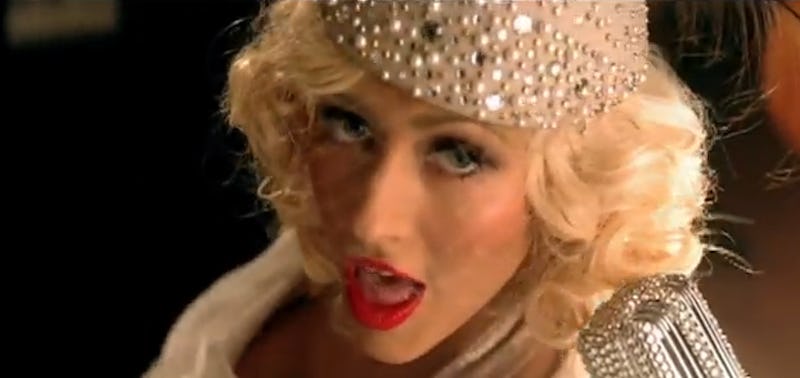 When Christina Aguilera decided to take her music and image Back to the Basics in 2006, not accompanying the singer on her romantic, vintage-inspired artistic journey was simply out of the question. Case in point: Aguilera's video for "Ain't No Other Man," was one of the most vivid examples of her vision as it was totally full of style, soul and sass, and placed an impeccably modernized spin on the '30s and '40s musical era. Just like with her transition to Xtina from the "Dirrrty" era, Aguilera refused to be confined to a singular musical style and image, and I'm sure that all of her fans would agree that, as usual, she looked absolutely awesome doing it.
In rewatching the video, it's obvious why Aguilera's revamped image had me hooked from the start. From beginning to end, the "Ain't No Other Man" visuals are all about the glitz and the glam, elegant costumes, and energetic dance numbers. In fact, I'd rank it as one of her most visually stunning videos to date. Also, it didn't hurt that Aguilera appeared to be having the time of her life filming this video — at least, that's what her million-dollar smiles, upbeat dancing, and incessant hair-whipping suggest.
In case it's been a while since you've watched, check out these nine things you probably forgot about the "Ain't No Other Man" video.
Christina Aguilera As "Baby Jane"
For those who don't recall, Xtina wasn't Aguilera's only alter ego.
This Totally Sexy Intro
Aguilera's dress choreo was on fleek.
The "Singing Into a Brush" Scene
I've done my fair share of using a brush as a microphone, and it never looked this good.
Dressing Room Breakdown
In this moment, Aguilera proves why behind-the-scenes boogeying is an essential part of prepping for a girls' night out.
Bedazzled Headphones
Who else totally wants a pair? They complement Aguilera's bangs perfectly.
These Adorable Twins
How adorable is this kiss-blowing scene? These little guys are too cute for words.
The "Church" Drum
I never noticed this musical accessory until now, but it's a very fitting backdrop for Aguilera's soulful vocals.
This Super Sexy Strut
It's not necessarily a dance, but Aguilera executes this seductive walk like no other.
The Glorious Hair-Flinging
Werk it, Christina.
Now, pardon me while I get into full-fledged seductress mode with a rewatch.
Images: CAguileraVEVO/YouTube (10)