How Can You Ensure Your Clothing Is Fair Trade?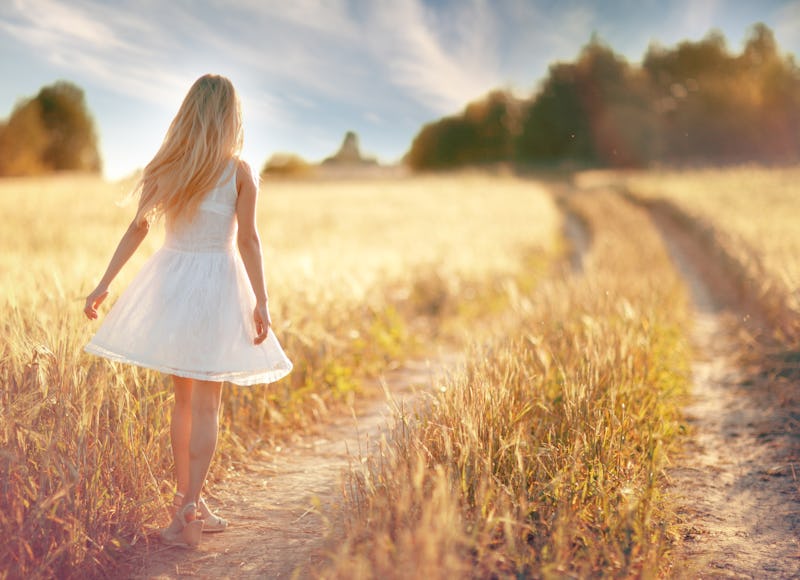 Fair working conditions, safely structured buildings, and worker empowerment are just three of the 354 guidelines Fair Trade USA has structured to rule what makes fair trade clothing, food, home products, and everything else you buy actually fair trade certified. It's a lot more than just calling an article of clothing fair trade that makes it actually free of unfair labor practices. According to Maya Spaull, the director of apparel and home goods at Fair Trade USA and Jenna Larson, senior manager of communications at Fair Trade USA, fair trade clothes or products is much more than sans-slave labor — it's about the workers feeling empowered in their environment.
Recently, I wrote an article about the difference between fair trade and ethical fashion. While I explained that ethical fashion has a pretty broad definition, the meaning of fair trade is understood by 55 percent of America's population, according to Larson. Fair Trade USA is a non-profit organization that uses their profits to teach "disadvantaged communities how to use the free market to their advantage." Essentially, fair trade products are free from social injustice, including but not limited to labor rights, fair pay, and clean and safe working environments.
Five years ago, according to Spaull, Fair Trade USA began looking for the next big fair trade category. Previously, the organization had certified coffee, food, and spices. Spaull began to think deeply about what people are wearing and where the article of clothing is from. Thus, Fair Trade USA enacted the world's first fair trade factory standards, which includes 354 compliance points and is audited every year.
Those myriad of guidelines make the difference between fair trade certified and fair trade. "The words kind of get thrown around a lot. I think its an important distinction," Spaull says. "We want consumers to be looking for something that's ethical or fair trade, so it's a step in the right direction, but if a product is not certified but is being regulated, it can mean so many things."
Only Fair Trade USA can certify products or clothes as fair trade, and you'll see a Fair Trade USA logo on the item if it fits the bill. Not only can brands certify their organization or certain items online through Fair Trade USA, consumers can report companies who claim their products as fair trade, without clarifying what guidelines the brand follows. Instead of shutting down that business, however, Fair Trade USA will reach out to those reported companies and talk about how they are monitoring where their products are coming from and how the brands of the company are transformative to the workers, according to Spaull.
"I think ethical is kind of becoming sustainable. It's becoming so big. I fear consumer confusion. We focus more on verified brands. But it's better than nothing. We have to start meeting people where they are," Spaull says. She's all about collaboration with those companies who really want to meet ethical guidelines, but don't have all the means.
Fair Trade USA will help the companies actually become fair trade certified by helping them abide by the extensive list of guidelines. For instance, West Elm, Patagonia, and OBEY have recently reached out to Fair Trade USA to begin selling products that are fair trade certified. According to Spaull, Patagonia started with 14 fair trade certified items, but now has over 100. And OBEY will begin selling fair trade certified clothing at Nordstrom and American Apparel next fall.
"I love clothes. I love fashion. My mission is to get cute fair trade certified clothes. Let's face it, we've been kind of limping along in this area. We want to get those big brands out there to convert to fair trade. Over the last two years, we've had some really amazing companies join our program. And what's great about these companies is they're going into fair trade really deeply," Spaull tells me.
Beyond cute fair trade clothes, however, it's important to Spuall, Larson and Fair Trade USA that the workers of the clothes we wear and the decorations we adorn in our home are empowered and have a voice in their working environment. Each factory that is fair trade certified has an elected committee that is well-versed on all 354 guidelines and grievance procedures. According to Spaull, if one of the workers has a question or concern about the working environment or pay (which is minimum wage or higher) they have a direct line to management.
Spaull says she has high hopes for fair trade fashion. OBEY fair trade certified clothes is a huge step toward more American citizens hearing about fair trade and understanding it's definition. She hopes the more this term is heard, the sooner fast fashion companies will desire to become fair trade certified as well.
Images: kichigin19/Fotolia; Giphy (2)