'The Voice's Meghan On Her Second Chance In Music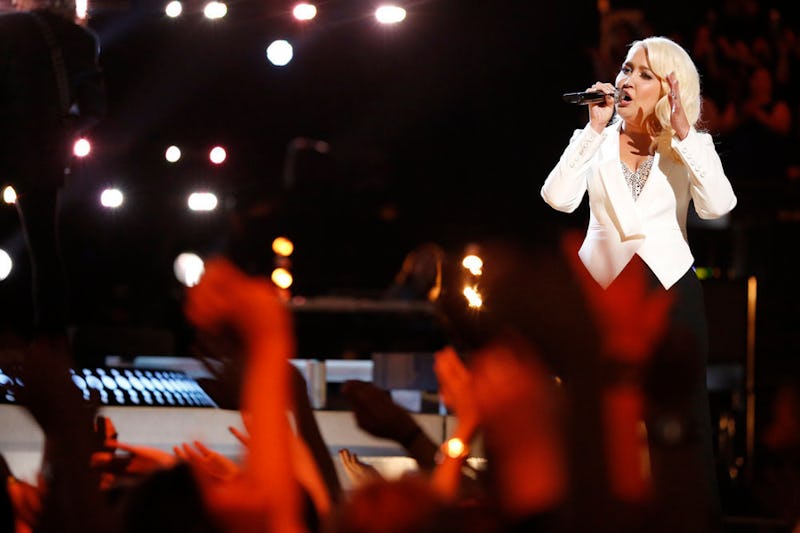 Before she was on the reality show The Voice , Meghan Linsey had found success in the country music industry with fiance Joshua Scott Jones. Together, they were known as the duo Steel Magnolia and they had won the CMT vocal competition show Can You Duet, landed a record deal, and had a hit single. But, after the duo hit the rocks — both on stage and off — Linsey tells Bustle that she was been able to find her voice as a solo artist on Season 8 of The Voice. In the Season 8 finale, Meghan Linsey finished second to winner Sawyer Fredericks.
The Nashville-based singer says that her coach Blake Shelton had given her the mentorship and encouragement she needed, because it's tough out there for a solo artist. "I felt comfortable with him and I feel like he understands — he's been in this industry a really long time and he had done some things that maybe didn't work out as well in the beginning," she says. "I felt like he could empathize with my situation and he was great about allowing me to be myself. He would always support my ideas and that was the biggest thing: Instilling confidence in me as an artist."
But, though she didn't claim the ultimate prize, she left the show with a new outlook on herself and the music world, which is arguably even more valuable. In my interview with the singer she opened up about her past, present, and future, and I think we can expect big things from the talented singer.
Why She Auditioned For The Voice
In 2013, Linsey and Jones' Steel Magnolia slowly began to break apart — first the engagement, then the music duo itself. "We had broken up personally and we had continued to tour together for a couple of years after that," she reveals. "But, during that time while we were touring, I was working on solo music, because I knew we would eventually dissolve the group."
Last year, Linsey started officially pursuing her solo career — and it wasn't easy going from a record deal to funding her own tours. "It's hard to find a first chance and even harder to get a second chance in this industry," she says. "I know people looked at me like 'Oh, she had her chance and she blew it.' When I got the call to do [The Voice], I thought this is the perfect opportunity for me to go on a show like this and really show people who I am as an artist and brand myself as a solo artist."
The Voice vs. Can You Duet
While Linsey had success on two different musical competition shows, The Voice and Can You Duet were very different experiences. "The Voice is a whole different level," she says. "Duet was similar in the format, but it was on a much smaller show and network. I think everything you go through in life prepares you for the next thing."
She counts both experiences as very challenging, but influential to how she approaches her music career. "I think I look at a lot of things differently because I've been on the other side of a record deal and having done some things. I've had to work very hard and crawl my way back from zero to do what I want to do. If anything, it's just made me more of a fighter. I've learned a lot for sure."
What It Was Like To Sing With Kelly Clarkson
In the final moments of the Season 8 finale, Linsey was one of the last two artists standing before Fredericks was announced as the winner, and she was totally calm. "My goal throughout the whole thing was to stay present, in the moment and focused," Linsey says. "I got to the finale and I was so at peace with everything. I think we all knew that the odds were in Sawyer's favor for the win and I'm so excited for him, because I think he's so incredibly talented."
And she certainly did enjoy the star-studded final episode, singing "Invincible" with Kelly Clarkson (above) and "Freeway Of Love" with Shelton. "Getting to sing with Kelly Clarkson on the last night was really special." she remembers. "That blew my mind for sure. And the coach duet with Blake was really fun. That was probably the most fun I've had on stage all season."
Why Her Single "Change Your Mind" Was So Special
Linsey sang this powerful and personal song as her original single in the finale, which she co-wrote with friends Julie Moriva and Dee Briggs in 2008. She had sent it, along with a few other songs, to Shelton and The Voice producers, and Shelton had chosen "Change Your Mind."
"I had been sitting on it for a very long time and I've always known it was a special song. I've had it on hold for major artists and for some reason it never happened or it got cut, so it's just been floating around for a long time," she reveals. "I was really excited that that was the song he picked."
More Music Is On The Horizon
The Voice Season 8 may be over, but Linsey is still working hard on her music. "I've been working on things as the show was moving along," she says. "I've got some stuff already recorded and I plan on getting into the studio on Monday to record some more stuff. I'd like to book shows, be in the studio and write as much as possible."
And, now that she's found her solo voice, I can't wait to hear more.
Image: Trae Patton/NBC