'The Voice's Koryn Talks Life After The Show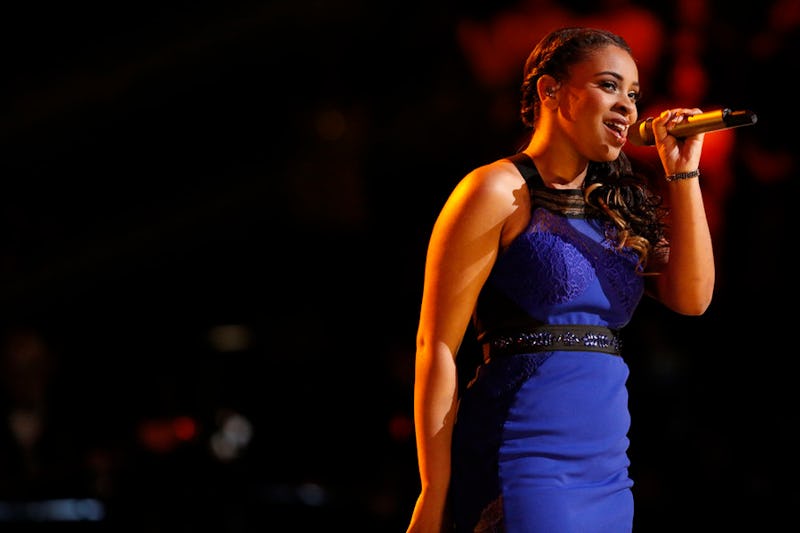 These days, The Voice Season 8 finalist Koryn Hawthorne is no ordinary high school junior. Not only did the 17-year-old singer finish fourth on the vocal competition show, but she has gotten to sing and record with Pharrell Williams. Bustle asked Koryn Hawthorne about her plans for life after The Voice and she has a list — which includes an album, working with Williams, and, well, senior year of high school. "My music is definitely going to continue," she tells Bustle. "An album? Yes. Most definitely. Working with Coach P? Most definitely. The future is looking pretty bright. God has it planned out and I'm excited to see has in store for me. Music is coming."
Fellow teammate Sawyer Fredericks, who was also coached by Williams, went on to win The Voice trophy, but Hawthorne was just ecstatic to make it to the finals. "During the performances for the finale and for finale night, I was in a good place overall," she says. "My whole goal for this entire competition was to make it to the finale, so I had done that. Winning wasn't everything to me. I had accomplished so much throughout this experience and this process, so in the final moments, I was just grateful."
Hawthorne shared more about her experiences on The Voice below.
Auditioning For The Voice
Last year, Hawthorne attended the open call audition for the show after her parents encouraged her to do it. "I've been singing my whole life, so it wasn't anything too new to me, but when my mom told me about it, I was like, 'I don't want to go. They're going to tell me no,'" Hawthorne remembers. "But, then my dad said, 'No, you're going. You're going to audition.' My dad made me go, but once I got there, I was really determined. The train hasn't stopped since then."
And Hawthorne is so glad she did audition. During this season on The Voice, she says she felt like she's grown so much. "I knew that I could learn a lot more from the show, but it's crazy to think about how much I've grown as an artist and a person through this experience is incredible," she says. "There's a lot of things that go into this competition that people don't see — there's a lot of early mornings and late nights, a lot of hard work. I would have never imagined that I could work so hard and be so content."
On Singing Inspirational Songs
Song choice has always been a very important thing for Hawthorne. She says she looks for songs with inspirational messages. Her favorite song from this season was her performance of Ed Sheeran's "Make It Rain" (above).
"It's all about the message in the song," she says. "Most definitely has to be something that I can connect and feel it, as well as someone else can, too. I like songs that talk about things people have been through and talk about coming out of it. I look for inspirational messages overall."
Juggling School & The Voice
Both Hawthorne and Fredericks attended school on set with a teacher named Ms. Wendy, who Hawthorne calls "an amazing woman." And she definitely appreciated having classmates on set — Mia Z also attended class with them before her elimination.
"I think it's cool to have people around you who are experiencing the same thing," Hawthorne admits. "School was still school, but it was harder to be on the show and juggle school. But, I got through it."
Working With Williams On "Bright Fire"
"To be able to be in a studio with him and have him coaching in there — and he's coaching in there, too — I thought it was a cool moment to experience and to go through what he does on the daily. I loved it," Hawthorne says.
Celebrating "Koryn Hawthorne Day"
Hawthorne's hometown Abbeville, Louisiana declared May 6 "Koryn Hawthorne Day" and presented her with the key to the city in a very enthusiastic homecoming celebration earlier this month (above).
And she is still totally shocked about the awesome honor. "The love and the support that I got was really amazing," Hawthorne recalls. "I was so thankful for all the people — everyone came out. The crowds were amazing. I got a day — that's crazy."
And if she keeps exploring her amazing talent, she'll be remembered long after Koryn Hawthorne Day is over.
Image: Trae Patton/NBC