Be A Fashionable Tough Cookie In 'Tank Girl' Style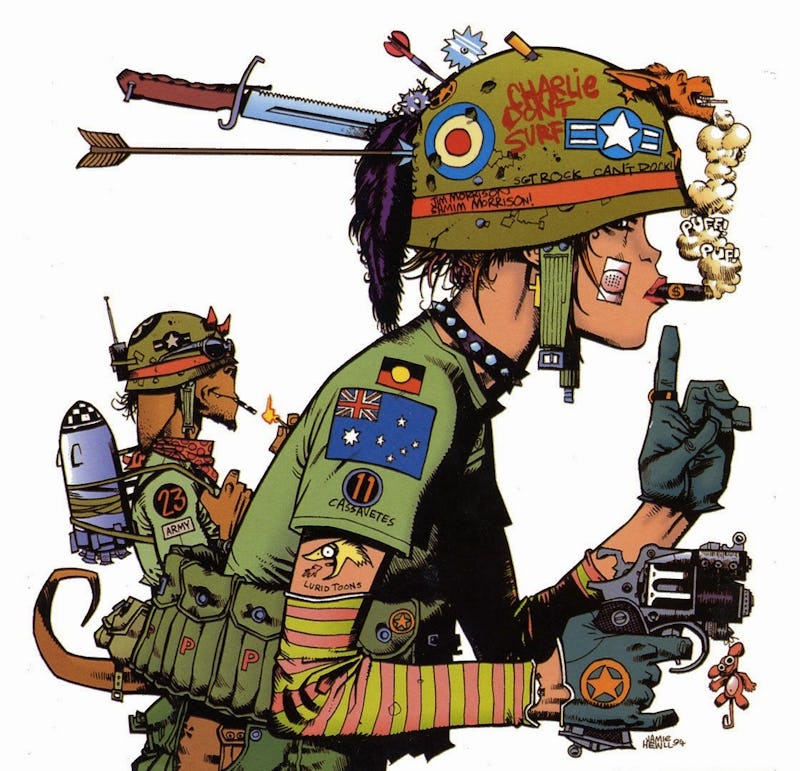 Tank Girl was created by Jamie Hewlett and Alan Martin in the late 1980s. She is a feisty femme who graces the pages of comic books — she had a live action stint on the big screen, too — and her fiery attitude and unmistakable Tank Girl style has become legendary. The Tank Girl comic strip was first seen in Deadline, a British comic magazine. Tank Girl featured in Deadline's debut issue in 1988 and ran through until the magazine finished in 1995. You may recognize Hewlett's later work; after creating Tank Girl he partnered with Damon Albarn of Blur to create the edgy, cartoon band Gorillaz. Due to Tank Girl's infamy, a series of graphic novels was created featuring the cartoon strips seen in Deadline, which soon grew due to its popularity. Tank Girl has been released by an array of publishers and she has been reincarnated by many different acclaimed artists from Ashley Wood to Jim Mahfood.
The plot follows Rebecca Buck (aka Tank Girl) and her misadventures in a post-apocalyptic Earth. As her name suggests, she lives in a tank with her mutant kangaroo boyfriend. Buck was a bounty hunter, but after a series of mishaps she now has a price on her own head. IMO, Tank Girl is the rudest, crudest, baddest girl you will ever find in a graphic novel.
In the early days, it appeared Tank Girl became a feminist icon for being what some may consider the cartoon poster girl for empowering women of the punk/indie rock movement. During an interview with FA The Comiczine, creator Alan Martin spoke to Nevs Coleman and his audience about his future work. One such guest, Kitty Stryker a "third wave feminist/riot grrrl from an early age," discussed the influence that Tank Girl had upon her as she was growing up. "Tank Girl really spoke to me as an icon. Her ownership of her sexual desire was clear to pre-teen me, as was her kickass attitude." However, she argued the counter opinion that "there's been a lot of debate whether Tank Girl is, in fact, feminist, or if she's a violent, self-centered hedonist."
Creator Alan Martin concluded, "The bottom line is she's not real, she's a fictitious, psychotic anti-hero, and behaves accordingly." So why not take some kickass styling tips from the cult, punk icon herself and throw out some fun, riot grrrl vibes while you're at it? Let us delve into the wardrobe of Tank Girl in her original, illustrated form (as apparently the movie adaptation was quite a flop, so we'll just brush that one under the carpet and scurry on swiftly).
1. Military Inspired Apparel
Obviously with Tank Girl's background in bounty hunting and now with an expensive price on her head, you'd think she'd need a bit of camouflage to stay hidden from her enemies. Although the rest of her clothes are usually so crazy and quirky you can see her from a mile off, so I think she probably likes camo-style pieces more for the androgynous, military vibes they exude. Plus, she is one tough broad so she'll most likely want to portray a valiant image.
Camo Print V-Neck Tee, $11, Wet Seal
Cut-Out Military Dress, $68, Top Shop
Black Bullet Belt, $21, Hot Topic
Camo Print Utility Vest, $37, Wet Seal
Utility All-in-one, $30, Top Shop
2. Punk Crop Tops
Rebecca Buck never wanted to fit in or be an upstanding member of society. She wanted to do the opposite, live in a tank, and blow her enemies' brains out — yikes! Thus, her rebellious lifestyle is reflected in her punk style clothing, in particular her graphic, often ragged crop tops.
Varsity-Striped Crop Top, $11, Forever 21
80s Stereo System Cropped Half Shirt, $10, Etsy
Oh Please Crop Top, $9, forever21.com
Darcey Elastic Hem Mesh Crop, $16, Boohoo
90s Acid Trip Smiley Face Shirt, $23, etsy.com
3. Edgy Bikini Tops
As a bit of an exhibitionist, Tank Girl loves showing off her assets. What better way could she do this than by wearing what is arguably one of her most iconic garments: the bazooka bra? Seen throughout her depictions in all kinds of bikini tops that draw the eye to the nipple, I think Buck would have been a huge supporter of the Free The Nipple campaign.
Wildfox Totally Rad Bikini Top, $118, ASOS
Skeleton Hands Swim Top, $20, Hot Topic
PVC Bondage Bra, $60, Etsy
4. Short Shorts
Tank Girl is almost always seen in short shorts. From denim to camo to cycling shorts, it appears this chick is the ultimate make do and mend queen, compiling outfits from found garments from across her post-apocalyptic world and styling them to fit her.
Asos Curve Raw Hem Denim Short In Khaki, $54, ASOS
Intrepid Adventurer Shorts, $35, Modcloth
Anabelle Faux Leather Runner Shorts Black, $16, Missguided
5. Clodhopper Boots
As with her shorts, Tank Girl is regularly seen in her stomping, black boots. These boots show she's ready to take on the world if she must.
1B60 Boot, $180, Dr. Martens
Alexander Wang Frankie Black Creeper Ankle Boots, $307, Rokit
Demonia By Pleaser Concord Platform Wedge Boot, $114, Hot Topic
Whether you decide to go all out tough cookie or just fancy a sprinkling of Tank Girl style, make sure to finish off your outfit with a riot grrrl attitude!
Images: Deadline Publications Ltd.; DC Vertigo Imprint; Penguin Books; IDW Publishing; Titan Books; Courtesy Brands