Fox Inspired Fashion For Urban & Rural Vixens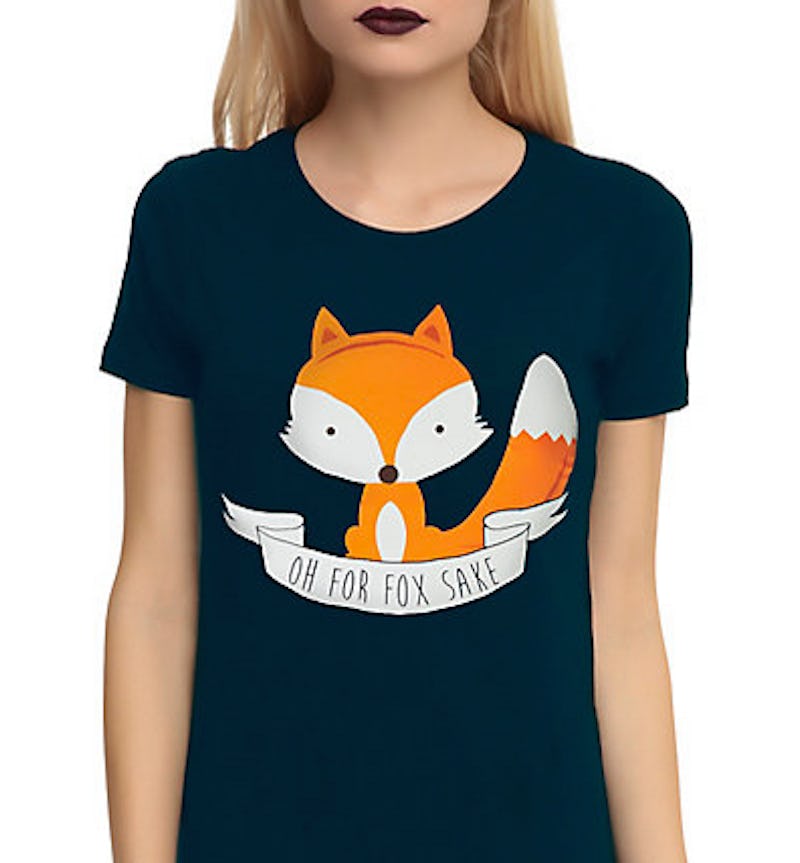 Foxes are such beautiful, clever animals and in my eyes it does not make sense that humans should wish to hunt them. Being an English girl, to me the fox is part of British heritage, so I wanted to celebrate this gorgeous creature with fox inspired fashion.
The entire fox hunting debate really baffles me. I don't truly understand why you would want to chase after a magnificent beast on horseback with a pack of hounds who are ready to tear up the glorious yet terrified animal on your command. Is it the tradition? Perhaps hunters feel that their "sport" is as much a part of British heritage as the fox itself is? I have heard foxes can be quite pesky for farmers; killing their animals and causing a bit of mischief. But really, is that reason enough to unleash your pent up wrath on foxes by outnumbering them with a bunch of trained dogs that will inevitably rip the foxes to shreds? I do not think so.
Neither does comedian and animal rights activist Ricky Gervais. Gervais has taken to the Twitter-sphere to be the voice of the foxes. His Tweets are not only informative but they also come with lashings of dry wit — there couldn't be a better defender of the foxes than Gervais.
For the benefit of readers across the pond who may not know the goings on of little old England, we recently had a change of government. With that change of government came the threat of the possible abolishment of the fox hunting ban. I don't know about you, but to me this appears to be a step backward rather than forward. So in honor of the wonderful foxes out there, here's a stylish homage to the fox — because they need all the support they can get.
1. The Witty Fox Tee
Oh For Fox Sake Girls T-Shirt, $18, hottopic.com
A super sweet tee that will make hearts melt while showing a subtle nod to your support of foxes.
2. The Subtle Foxy Cardigan
Maison Kitsuné Shiny Metallic-Paneled Wool-Blend Cardigan, $225, net-a-porter.com
If orange is not your color or you fancy yourself as a Pink Lady, wear this cute cardigan and show off your fox "badge" with pride.
3. The Faux Fox Stole
Hand Knitted Fox Collar, $21, folksy.com
Poke fun at real fox fashion in this charming, knitted, fake fox collar.
4. The Animal Friendly Fox Print Dress
Jackie Dress In Fox Print, $198, vautecouture.com
One of my new favorite brands, Vaute Couture is an awesome vegan label. Show your love for our furry friends with a clear conscience in this delectable Jackie Dress.
5. The Red Fox Ring
Red Fox Ring, $54, goodafternine.com
As a huge ring fan, I was flying on cloud nine when I discovered quirky jewelry brand Good After Nine. It creates a ton of really interesting, whimsical pieces and you can shop for items suitable to wear for day, night, or 24/7. I literally want to start a Good After Nine ring collection because they're so cute and you could wear a different animal to suit every occasion! The fox ring is also available in white as the "Snow Fox Ring" and it is equally beautiful.
6. The Faux Fur Coat
ASOS Vintage Faux Fur Coat, $89, asos.com
Show the world your compassion for all of the creatures of the Earth by wearing a faux fur coat. This particular color has a really foxy feel to it. Pair with your favorite 1950s style tea dress to become a true vintage vixen.
7. The Foxy Lady Panties
Panties With A Fox Face And Ears, $44, etsy.com
In the words of Jimi Hendrix, "You know you're a cute little heartbreaker!" If you're going to leave a trail of broken hearts behind you, you may as well do it in style! Plus, these knickers are adorable! Panties with ears... Need I say more?
8. The Smart Fox Shirt
Long Sleeve Fox Print Shirt, $111, notonthehighstreet.com
We all know foxes are clever, so why not dress appropriately in this smart shirt? Show your true, quirky personality at the office and if all else fails, at least it will be a great talking point!
9. The Foxy Bikini Bottoms
Love Fox Lace Bottoms, $98, freepeople.com
These red hot bikini bottoms will make sure you look sizzling by the pool. They have the cutest embroidery all over them which looks like autumn leaves and is reminiscent of a fox's woodland home.
Images: Giphy; rickygervais/Twitter; Courtesy Brands