10 Gorgeous Holiday Party Ideas for the Overworked and Underpaid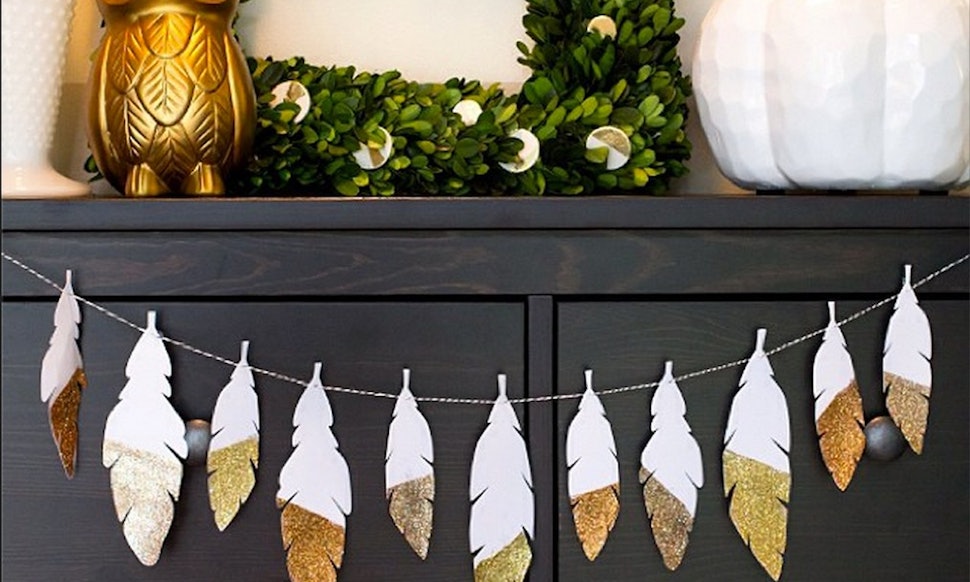 You know the drill: it's Friday, you've worked 50 hours in the last five days and you've already blown most of your paycheck on $14 cocktails and $25 Pilates classes (worst of all, maybe they canceled each other out?). The classy-casual holiday soiree you invited all your pals to is...oops...tomorrow, and...double oops...you've done zero prep. Quick! Haul that sequined dress to the dry cleaners and meet me back here for 10 easy (and easy-on-the-eyes) party ideas for hostesses low on time and cash.
Image: Sarah Hearts
Tomato Stand Christmas Tree
Umbrella Chandelier
Simple Cocktails
Want to serve something that looks fancy but takes moments to mix up? Stick to cocktails with just two or three ingredients, like a Kir Royale.
Image: vinicoelhoc/nstagram
Ribbon Garland
Feather Garland
DIY Candy
Making candy can seem intimidating, but in most cases it takes less time than baking some plain old cookies. This peppermint bark recipe from Baked by Rachel only requires chocolate, vegetable oil, a little peppermint extract, crushed candy canes, and your microwave/refrigerator.
Image: Baked by Rachel
Ball Jars
The Ball jar trend isn't going away, nor do we want it to because these guys are both cute and super cheap. Buy a batch in bulk and use them to serve cocktails, hold candy, or make your own holiday candle holders.
Image: palmwinestore/Instagram
Easy Wreath
Use some extra fabric to throw together a couldn't-be-easier no-sew DIY wreath.
Image: diydecor/Instagram
Natural Centerpieces
The number one rule of decorating on the cheap: use as many free things as you can. Don't be afraid to get outside and grab natural ornaments like twigs and pinecones (just be sure to bake the things you bring in to avoid bugs).
Image: gemsmama/Instagram
Glitter Branches
Another free thing? Branches! Spray 'em with some glitter paint, pop 'em in a vase, and call it a day. Phew.
Image: laliefauxreal/Instagram