Plus-Size Model Velvet D'Amour Talks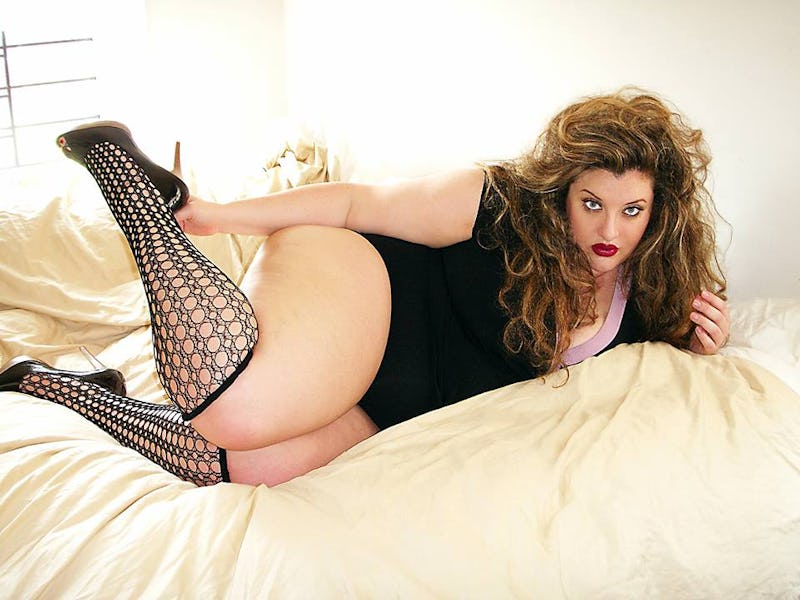 Standing at 5'8", wearing a size 26, with massive blue eyes and voluminous, curly blonde locks, Velvet D'Amour is a force. Not necessarily because she's big. Not necessarily because she's tall. But because she radiates passion — the kind you just don't come across often unless you're in an über-creative environment. D'Amour presence says she has a story; you know she's seen and done things, and isn't shy about sharing.
At 46, Rochester, N.Y. native D'Amour is most widely known for her modeling. She penetrated the world of haute couture fashion as not just a plus-size model, but a "super plus-size model" (someone well above the standard size 10 to 16 of plus-modeling), walking the runways of both Jean Paul Gaultier and John Galliano at 38 years old and 300 pounds. "It was a gift from the world," she tells Bustle in an interview.
Most people who know D'Amour's name will recall a photo of her that went viral in 2007, in which she wears a tight-fitted, red t-shirt with bold letters that read "Please Feed the Models." Contrary to the accusation that she was "dissing" straight size models or thin women, the shirt came about as a reaction of the death of two Brazilian models — sisters Eliana and Luisel Ramos— who battled bulimia and anorexia. Luisel literally died on the catwalk of a heart attack while Eliana suffered a similar fate six months later. "Everyone was saying I don't belong on the runway because I promote obesity," she says. "But I have no high blood pressure, no cholesterol. So the shirt was actually a personal dedication to the girls literally dying from eating disorders."
D'Amour has been in love with fashion since childhood, during which she would look at 1940s photos of her parents (her mother is one of D'Amour's style icons) and dream of being a fashion illustrator or designer. "I became obsessed with the more eccentric styles, and my mom would always say that eventually my tastes would 'mature,'" she says.
But because the illustration field was dying out, D'Amour turned to artwork, photography, and performance arts. She moved to Manhattan to study at the School of Visual Arts, and suddenly everyone was asking whether she was a model. "They'd say you have the face of talent," she says. But weighing 140 pounds in the 1980s, she was far too big. "At the time everyone was completely coked up and maybe 99 pounds," she added. "So I went down to 117 and they said I was still too fat."
Instead she focused on her photography, even spending a year studying in Italy under American photographer James White. "He just gave me a key to the darkroom and I was able to cultivate my talent," she says. Upon returning to New York, D'Amour began delving deeper into fashion photography, shooting stylites and Wilhelmina girls. But it was when the first French plus-size agency opened, Agence Plus, that then 38-year-old D'Amour got her big start. "I showed them my photography so they'd get a feel for my talent," she says. "But I also included photos of myself so they could see I was a plus-size woman, and they said, 'Well, we want to sign YOU.'"
She went on to play the lead role in Avida, a dark comedy about the kidnapping of a billionaire's dog by a deaf mute and two ketamine addicts. Then came the John Galliano runway and the Cannes Film Festival and Jean Paul Gaultier and Tribeca and Celebrity Farm. And now Volup2 .
Through working in fashion, D'Amour has some big thoughts regarding the current status of modeling in the industry, and the changes she would like to see happen. "The women we hold as icons of beauty are not happy. And if they're not happy, who is happy?" she says.
This is the thought that spurred D'Amour to want to represent women who are different. "All the images that are out in the media were the same — the 16-year old white girl who is totally emaciated," she says. "And [she's] beautiful, but she's not the only one." Mixing together the artistic aspect of her performance art from college with her own personal body struggles, D'Amour decided to create an image so unique, so sexy and bold, that people couldn't ignore it.
And in Feb. 2012, Volup2 was born. A publication for all kinds of beauty, looks, and bodies, D'Amour's photography-centric magazine is her main focus. D'Amour approaches the publication with a raw angle, taking a grittier, more inclusive approach to her photography that many mainstream publications won't — and it's been integral to the online magazine's vast readership. "Older women are excluded from fashion. Different ethnicities are never shown. I felt it would be cool to showcase the people that fashion left behind," she says. But D'Amore features mainstream models, too.
D'Amour also tries to maintain a certain aspect of global and social awareness through her work. "I'm a drag queen at heart," she says. "But it's a very luxurious, Western culture obsession, and we forget that there are people struggling to survive because we're like, 'Pink or red lipstick?'" Whenever someone is being interviewed for Volup2, the writers ask the source what his or her three favorite charities are, and a percentage of any profit that comes in from ads will go to those charities.
Although Volup2 is still an online magazine, it's marked its place in the media space. Among its most notable releases: summer 2013's the "Nude" issue. D'Amour calls it "a return to the classics — bringing things back to the Renaissance."
"There's no revolution in someone my size being naked," she says. "What was revolutionary about it was the plethora of women's body and the lack of re-touching." There was an honesty to the models D'Amour shot. They were all regular women. They were all "imperfect." D'Amour consciously chose not to hide stretch marks or cellulite, scars or physical disabilities. In the summer season, when all publications are focusing on achieving the perfectly toned, tanned and unattainable beach bod, D'Amour celebrated women's actual bodies.
D'Amour has followed the fat acceptance movement for many years, but she doesn't actually know if "acceptance" from other people should be necessary. "If I accept myself, I give two hoots about it if someone else accepts me," she says. She's surprised, for instance, that so many people want to sue Karl Lagerfeld because he doesn't like fat people — everyone is entitled to her opinion, after all.
"What bothers me is when media only allows one sort of beauty to be perceived as acceptable in order to promote capitalism. Where do drug addiction, alcoholism and bulimia come from?" she says. "From hating yourself — and being told only one form of beauty is right doesn't help that."
D'Amour's ultimate goal through Volup2 is to create diversity in fashion, and through that, to help women love themselves for who they are — not the image mainstream media tells them they should be. It's no surprise that when asked who she would shoot if she could shoot anyone in the world, she says "normal" people.
"The 'average' person is the most extraordinary."
Images: Velvet D'Amour, Frank Antonio, Maya Guez