10 Ways To Instantly Kill The Mood During Sex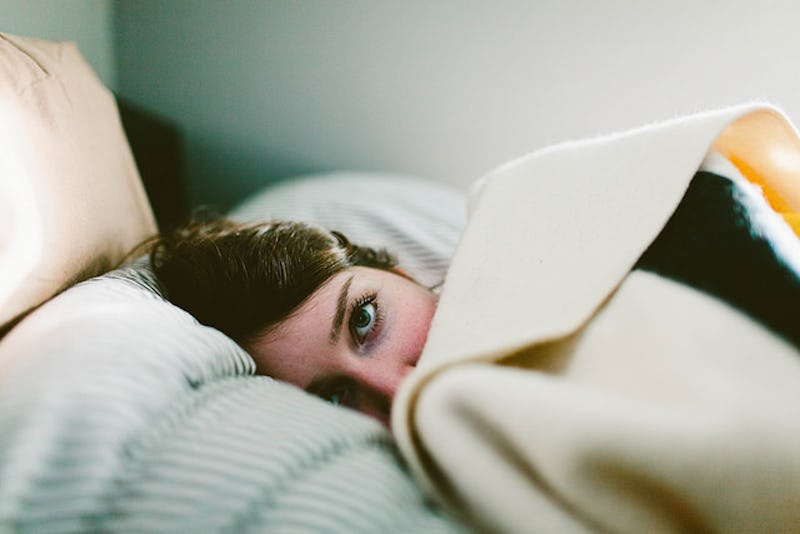 Are you a talker in bed? Personally, I hate silent sex. Like the kind of sex where all you hear is the bed creaking, or the TV going in the other room. I find it unnerving— are they enjoying it? Am I doing something wrong? Are they... dead? Is sex death a thing? It's very stressful. I think it's best to liven things up a little bit. A little moaning, a little dirty talk, that's way more my speed. But in the heat of the moment what seems like it'll be really sexy can often turn into really awkward. We all know about bad dirty talk— I once had a guy tell me he was going to do me with "every inch of his massive c*ck... every last millimeter". Which was helpful, of course, including both the metric and imperial units. I'm American and he's British, after all.
But even without dirty talk gone bad, there are lots of ways saying the wrong thing can ruin the moment. We've all done it. Sex brain isn't the same as regular brain and sometimes the wrong thing just blurts out. So don't beat yourself up about it, but here are ten things that can ruin the moment:
1. "Are you OK?"
Obviously good to make sure that your partner is fine, but nerves can lead to asking over and over over. Mood killer.
2. "Is it in yet?"
DO NOT ASK IT. NEVER ASK IT. Just look or something. Either it's in and you haven't noticed (yikes) or it isn't in but the implication is you wouldn't notice even if it was. It's a big no go.
3. "Yeah." "Yeah." "Yeah." "Yeah."
Okay, I love some good dirty talk, but in my experience bad dirty talk leads to "Do you like that?" "Yeah." "Yeah?" "Yeah." "Yeah?" "YES I LIKE IT OKAY!". Be inventive, try to keep the yeahs to a minimum.
4. "Can you hurry up?"
Shhhhhhhhh... nothing less sexy than being in a rush.
5. Any Adam Sandler movie in the background.
Sometimes you start to have sex with the TV on and then terrible things come on in the background and then you're singing along to "Lunch Lady Land" during sex and you realize nothing about you is worthy of love.
6. Any children's movie in the background.
Okay and sometimes the idea of watching a Disney movie or something seems like a cutesy flirty way to spend some time together and then things get a little out of hand and then you never find out if they find Nemo.
7. "WHAT!?"
A friend once told me he got caught up in the heat of the moment and just kept repeating a girl's name over and over again, thinking he was all sexy like, until she finally yelled "WHAT?!". Whoops.
8. Fake orgasm noises at the wrong time
If you're gonna moan about how good it feels, make sure you're actually feeling it.
If you're gonna moan about how good it feels, make sure you're actually feeling it.
9. "Oops."
Oops!? What's happened? What's gone wrong? Oops is never good.
10. The wrong person's name.
Game over. KO. Might as well pack up and head home.
Want more of Bustle's Sex and Relationships coverage? Check out our new podcast, I Want It That Way, which delves into the difficult and downright dirty parts of a relationship, and find more on our Soundcloud page.
Images: Joe St.Pierre/Flickr; Giphy (10)