Thank Goodness 'Fuller House' Has Aunt Becky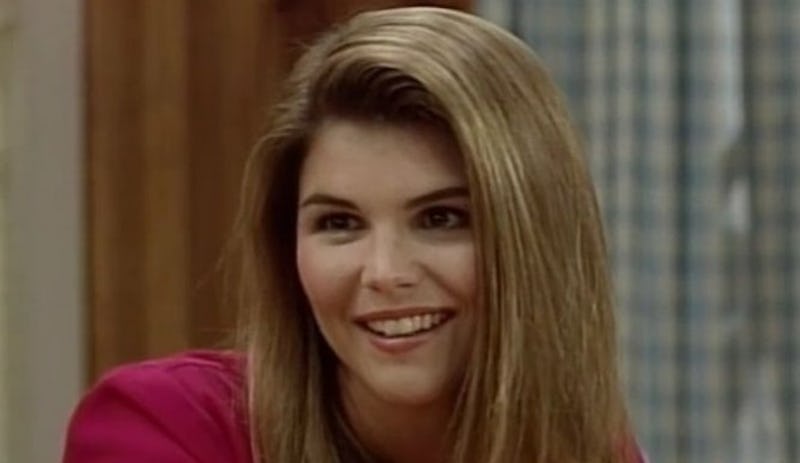 The news that Mary Kate and Ashley Olsen are unlikely to reprise their role as Michelle Tanner, even for one episode of Netflix's Fuller House, was super depressing for Full House fans, but I think Fuller House will be just fine without Michelle. If there was no Aunt Becky, however, then all bets were off. Happily, Lori Loughlin has officially joined the Fuller House cast, which means Aunt Becky will be on hand to help D.J. through the trials of single motherhood, and that she will be reunited with Uncle Jesse. Someone break out the confetti.
Aunt Becky was a vital addition to the Full House cast. Before she showed up in Season 2, D.J., Stephanie, and Michelle were severely lacking in the female influence department. Aunt Becky quickly became someone they looked to for advice on life, boys, and to act as a surrogate mother when they needed one. She was an indispensable member of the family, and one whose absence in Fuller House — especially with Uncle Jesse already confirmed — would have felt out of place. While I can imagine all kinds of scenarios for why Michelle wouldn't come home, there is just no way Aunt Becky wouldn't have her niece's back.
I am ecstatic to see Aunt Becky return, and here's why.
1. She Will Be There to Give D.J. Guidance
D.J. is going to find herself in a truly horrible position at the beginning of Fuller House: alone after her husband's death with two boys to raise. Aunt Becky was there every step of the way to help D.J. through her awkward junior high years as she blossomed into a considerate, smart young woman. There is no reason to believe Aunt Becky ever stopped being a mentor to D.J., so it only makes sense that she would be there to offer D.J. guidance during the most difficult time of her adult life.
2. She Has Experience Raising Boys
By now, Nicky and Alex are grown, so Aunt Becky has been through the trenches of raising boys at every stage, including those dreaded teen years. She will no doubt be full of advice for D.J. on how to keep Max and J.D. on track. As an added bonus, the boys will have lots of trouble getting anything past their Great Aunt.
3. Her Positive Nature Will Keep Things Light
Aunt Becky was always a positive presence in the Tanner home. She had boundless amounts of energy and patience, which made her an excellent aunt. The first season of Full House got dark at times as the family dealt with the aftermath of losing the girls' mom, but Fuller House can use Aunt Becky's happy demeanor to keep the first season balanced.
4. There Will Be an Uncle Jesse and Aunt Becky Reunion
As a Full House fan, there is really nothing I want to see more than what Aunt Becky and Uncle Jesse are up to. They were always such a stable, sweet couple, and their marriage has probably only grown more adorable as the years have passed. Their onscreen reunion is going to be a blast.
5. The More Awesome Ladies The Better
There is no such thing as a show having too many awesome ladies. Aunt Becky was one of my earliest TV role models because she was strong, independent, and had an awesome career. Knowing that she will be joining D.J., Stephanie, and Kimmy only makes me more excited about the revival.
6. An Aunt Becky Career Update is Essential
Aunt Becky gave me major career goals. I want to know how her career played out. Did she stay a morning news anchor? Did she go into print journalism? Write a book? I cannot wait to find out.
7. Aunt Becky Is a Hero
Aunt Becky was my hero growing up for pretty much all of the reasons on this list. She came into the Tanner family and became a source of love and support for everyone before she and Jesse were even married. Now she is going to offer that same love and support to a new generation, and, call me a sucker, but I love when life comes full circle.
Images: ABC (3); unclejesse4everilove, masterjinoras, kelly_underwood/Tumblr