Kristen Stewart's New Movie Looks Pretty Promising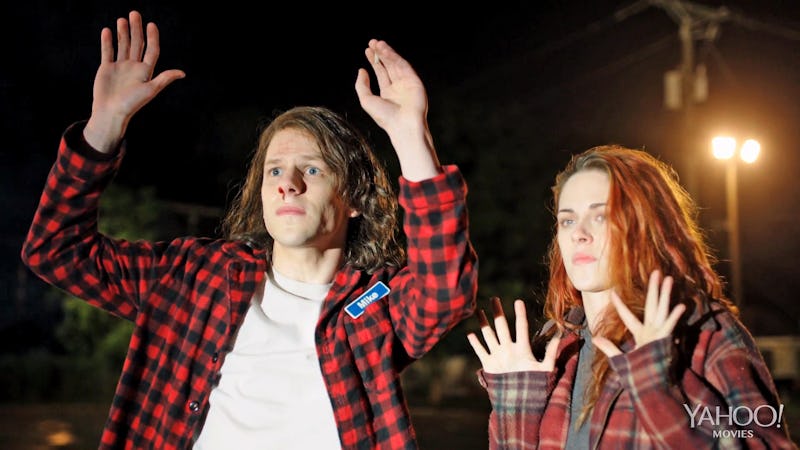 I'm an unabashed Kristen Stewart fan, so I'm basically ride or die for any movie she's in — and yes, that includes Twilight. She's an amazingly talented and versatile actress who chooses interesting and diverse projects and basically, I think she's pretty underrated. All that being said, it should come as no surprise that I'm pretty excited for American Ultra , her new movie with Adventureland co-star Jesse Eisenberg about a "stoned" cold killer. Get it? You will. The red-band trailer popped up online on Thursday, and I think you'll agree, it looks pretty amazing.
Here's the rundown: Eisenberg is Mike, who's basically a trained government assassin that doesn't actually realize it. In his day-to-day, he's a stoner store clerk who's ready to get serious with his girlfriend Phoebe (Stewart). But then something goes wrong and the government's cover is blown, activating Mike's Spidey senses, so to speak, and all hell breaks loose. There'll be lots of pot humor, lots of action, and LOTS of explosions. In other words, it's gonna be awesome — and Kristen Stewart might just get a chance to play one of her best roles yet.
Here are some of her best moments from the trailer — and believe me, there were plenty to choose from.
Mike & Phoebe Are So In Love
This is supposed to set the stage for us to know just how great they are together. Mike's even got an engagement ring and he's ready to propose! Of course, that's not likely to happen, given that's coming.
You Killed Someone? "Nice!"
When Mike calls Phoebe to tell her he just shot two dudes in a parking lot after they tried to attack him, Phoebe's first response is a bit unconventional: "Nice!" That is, of course, until she realizes he's not messing around.
Things Are Getting Serious
Once Phoebe turns up and sees the carnage herself, it all becomes clear: they're in some big, big trouble. What are they going to do about this? Beats me, but they'd better watch out!
Explosions!
Turns out, the two guys that tried to attack Mike when he caught them messing with his car were actually doing so because they were planting explosives in it to kill him. Phoebe reacts as I think we all would in this situation.
What's Up With John Leguizamo?
It doesn't seem like Phoebe gets it, either. Leguizamo is a character called Rose, but it's unclear who he is or what he does, other than selling the engagement ring to Mike and having lots of tattoos and walking around shirtless.
Unhand Her, Topher Grace!
Topher Grace's role in this movie is as a man named Adrian Yates, and he's the one that wants Mike dead, for some reason or another. He even goes after Phoebe in an attempt to get to Mike, and she doesn't take that too well.
Phoebe's Got A Gun
And she clearly knows how to use it. I love watching Kristen Stewart get to be a bad-ass, so I'm all about this.
American Ultra doesn't come out until August, so until then, you'll have to amuse yourself with the full trailer below.
Images: PalmStar Media (1); Zero Media/YouTube