Lady Gaga's Frenchie Is A Pet Entrepreneur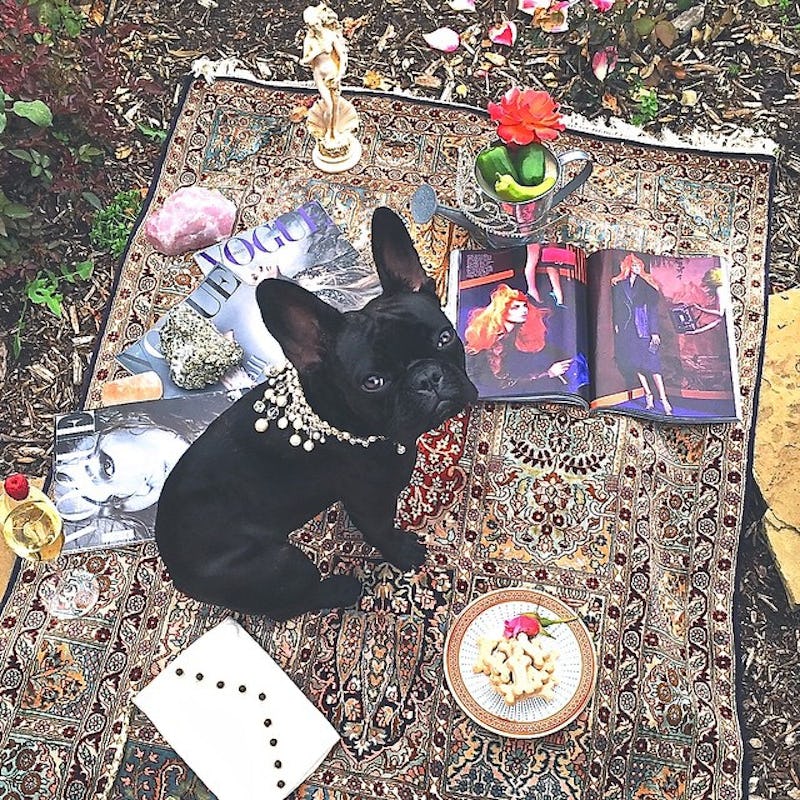 You know when you just love your dog so much that you'd rather hang with he/she than actual people? Well, not only does Lady Gaga's French Bulldog Asia Kinney get pampered like a princess on the daily, but she's also teaming up with her mom to start her own pet product line. Because they're obviously best friends and why wouldn't you want to go into business with your BFF? And you know what, I'm not even a little upset about it because she's so stinking cute.
Miss Asia Kinney the French Bulldog isn't a spa treatment newbie. If you follow her on Instagram, you'll get constant glimpses at her pampered lifestyle. But on this particular day, Asia got to do what every girl does best: enjoy a nice rub down. And her mommy posted a picture of the extremely photogenic pup on Instagram, mid-massage. "After a long day of work, laying in the roses, trolling the chicken coup, & walking to town. I get a nice bath that is gentle on my skin with warm towels that keep this short-hair happy!" Gaga captioned.
It's no wonder she's getting all of this special treatment, however. According to Billboard, Asia Kinney is set to launch her own pet product line soon, focusing on crafting "quality, functional and purposeful products." In one Instagram photo, Asia looked hard at work, assessing sketches in front of her. The caption read, "I get hooked up with the finest in puppy products, so I really have a knack for what's quality. My vision is to find creative & functional ways for pets and their owners to bond!" I can only wonder if it'll involve tiny bejeweled masks and Chanel-inspired dog costumes.
After scrolling through her Instagram, I honestly wonder what it'd be like to live in the actual lap of luxury. Not only does Asia Kinney get the star treatment, constantly, but she also plays dress up in her mom's high-fashion threads.
Take a look at some of the other times Gaga has spoiled her bestie. It makes me that much more excited to see what Asia Kinney's dog collection is going to look like!