This Plus Size Model's Statement Is Nuts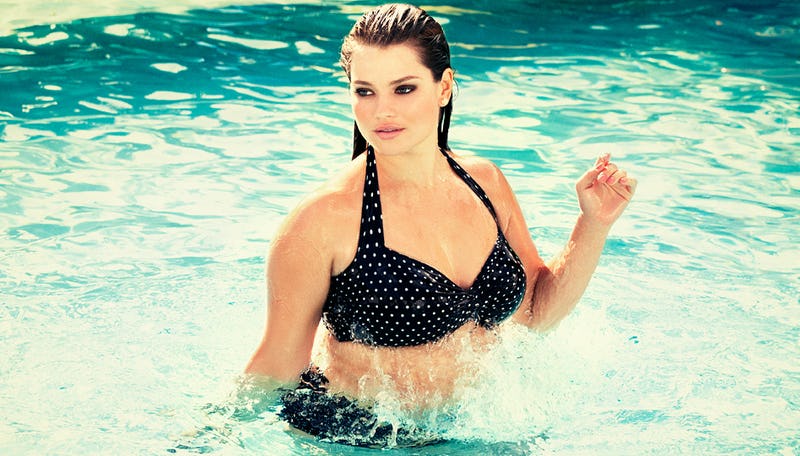 Well, this is news that makes us grimace: Plus-size model Tara Lynn said she understands why skinny is the standard for most designers. Lynn, a size 14/16 model who appears on ELLE Spain's November cover, discussed in a recent interview with ELLE her opinion that plus-size models may not offer the best representation of clothing.
It is hard to make clothes look great on big women. The more fat there is on a body, the more variation there is in the shape of that body.
Lynn elaborated that the industry is showing signs of adjustment in its attitude towards larger bodies, saying that there has "been change in acceptance of plus-size models," and cites plus-size model Crystal Renn as proof of the trend. But Lynn remains skeptical that plus-size models need to be represented in fashion, and says that she understands why designers tend towards "using a standard, clothes hanger-skinny body" in their campaigns.
Tara Lynn's commentary on plus-size modeling comes as a surprise in light of the recent trend towards featuring realistic silhouettes in stores and on the runway. Despite naysayers like Karl Lagerfeld, who has famously said "No one wants to see curvy women on the runway," plus-size models are staking claim in the fashion world.
Lately, we've seen refreshing additions to the fashion sphere, such as Robyn Lawley and Kate Upton (not plus-size, yes, but certainly curvier), whose images help promote a healthier ideal of beauty. Kate Upton's June 2013 Vogue cover was a welcome divergence from the norm, and Lawley's Ralph Lauren campaign as the label's first plus-size model continues the brand's tradition of elegance and timeless style. The progression suggests a move away from the emaciated models who have been a hallmark of the fashion industry.
Although Lynn's opinion on plus-size modeling seems to speak to the expectations of top designers and fashion icons, perhaps it reflects more on the body dysmorphia of the very girls to whom the fashion industry markets its wares. If a top model like Lynn is questioning her shape, the fashion industry still has a long way to go before plus-size is considered standard.
Image: H&M