6 Times Poop Emoji Pillows Were Better Than People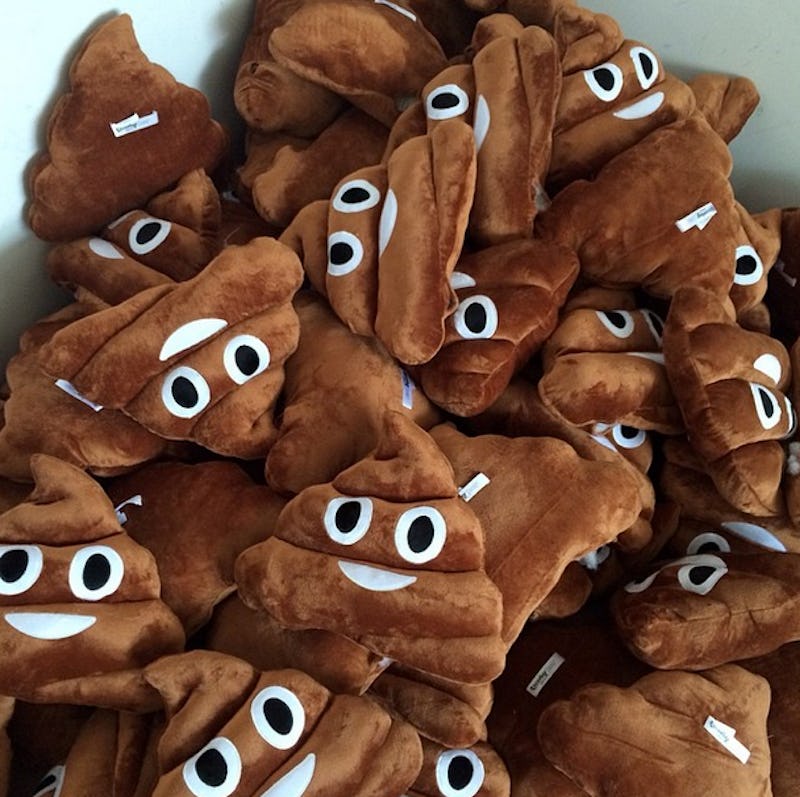 We all need love — but sometimes, we have to find it from somewhere other than a human counterpart. That's what model Nargis Fakhri found out when she began a relationship with her poop emoji pillow. It may sound totally bizarre at first, about let's think about it for a moment: The poop emoji is fun and reliable, and in pillow form, it's also soft and cuddly. Do we really need more out of a companion? Unlike comedian Genevieve Blau and her relationship with her pink Jansport backpack, Fakhri's love interest actually has a smiling face to come home to every day.
First of all, I need to clarify that I had no idea emoji pillows were a thing. If I had, this piece may have been a biography instead, although my pillow of choice may have been the sassy whale instead (and yes, that whale emoji is sassy — just look at it and tell me I'm wrong). Anyway, Fakhri, who is making an appearance in the upcoming movie Spy, received her brown, curly soulmate as a gift and it's been true love ever since.
Still skeptical about their relationship? Here are some ways Poop Emoji Pillow is the best partner ever:
1. It's Not Afraid To Try New Things
Whether it's a new hairstyle or flying on a whim to Kenya, Poop Emoji Pillow will always be down. *Insert '80s movie changing room montage here*
2. It's Always Happy To See You
Is there any better kind of stress relief than sitting next to a smiling, plush pile of poo? I doubt it.
3. It's Supportive
The best partner supports your goals and dreams and even drops in on you at the workplace to brighten your day. Poop Emoji Pillow is always supportive.
4. It's a Good Drinking Buddy
When you're stressed out on the road, sometimes you just need a strong drink to wind down. There's no better drinking partner than Poop Emoji Pillow.
5. It's Flexible
Sometimes you have a business trip that takes you across the world and just need your partner to stowaway with you for support. Poop Emoji Pillow has your back.
6. It Knows When To Relax
With all the traveling, working and partying, sometimes you need a partner who knows when it's time to just wind down and cuddle.
Hopefully someday we will all find our own Poop Emoji Pillow partner. Until then I wish these two the best of luck.