The Beachiest Videos From The Early '00s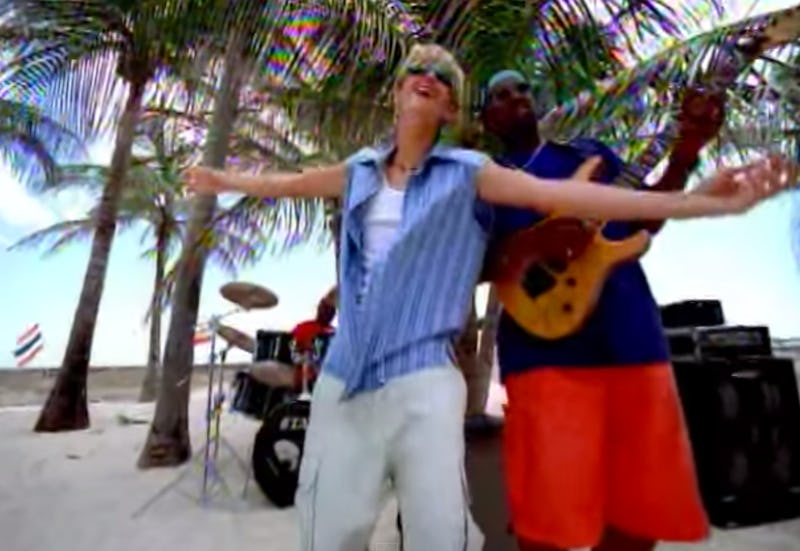 Allow me to set the scene: It's summer. It's a weekday. You're at your place of work. You check the weather report. Your weather app informs you that the other side of the air conditioned walls of your office, it's 98 degrees…and rising. You stare longingly out the window, wishing you could swan dive into a swimming pool or hightail it to a beach. Unless you have the most lax job in the history of humans working jobs, I'm going to assume you can't just can't up and leave your desk and head out to a water park whenever the spirit of summer beckons. Here's what you probably can do: watch some music videos from the early aughts that embody the spirit of summer. During your lunch break, of course.
I love looking at beaches. I love '00s pop music videos. Put 'em together, and what have you got? The inspiration to compile a list of beach-tastic music videos from the first five years of the New Millennium.
I established a few parameters for this playlist:
The video must have been released between the years 2000 and 2005.
The music video must take place near on sandy beach or a topaz blue ocean.
The lyrical content is irrelevant; it doesn't matter if the song isn't about summer, sunshine, or beaches.
Let us begin! (And after putting these videos into your eyes, you should definitely check out fellow Bustler Tracy Dye's truly terrific summertime music video list. I was not ready to revisit that Yellowcard vid, but I'm glad it happened.)
"Give Me Just One Night (Una Noche)" by 98 Degrees
The moments Jeff Timmons, Nick Lachey, Justin Jeffre, and Drew Lachey hang out on a beach are brief, but the moments are beautiful.
"Rock the Boat" by Aaliyah
Aaliyah and her backup dancers LITERALLY DANCED ON WATER. This video is legendary. R.I.P. Aaliyah :( :( :( :( :(
"We Fit Together" by O-Town
Ain't no party like an O-Town yacht party because apparently an O-Town yacht party is lasts all day and night.
"Soak Up the Sun" by Sheryl Crow
If the combo of this song + this video doesn't have you feeling all sorts of excited about summer...
"Summertime" by Aaron Carter featuring Baha Men
...perhaps this song and this video will do the trick.
"Survivor" by Destiny's Child
Beyonce Knowles, Michelle Williams, and Kelly Rowland do shipwreck glamour better than anyone.
"So Yesterday" by Hilary Duff
Summer lovin', the Duffster had herself a blast!
"If It's Lovin' That You Want" by Rihanna
So many excellent swimsuit choices happening.
"5, 6, 7, 8" by Steps
Line dance at the beach? Why not!
"Don't Let Me Be The Last To Know" by Britney Spears
Britney and her beau live in what appears to be a beachfront treehouse. What a life!
"Another Dumb Blonde" by Hoku
Yes, yes, there are a lot of snowboards in this vid (shoutout to Nickelodeon theatrical release Snow Day), but there are also a lot of surfboards.
"Love Don't Cost A Thing" by Jennifer Lopez
In this music video, a "Wish you were here" postcard comes to life and a dance break begins. The magic of summer is real, never forget that.
Images: AaronCarterVEVO/YouTube