Body Positive 'Moonrise Kingdom' Lingerie? Sold!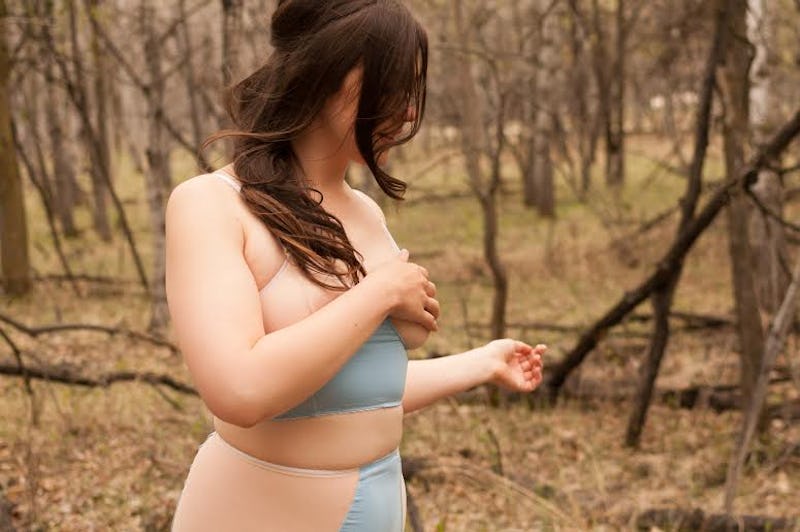 If you've always dreamed of being a fashionable, trouble-making heroine in a Wes Anderson film, now is your chance. Well, now is your chance to get your hands on some lingerie in a Wes Anderson-inspired style, anyway. Body positive and size inclusive lingerie brand March & August is launching its spring/summer 2015 collection on June 1, and has given Bustle a sneak peek at the dreamy bralettes, undies, and bodysuit that will launch tomorrow. And I, for one, am totally smitten.
In a dreamy coral and frothy light blue, the colors are universally appealing and the pieces totally nail Anderson's modern take on retro styling. The sexy cutouts and feminine shape of the garments don't hurt either.
"The inspiration came from one of my favorite scenes from Moonrise Kingdom, in which the two main characters are dancing in their underwear on the beach," designer Alesha Frederickson tells me via email. "It's such a silly and awkward scene that makes me giggle and inspired me to create some pieces to bust a move in." Have your measuring tape ready along with your credit card: Each piece is handmade to order and with the customer's perfect fit in mind, according to their measurements.
Ranging in price from $40-125 and available in sizes from XS up to XXL, or custom larger sizes, the pieces are customized to each buyer's shape. Frederickson is excited about providing a piece that's a bit of a trickier fit — like the bodysuit — to people who might not be able to grab one right off the rack." I want more people to inquire about special ordering that one if they aren't sure about sizing," she says. A designer who sees custom sizing as an exciting challenge rather than a burden? Sold.
Images: Courtesy March & August Underthings