How To Dress Like A Wes Anderson Gal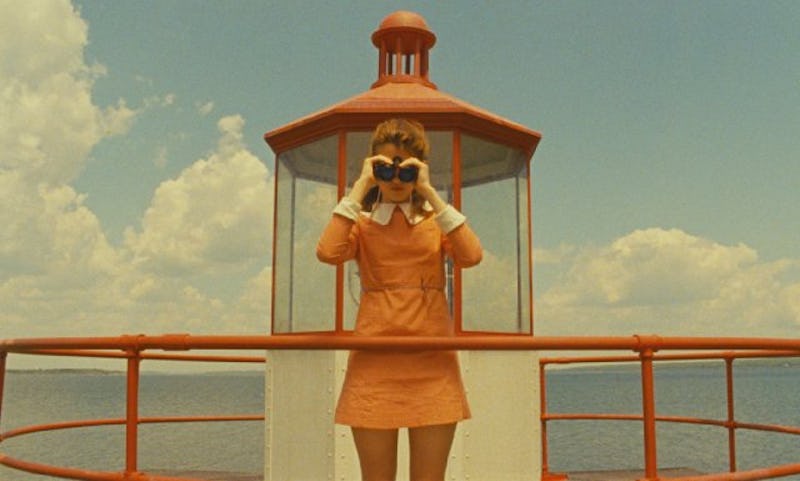 I know I am not alone in my love of Wes Anderson movies, and Wes Anderson's female characters! Anderson is an artist, nay a magician, who creates nostalgic, technicolor magic. His style is totally his own and you can recognize his work a mile off. I was quite late jumping on the Anderson adoration bandwagon; I had seen The Royal Tenenbaums as a teen but the melancholic wit went soaring over my head. It wasn't until I discovered Moonrise Kingdom that I fully understood the Wes Anderson hype and I fell head over heels for his mise-en-scène trademarks.
Contemplating the roles that Anderson's leading ladies play, it dawned on me that each one is a powerful, independent individual who stands on her own two feet and doesn't need to lean on or be rescued by anyone — even when faced with dangers and dramas. It is easy to see that not only are these fierce femmes each a feminine force to be reckoned with, but these women have got heaps of style. Also, upon studying their garments and accessories, it was evident to me that their unique styles would be most suitable to wear during spring. Prepare yourself ladies, your daydreams of becoming a Wes Anderson character IRL are about to come true!
Suzy Bishop
Miss Bishop is my personal style icon. I am a sucker for pastels, girly flair, and Peter Pan collars. When I first saw Suzy Bishop in Moonrise Kingdom I sighed a breath of relief as I felt I had finally found my on-screen alter ego.
Suzy's best qualities are her adventurous spirit and her heaps of sass. In Moonrise Kingdom she befriends boy scout Sam and much to the worry of all of the adults on their island, they go off on an adventure together. From first glance, it would look like Suzy would act like a prim and proper young lady. However, she turns this gender stereotype on its head and goes off trekking across fields and through forests in a pretty, pink dress and Sunday-school shoes.
1960s Pink Peter Pan Collar Dress, $90, Etsy
If like me, you are an absolute die-hard fan and want to really channel Suzy, you can actually buy a near-replica of her most famous dress! How super cute is this? If you love this look, you can even get one in yellow to entirely replicate Suzy's style. This canary yellow frock, which is almost identical to her signature powder pink one, is sold by the same Etsy retailer. Well, if it brings down the postage costs it would be rude not to, right?
Brass Binoculars Necklace, $24, Etsy
How super cute is this necklace? I almost want to squeal in delight at how adorable it is. As you may already know, Suzy has always got her trusty binoculars around her neck, so instead of having to lug around a real pair of binoculars, why not try these pretend, dainty ones instead?
Green Hat Felt Beret, $68, Etsy
I love how whimsical this beret is. Towards the latter end of the movie, Suzy is seen sporting a magenta beret, but I think this star spangled one is a really fun take on it.
Sterling Silver Resizable Feather Ring, $25, Etsy
I could just imagine Suzy wearing a ring like this to pay homage to the raven she played in a play. Perhaps her mom and dad would have bought it for her as a keepsake or a good luck charm.
Vintage Bowling Shoes, $33, Etsy
Although slightly different to Suzy's shoes (which have a black section across the middle), I prefer the clean feel of these. I love how the white laces on white shoes play with texture.
Margot Tenenbaum
Margot Tenenbaum is the straight talking, morose, adopted daughter of Royal Tenenbaum. Her life is a roller-coaster of triumphs and traumatic events ranging from winning a grant for her ninth grade play to having her finger accidentally hacked off by her biological brother. Always chain smoking and using her dry wit in any and every situation — in my eyes Margot is a kooky, quirky femme fatale.
1960s Golden Brown Fur Coat, $113, Etsy
It may seem a fashion faux pas to wear fur in the spring but Margot seemingly wears her coat all year round and often with bare legs — which gives her a sultry edge.
Stripe Pique Polo Dress, $165, Lacoste
Paired with her luxurious, fur coat, Ms. Tenenbaum juxtaposes a sporty shirt dress. This Lacoste dress is very close in style and color to Margot's own and paired with the aforementioned coat, you may get mistaken for the melancholic Margot herself!
Movie Star 50s Vintage Full Slip, $28, Etsy
Although Margot is somewhat of a tortured soul, she still has many admirers and in a particular bathroom scene she looks stunning in a nude slip. Depending on how daring you are, you may want to wear something under this, but a little heads up — it looks like Margot didn't!
Teal Dahlia Hair Clips, $5, Etsy
To complete the Margot Tenenbaum look, you will need to add a red hair clip to whichever outfit you choose. Her signature trademark, she was not often seen without one in her sleek bob.
Agatha
Agatha comes into the plot of The Grand Budapest Hotel as lobby boy Zero's love interest. She is a gutsy young woman who works as a pastry chef at the delightful Mendl's. Agatha is pulled into Zero and his boss Monsieur Gustave H.'s zany escapades and ends up using her pastry skills to assist a bunch of criminals. I will say no more for those of you who haven't watched this ingenious comedy.
Vintage 1950s Beige Nylon Blouse, $35, Etsy
Agatha proves that you don't have to be a millionaire to look stylish. In fact, she is often spotted in her Mendl's uniform — which is very similar to the above blouse.
Vintage '70s Baby Blue Dress, $68, Etsy
Although Agatha tends to stick to a neutral color palette, I think this baby blue dress would suit her perfectly. It would be practical and stylish and she may even be able to get away with wearing it for work due to it matching Mendl's colors.
Women's Vintage Wool Mohair Camel Coat with Collar, $90, Etsy
Functional and fashionable, this camel coat will go with pretty much anything and keep the lingering spring chill at bay.
Women's Infinity Scarf, $24, Etsy
A very similar scarf is seen on Agatha when she is delivering her pretty pastries. Perfect to wear when out and about on your bicycle and it will pair up with the aforementioned camel coat delightfully.
So now there is a tough decision remaining: Which Wes Anderson character will you portray today?
Images: American Empirical Pictures and Indian Paintbrush; Giphy (3)