'PLL' Season 6 Must Have A Holiday Ep... Right?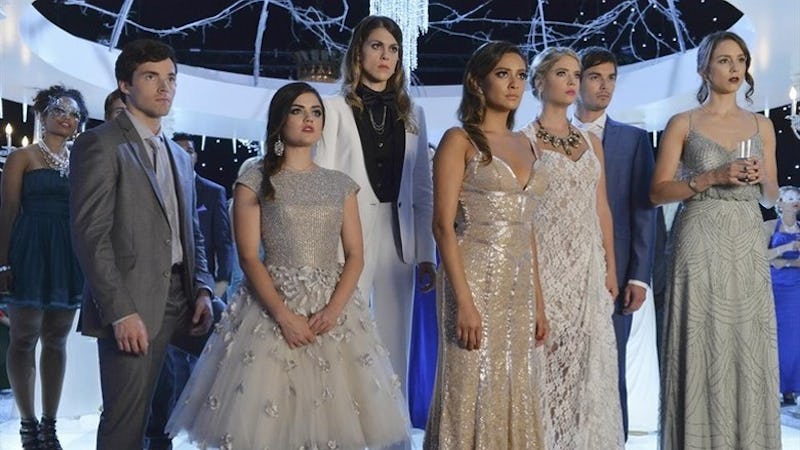 Not only does Pretty Little Liars handle suspense and outright confusion very well, but it also makes a damn good holiday episode. Usually my favorite episode of each season is the themed holiday extravaganza, because the hour's just so much fun. Sure, a few A clues are sprinkled here and there, but it's really a chance for PLL to break its normal mold for a little bit, and also give us some amazing outfits (let's be honest: the outfits are usually the best part). So with the show finally returning on June 2, I have to know, will Pretty Little Liars Season 6 have a Halloween or Christmas episode? Well, the good news is that no one from PLL has denied that they're doing a holiday episode. The bad news is that they haven't exactly confirmed that one will happen either. Update: A representative for ABC Family confirmed to Bustle that Pretty Little Liars Season 6 will not have a holiday episode. PLL kicks off its sixth season on Tuesday, June 2 and is slated to run for 10 weeks, straight through the middle of August. But that's just the first half of Season 6. The second half will pick up a few months later, probably early in 2016, just like Season 5 did this year. That leaves Pretty Little Liars free, available, and more than capable of throwing an episode in during ABC Family's 13 Nights of Halloween or 25 Days of Christmas. Considering the stretch of time between the end of Season 6A and the beginning of 6B, we're going to be begging for a PLL episode to hold us over. Unfortunately, information about season 6B is scarce right now, meaning info about any potential holiday episode is hard to come by too. While there are air dates listed for every episode in 6A on IMDb, they end with the midseason finale on Aug. 2. 6B also doesn't have any episode titles, either — but listen, those episodes haven't even been written yet. This is one of those cases where no news may actually be good news. For the past four seasons, PLL has given fans a holiday episode, so that's what we're accustomed to. Not having a special episode this year would be much bigger news than continuing the tradition, so until we hear otherwise, let's just assume that Season 6 will carry on as usual.
At the time this article was published, an ABC Family representative had not responded to Bustle's request for comment on a potential holiday episode. I tried tweeting at PLL mastermind I. Marlene King to ask politely if there are any holiday plans on the docket for this season and, well... her son had a Bar Mitzvah this weekend, so I completely understand that she's a little too busy to deal with my PLL needs at the moment.
OK, the Bar Mitzvah theme was "zombies" and all of Rosewood was there. So clearly more important things are happening.
I hate to spam King with more tweets because she is a very busy woman who doesn't have time to tweet me back emojis, so I totally understand. Also, happy Bar Mitzvah, Emerson. Do you know who Charles is? Just had to ask.
Image: ABC Family