Hardcore Grandmas Play A Game Of F*ck, Marry, Kill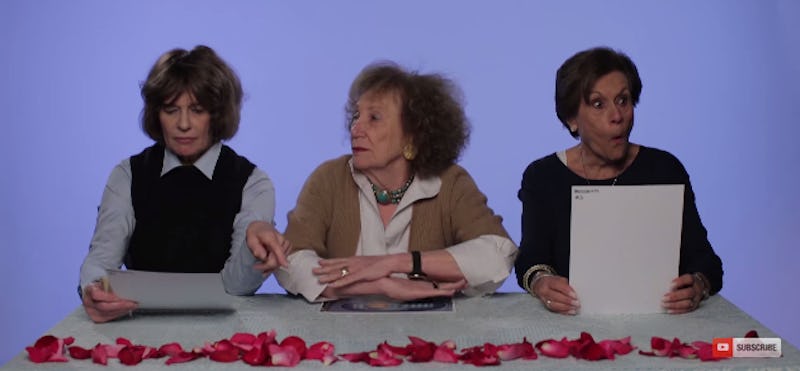 Fuck, Marry, Kill is a near-perfect game, in my opinion. Not only does it force you to actually think and parse through various options yourself, you get amazing insight into other people's psyches. It could be a good storytelling device, too, as evidenced when Broad City ladies played fuck, marry, kill. Illuminating, even! It's typically reserved as a young'uns type of activity, so that makes it all the more demystifying when it's a different demographic facing the question—especially when grandmas play fuck, marry, kill. It is truly a gift from the Internet gods. (The ones who under promise and over deliver on Seamless estimated delivery times, not the ones who decorate MacBook screens with seemingly permanent pinwheels of death.)
A few different panels of older women got presented with various sets of men, ranging from rappers to politicians to serial killer gentlemen. Their reactions are priceless—as they should be. For real, it's a pretty dramatic game when you consider it thoughtfully. Having sex with someone is probably the least consequential of the three options. Because, well, the other two options seem fairly permanent—death and lifelong partnership. Though the speed with which these women rapid-fire back answers kinda downsizes the secretly serious nature of F/M/K. Whatever, their frankness is what makes this frankly incredible. Here are some of their more important observations:
Fetty Wap probably isn't very judgmental
I have to echo the sentiment that Fetty Wap actually outlines a pretty romantic, healthy relationship in his smash "Trap Queen." So I feel Grandma No. 1 who'd prefer to wed the young dude. However, this granny makes a helluva point about his missing eye.
Bieber must be painfully punished
I'm not sure. But somehow, I still feel in support of this? (If not just a little intimidated by this woman.)
Obama has husband face
I am 100% on board with this woman's marry selection. I feel like Obama would be a super chill hub. The kind that'd be secretly game to order takeout and watch a Dance Moms marathon draped across the couch.
Jeffrey Dahmer might have been dynamite at heading downtown
Point...made? A man famous for murdering 17 men and eating their bodies might be skilled at eating...living...things? I'm sorry, this is hard even to type. Who knows. Scope the video in its entirety below and see how your own answers measure up to these sassy grandmothers:
Gotta reiterate now Fetty Wap would make an A+ husband. Guys, HE BAKES. See how cute:
Images: YouTube(4)