9 Beauty Products That Smell Like The '90s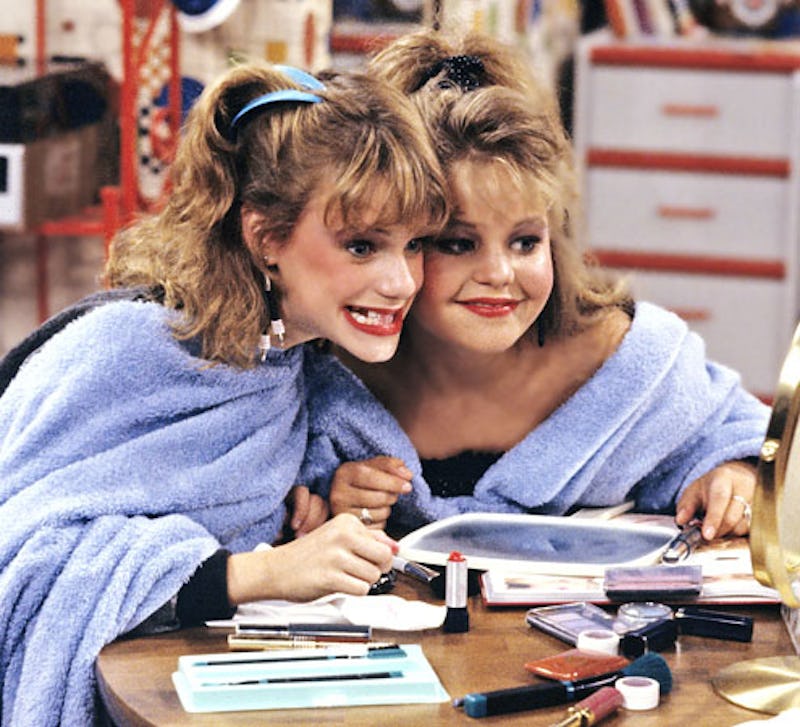 Stop what you're doing for a moment and ask yourself: What scents remind you of your childhood? Does the smell of chocolate and vanilla make you reminisce about when your younger self would chase down the ice cream trunk? Does the smell of bubble gum make you smile, because during your childhood you would always chew Bubble Tap Bubble Gum? Perhaps the scent of cherry or strawberry reminds you of those clear, scented lip glosses that almost every girl in the '90s had? Now: Picture yourself applying these scents to your face. Because scented beauty products are not just for the cool kids of the '90s!
I remember when I was five, and I tried to convince my mom to buy this bubble-gum scented lotion. She laughed at me. Even though bubble gum-y lotion sounds hilarious to me now (you were right, mom, OK?!), the memory made me want to find beauty products that bring back those nostalgic childhood moments of the '90s.
A lot of beauty brands make chocolate, vanilla, gingerbread cookie, strawberry, and even bubble-gum-scented products for people like me — who dream of smelling like their childhood (at least, that is what I am choosing to believe). And I mean, who wouldn't want to smell like a fresh chocolate bar?
So here are nine beauty products that will have you time-traveling back to your glorious life in the '90s.
1. Chocolate Eyelids
Too Faced Chocolate Bar Palette, $49, Sephora
I never knew I could want chocolate-scented eyelids until Too Faced released this palette. The sweet smell of chocolate brings me back to those monthly trips my dad and I would take to the Hershey's chocolate shop in downtown Chicago. Chocolate will always have a place in my heart... and my belly.
2. Butter Glosses
NYX Butter Gloss, $5, Ulta
Was the dessert your favorite thing about birthday parties or any other occasion when you were younger? Obviously! These hyper-pigmented lip glosses smell like all of the cakes from your childhood and beyond. NYX butter glosses come in a variety of shades and smells that are each dedicated to a certain dessert. From sugar cookie to cheery cheesecake, you are bound to fall in love with something.
3. Candy-Scented Bubbles
Creamy Candy Bubble Bar, $7, Lush
Did you ever dream of taking a bath in a tub filled with vanilla cupcakes? Just me? Perhaps not, since Lush Cosmetics made this luxurious bubble bar for people who dream of vanilla-scented bubble bath, too. This bubble bar will lead to dreaming of the cupcakes from those elementary school class parties. I still remember the taste. So yummy!
4. Cherry Bombed Hair
OGX Rejuvenating Cherry Blossom Ginseng Conditioner, $8, Target
I had an enormous cherry-scented lip gloss collection when I was younger. It was just something about the smell of cherries that brought sweet joy into my heart. While this is not lip gloss, having my hair smell like fresh cherries continues to lighten up my life.
This conditioner will make you want to do a hair flip every time you walk past a passerby to make them envious of your luscious, cherry-scented hair. (OK, perhaps that's a little extreme.)
5. Sugar Cookie Face
Jan Marini Holiday Exfoliator Sugar Cookie, $94, Amazon
My love for cookies as a child was very serious. I mean, my favorite character on Sesame Street was Cookie Monster, for crying out loud. Therefore, anything cookie-scented instantly sparks joy and takes me back to the moments when my sisters and I would make "Santa" sugar cookies on Christmas Eve. This face exfoliator will surely have your skin squeaky clean while making you and probably everyone else want to eat your face.
6. Strawberry Kisses
EOS Organic Lip Balm Sphere — Strawberry Sorbet, $3, Target
Do you remember the lip balm you wore for your first kiss? My lip balm was strawberry-scented when I had my super-awkward first kiss at 11 — which is why strawberry-scented lip products make me seriously laugh out loud.
This organic balm will take you back to the good and bad kissing moments of your entire childhood. Maybe you can even make new and improved kissing moments with this lip balm by your side.
7. Vanilla Brulee Smelling Hands
The Body Shop Vanilla Brulee Hand Cream, $6, Amazon
This hand cream reminds me of when I would always have vanilla icing from vanilla cupcakes on my hands. Sadly, I cannot lick this hand cream off of my hands, but the scent is so nostalgic that sometimes I still think about doing so for the fun of it (or grabbing a vanilla cupcake from Sprinkles).
8. Scented Nails
Revlon Parfumerie Scented Nail Enamel, $3, Ulta
Most of the cool '90s kids had scented nail polish at one moment of their childhood. Let's be cool young adults and paint our nails with these scented nail lacquers. Granted, being a cool adult does not sound nearly as fun as being a cool kid, but we can pretend to be children again — with no worries in the world — when wearing these nail polishes.
9. Showering With The Gingerbread Man
Philosophy Spiced Gingerbread Cookie Shampoo, Shower Gel & Bubble Bath, $7, Philosophy
Do you know the gingerbread man? Well, I don't know him either but what I do know is that gingerbread cookies are the best. Every holiday, my mom would let me be the head baker for gingerbread cookies (that was a huge responsibility). This 3-in-1 gingerbread cookie-scented duo by Philosophy will definitely have you missing those childhood Christmas moments.
Images: Warner Bros Television; Courtesy Brands; Giphy