Summer Beauty Hacks To Keep Your Face From Melting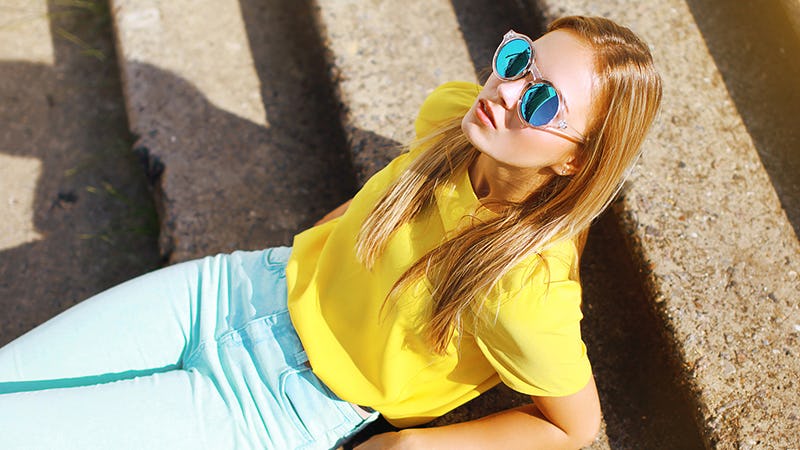 Summer weather may be an instant mood booster, but 90-degree heat is devastating to a meticulous makeup application. Luckily, summer beauty hacks exist for this type of thing. But, really, when it comes to makeup, summer is kind of the worst. Whether the humidity gives your precisely powdered, matte visage a molten aesthetic or an errant bead of sweat transforms your multi-layered smokey eye into something resembling an Impressionist painting, you cannot trust your tried and true winter makeup routine to hold up in the heat. There is always the option to stop wearing makeup entirely if you so desire, but those who feel exposed waltzing out the door without a thin layer of BB cream or a dot of blush have no choice but to adapt.
Luckily, decades worth of makeup pioneering has culminated in a number of tricks designed to keep makeup on your face where it belongs, instead of melting into your ice cream cone or pooling on your gingham sundress. Moreover, many of the heat-proofing makeup shortcuts won't break the bank or force you to completely restock your cosmetics supply. Get ready to embrace the rising mercury this summer, and scroll through for 15 incredibly simple summer beauty hacks to keep your expertly-applied face from melting this season.
1. Make Your Peace With Primer
Urban Decay Travel-size Photo Finish Foundation Primer Light, $25, Amazon
Whatever your current stance on primer, it will behoove you to snap up a tube immediately if you wish to keep from blowing through your expensive foundation in one sitting. An oil-free version is especially beneficial for those with sebum-prone complexions who wish to create a solid base to which their makeup can adhere.
2. Double-Prime Your Base With Oil-Free Sunscreen
Shiseido Urban Environment Oil-Free UV Protector SPF 42, $30, Amazon
Increase your makeup's staying power and combat the sun's aging effects by utilizing an oil-free SPF.
3. Blot And Tone Before Applying Makeup
Calendula Herbal Extract Alcohol-Free Toner, $65, Amazon
The best manner of staving off makeup meltdowns before they occur is to balance your complexion. Attempting to apply makeup to oil-slicked skin is a recipe for disappearing foundation. Before adding moisturizer, primer, or sunscreen, tone your skin with a formula appropriate to your skin type, and carefully whisk away excess moisture with a tissue if necessary.
4. Invest In Facial Refreshing Or Toning Mist
Caudalie Beauty Elixir, $18, Amazon
Whether utilized before a makeup application or to reinvigorate your skin in the late afternoon, a facial mist will keep your temperature in check, sweat at bay, and your makeup locked in place.
5. Strategically Apply Serum or Green Tea-Infused Ice Cubes
Peter Thomas Roth Cucumber De-Tox De-Puffing Eye-Cubes, $15, Amazon
As far as preventative measures go, icing your cheeks, chin, forehead, and orbitals with green tea or serum-infused ice cubes is the ultimate remedy. To further lower your core temperature, apply the cubes to the inside of your wrists and neck.
6. Embrace Silicone...Makeup
Temptu S/B Foundation, $30, Amazon
Though much fuss has been made over the potentially negative effects of silicone on the skin, the polymer does increase the staying power of foundation formulas on steamy days.
7. Use Oil-Blotting Sheets
Tatcha Aburatorigami Blotting Papers, $12, Amazon
Even if your makeup stays put in the sun, it may begin to glisten more brilliantly than you'd prefer. In such circumstances, an emergency supply of blotting papers will take away excess luminosity without disturbing your makeup.
9. Moisten Powder Eyeshadow Before Applying
MAC Cosmetics Eyeshadow in Vanilla, $16, Amazon
Combine your favorite powder eyeshadow formula with a dampened shadow brush to kick your makeup's impermeability up a notch.
10. Blot Lipstick Between Layers And Add Powder
Laura Geller Matte Maker Invisible Oil Blotting Powder, $24, Amazon
In order to create a lasting lip look that appears more brilliant than the 80-degree sunshine, blot and powder your lips between each layer to prevent your hue from sliding outside the lines.
11. Layer Your Blush And Gloss Over Double-Duty Stains
Yves Saint Laurent Kiss & Blush, $38, Amazon
When in doubt, double your formula by applying a stain blush or lip color and topping with your preferred cream or gloss.
12. Play Favorites With Gels And Creams
Make Up For Ever Aqua Waterproof Cream Color in Mauve, $23, Makeupforever
While loose powder formulas may take on a mind of their own and migrate in scalding weather, gel or cream formulas will stay exactly where they are applied.
13. Choose A Setting Spray
Urban Decay All Nighter Long-Lasting Makeup Setting Spray, $19, Amazon
Think of makeup-setting mist as your visage's answer to hairspray. With a strategic spritz or two, you can lock makeup in place through the most punishing heatwaves.
14. Take Cornstarch Out Of The Kitchen
Bob's Red Mill, Cornstarch, All Natural, $9, Amazon
If you've run out of your favorite setting powder moments before running out the door, call cornstarch up to the big leagues and capitalize on the cooking staple's moisture-absorbing powers.
15. Polish Off With Powder Sunscreen
Peter Thomas Roth Instant Mineral Oily Problem Skin Translucent Brush On Powder, $24, Amazon
If you're searching for products that serve double duty, look no further than a powder sunscreen. Mattifying and essential in the battle against sun damage, powder sunscreen is the perfect product to polish off your makeup application.
Image: rohappy/Fotolia