7 Things Your MUA Wishes You Knew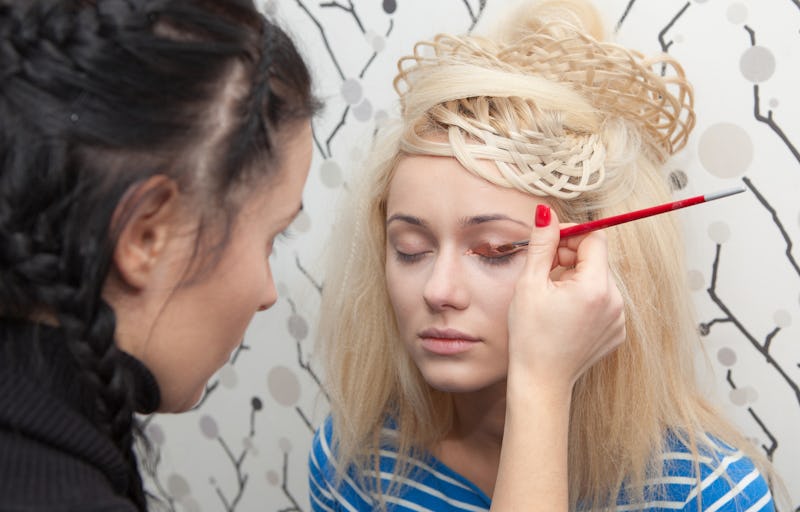 The women and men who practice the application of makeup and cosmetics (and hair styling) professionally are akin to wizards, in my opinion, and having your makeup done professionally, at least once, can be an exceptionally fun experience. Especially on a day like your wedding day, when hiring a makeup artist to create your bridal look is often well worth the investment. Obviously, we can't all afford to splurge on a MUA for our big day, and if you can't, there are some helpful wedding makeup tricks out there. But if you can, you're in for a relaxing, far less frantic, beautifying experience — one that will have you glowing all day long.
Since so many women approach their wedding day (or consultation, special event, etc.) with little to no experience working with a MUA, the process can feel a little bit overwhelming. What are you supposed to bring? Should you wear your own foundation? Is tipping necessary? Luckily, like any professional, most MUAs will guide you through the process with much support — especially if you confess to being a virgin to the process. They want you to love your experience, and to feel pampered, lovely, and well taken care of, so they're going to go the extra mile for you. It's really intrinsically part of their job.
But like any independent contractor (which many are) or specialist, a MUA has a lot of overhead (as we know, makeup is not cheap, and whatever you have at home, they have at least tenfold), most of which comes out of their pocket. They haul all of their supplies to your location, give you 100 percent dedication and creative expertise, then painstakingly clean each tool and brush (or replenish their supplies) in order to keep their makeup kit up to code for you and the next client. Not to mention, the years they've spent perfecting their trade, either through extensive mentorship or cosmetic school.
In order to ensure you have a great experience and foster a good working relationship with the MUA you'll be trusting your face to, I spoke to a handful of MUAs, from varying backgrounds, to get a better feel for what they wish their clients knew going into a consultation or in preparation for the day of. Here are the considerations they shared, so that you can walk into your appointment, or sit down on your wedding day knowing your MUA thinks you're the best client they've ever had! Because if he/she's excited to work with you, you're pretty much guaranteed to look even more radiant!
1. Come With A CLEAN Face
Many women either forget that their MUA will be applying foundation, don't feel comfortable leaving the house without it, or simply don't realize that they should come to their appointment without any makeup. Speak with your MUA first to get a clear understanding of what she/he wants, but in most cases, a MUA will want to start with a fresh canvas. That means no foundation, no primer, no mascara — nothing! Your MUA will provide all of these things, and will want to apply them for you as part of their complete package. You wouldn't walk into a pizza parlor, wanting a freshly made pizza, but carrying a half cooked crust, would you?
Try: Philosophy Purity Made Simple Face Wipes, $14.75, Amazon
2. Silence Is Golden
You'll meet, you'll greet, you'll discuss details, and enjoy each other's company. But, when it comes to actual makeup application, there are times when you'll want to sit back and relax — in silence. Your MUA is doing their best to create clean, crisp lines, and nothing is more difficult than applying makeup to a moving face. So, chat first, then while your MUA applies lipstick, and other delicate details like eyeliner and mascara, take a verbal break.
3. But Don't Be Afraid To Speak Up
Your MUA sincerely wants you to be happy. If there is any part of your look that you're unhappy with, let her/him know. Have some patience in the process — things might not look the way you expect in the middle of your makeover, but talk to your MUA about your expectations. If things are clearly going in an unplanned direction, speak up. The last thing either of you want is to walk away with regret, and the only way to prevent that is clear communication.
4. Make A Mood Board/Look List
Whether you're considering a variety of styles and aren't sure which way to go, or you have your heart set on exactly what you want, making a mood board or look list is a fantastic way to clearly communicate with your MUA about your expectations. When you say, "I want to look like Jennifer Lawrence," you're leaving a pretty wide margin for error. Except, it won't really be error, because your MUA will be imagining Jennifer Lawrence from the Silver Linings premiere, and you'll be thinking of Jennifer Lawrence from the Catching Fire premiere.
Creating a mood board with images of the looks you envision gives your MUA well defined guidelines, ensuring you'll get the results you expect. And with Pinterest, making mood boards and look lists is easier than ever. You can email your MUA a link to your board in advance so she/he has time to prepare, and so you can start a conversation about your goals long before the day of.
5. Don't Demand The Impossible
Even with contouring and airbrushing, your MUA has the same canvas to work on that you do — your face. And although she will do everything in her power to achieve the look you're aiming for on your behalf, she's not going to be able to change the fact that you look like you. (Nor, for that matter, should you want her to. You're beautiful, obviously!)
That being said, all of the makeup in the world can't undo years or months of skin damage in one sitting. Plan on having an open and honest discussion with your MUA before she begins, and be realistic and accepting of what she tells you her limits might be. If she says something won't work out, trust her. She/he's not trying to hold back — she/he wants you to love the end result!
6. Prepare Your Face
If you want to look radiant on your wedding day, remember to spend the week (or at least day before) exercising a good moisturizing routine. Keeping your face and lips moisturized will ensure smooth and even application of makeup, less creasing, and a polished finish. And, again, make sure you clean your face. Our MUAs say that the problem area where they're most likely to encounter leftover makeup is around the eyes. Wipe your eyeliner carefully with makeup removal pads, or use a lightweight oil to clean your face of excess, stubborn mascara and makeup.
Try: The Face Shop Rice Water Bright Cleansing Oil, $7, Amazon
7. Plan For Small Touch Ups
Most MUAs agree that on big days, like your wedding day, it's wise to plan a few moments later in the day to add a little powder to your look, blot any oil, and touch up your lipstick. So sneak away between your ceremony and your reception and give yourself a quick check. Your look will last, since the benefit of working with an MUA is that she/he is trained to make looks built for longevity. But a little maintenance will keep you fresh that much longer, and you know you want to look stunning for that first dance with your sweetie!
Try: NYX HD Studio Finishing Powder, $9.49, Amazon
And On A Final Note: Tipping
Like any service professional, your MUA will most certainly accept and appreciate a tip, although it isn't entirely expected. More than likely, their fee is enough to cover their travel cost, the supplies they provide (which have to be regularly replenished, and sometimes purchased specifically for a client's needs, and are not cheap), and their business expenses, plus a little bit more, because yes, they are in business to make a living.
Keep in mind that as a freelance artist (which many MUAs are), they are responsible for all of their insurance, marketing, fees, etc., so what may seem like a high cost really just covers the basics. If you're pleased with the service you've received, and you feel a tip is in order, your MUA will be honored (after all, they did just take care of you in a very personal way, and you wouldn't ask just anyone to paint your face).
But, if the service was above and beyond your budget, tipping at 20 percent isn't necessary — feel free to tip what you can afford. Or, if you really want to show your gratitude, recommend them to your friends and family. Your referral keeps them in business, and is one of the very best (and most sincere) thank you's you can extend.
Images: Fotolia; Giphy