Are Ghost & Angela Over On 'Power'?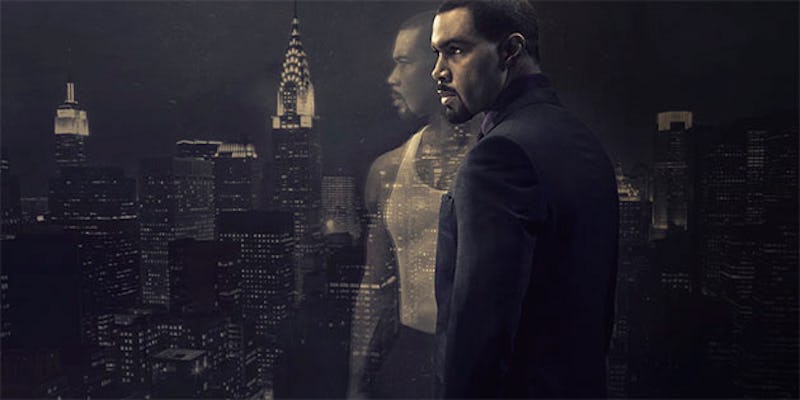 After an unacceptably long break between seasons, the Power Season 2 premiere is finally upon us and it's like no time at all has passed. Saturday night's episode picks up right where we left off after the shooting in Season 1. Ghost is talking to the cops and trying the clean up the mess and Tommy is ransacking Angela's house, clearly ready to kill her at the drop of a hat. After spending much of the episode searching for Tommy — who goes dark after realizing he cannot trust Ghost right now — they finally reconnect and it finally happens: Ghost discovers Angela's secret on Power .
Tommy can see the heartbreak and genuine anguish in Ghost's face as he realizes the truth about Angela (seriously, Omari Hardwick is amazing in this episode) and it's enough for him to believe that Ghost wasn't in cahoots with her all along. Now the real questions are whether or not she knows about them (got that?) or if she's been undercover all along, playing Ghost for all he's worth. Tommy clearly thinks the latter and, like the good, loyal, and self-serving friend he is, is ready to go out and kill her just in case. Of course, Ghost isn't sure that's the right way to solve this problem. He doesn't see Angela again until the very last scene where you can see him reading her face, looking for lies to see if she's playing him. She tells him she loves him and he seems to believe her, asking ominously, "How was work?"
Is Ghost going to use Angela now to try and sabotage the investigation? That's my best guess, though I doubt Angela will be in the dark for much longer. It really seems like this is not going to end their affair, even though being around Angela has only gotten Ghost into trouble so far. Will he tell her he knows? Will Angela discover he is a drug dealer first? I have no idea, but I can't wait to find out.
Images: loveyou914,shymtchlls/Tumblr