How To Survive Breaking In Your Jelly Sandals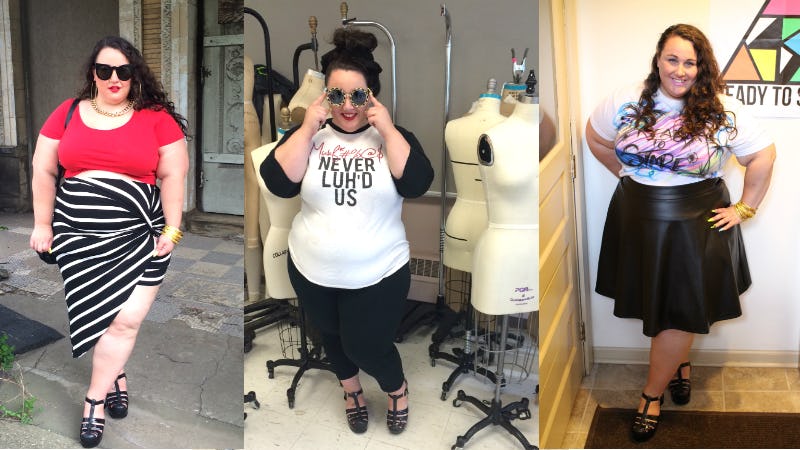 Like most children of the '90s, I owned a pair of jellies growing up. And these days, jelly sandals are making a major fashion comeback in a major way. I can't say the same for my other '90s shoe obsession: purple holographic Airwalk tennis shoes. But, I digress. I bought a pair of black platform jellies similar to these and kept them in the box for a full two months.
I am one of those people who loves to wear new stuff as soon as I get it it, but these jellies were taunting me. My biggest association with the jellies I wore growing up was sweat followed closely with blisters caused by the heat and friction. I also remember having clear jellies that would steam up like glasses in the shower. All of this was not a cute scene. So while I found my 2015 jellies a must-have wardrobe staple, my 1995 jelly memories still haunt me.
In the name of fashion experimentation, I decided not just to wear the platform jellies but to wear them for seven days straight because if you're gonna do something, do it big right? I wore the jellies all day with the exception of when I was hiking, because the last thing I need is to add crutches to my daily accessories.
For this experiment, I didn't necessarily plan my outfits around the jellies. I just wore what I felt like wearing and then I put the jellies on before I left the house.
I should also mention that walking in flatform style shoes is really difficult in general aside from the fact that these were jellies. I got my first pair of flatform shoes when I saved up and used three different coupons to get this pair from Jeffery Campbell in 2011. The first time I wore them, I fell to the ground about a block from my apartment and the strap broke completely off. Four years later, I am more adjusted to this style — but my suggestion is to wear these around the house for a while before you commit to wearing them out for a full day.
Day 1
It was a holiday, so for a change, a Monday wasn't so terrible. I took full advantage and was really feeling myself in this look. Black, red, white, and gold is my favorite color combination. In fact, I designed an entire collection around these colors. The jellies fell right in line with the look I was already going for here, which was daytime gaudy sexy realness.
I spent the day with my friends going to a festival and shopping before I ended with a hike (where I did not wear the jellies). When I took off the jellies to put on my tennis shoes for the hike, I noticed a single blister on my ankle. I prepared myself for the first of many of their kind.
Day 2
I spent the majority of my day working in my studio, which explains the harsh yellow lighting in this photo. I was still feeling like it was a holiday so I wore my custom Ready to Stare airbrush shirt that I had made last year when I got a wicked sunburn on vacation and couldn't wear anything with straps.
This leather skater skirt is one of my year-round go-to staples, so I threw it on before running to the closest drug store for band-aids so that my single blister did not get worse. And as the day went on, it didn't get worse. In fact, I didn't get anymore blisters either and my feet never really got sweaty. Did I avoid jellies all these years for nothing?
Day 3
Wednesday was a super busy day for me so I wanted to be comfortable. I threw on a now retired Ready to Stare tee design that I still love and a pair of simple black leggings. My hair was tied up with a scrap piece of fabric. It was that kind of day.
It was also like 90 degrees out and while my feet did not sweat, the jellies started doing this thing where my heel made a smacking noise when I walked. It started for the first time when I was walking through a building with a big atrium. Everyone could hear me and my jellies coming. I was too tired to be bothered.
Day 4
Tuesdays, Wednesdays, and Thursdays are traditionally my busiest days. So when Thursday rolled around, I was no longer feeling myself so much as I was feeling like I needed a good nap. It was today that I decided to give up on the actual most difficult part of wearing jellies: the ankle strap.
As a fat woman, buckling shoes with ankle straps is pretty high on my list of things I hate to do. It takes a good 10 minutes sometimes unless someone feels bad for me and helps. So today, I made the conscious choice when I got dressed to just wear the jellies unbuckled and make that a new fashion trend. I ended up working 14 hours so my morning instincts paid off by the time the evening came around.
Day 5
Call me cliche, but I love Fridays — especially Fridays when I get my nails done. So when I got dressed, I buckled the jellies with vigor and put on an outfit that was more cute than comfortable. I worked early in the morning, met my boyfriend for a late lunch, and then spent a full six hours at the nail salon. I am that serious about my nails.
I posed for this picture with my nail artist, Autumn, since she's awesome and also because I was with her for a big chunk of my day. By the end of the evening, my nails were looking fresh and my one blister had mostly disappeared with no others popping up in its place.
Day 6
I went on a day trip to Columbus to go shopping with my mom, my cousin, and my best friend. It's about a two hour car ride to Columbus from where I live, so I braced myself to not only be in the car for four hours in the jellies but also to be walking around in them for most of the day at a pretty big outdoor style mall.
Although a dude on Instagram described this look as "saxy" (all the eye rolls and LOLs), I wore this maxi dress because it's super comfortable. The jellies were mostly hidden as I expected thanks to the short girl maxi dress struggle. Since the majority of the stores at this mall did not carry plus-sizes, I did far more sitting and selfie-taking than I had expected and made it through yet another day with no blisters.
Day 7
And on the last day of wearing jellies for a week, I kept it super casual and ate pizza, of course. And not just any pizza, the best pizza. I say that because it came from my family's pizza shop that my Grandfather's brothers started in 1955 and that my Dad's cousin still runs today. I posed with my cousins, one of whom works at the shop as my father and all his family did growing up. Sundays for most Italian-Americans are reserved for family more than for fashion and although I definitely spend a lot of Sundays working, I try to make time for my family as much as possible!
When I took off the jellies that night, I was proud of myself for making it through an entire week of buckling those damn shoes (with the exception of Thursday). And the next day I proceeded to start the unofficial week of wearing Nike slides and any other shoe that didn't require me to bend over and swear for 10 minutes.
Here's what my jellies looked like after this week. They survived and so did I.
Images: Alysse Dalessandro