Why Jelly Sandals Are The Best Kicks For Spring
by Freyia Lilian Porteous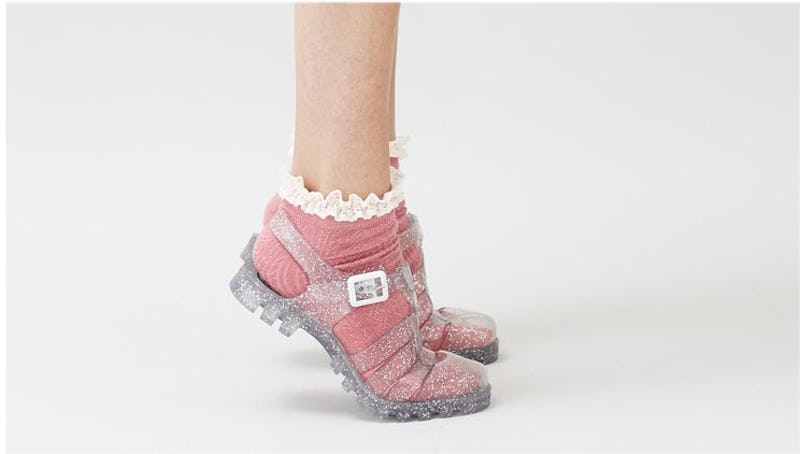 The salty breeze whips through my damp, sandy hair. I'm wearing a Lycra printed one-piece. Maybe it has a frill on the bum. I can't remember. I'm carefully navigating seaweed-carpeted rocks, splashing in rock pools. I slip and my heart jolts. My best friend giggles, her black Amelie bob slick to her forehead with seawater. I can smell it in the air — aquatic and green and tangy with salt. It's the smell of mermaids. I probably get myself worked up. I've always been too sensitive for my own good. Her mom calls us back, and we skip through the sand, my friend's long legs as awkward and elegant as Bambi. My own stubby rag doll legs clumsily following behind, kicking sand that sticks to the liberally applied SPF 50 sunscreen. My feet sparkle in the rare English summer sun, as the rays catch the glitter particles in my clear silver jelly shoes.Jelly shoes pretty much epitomized summer in my early childhood. I grew up by the sea in the tourist town of Scarborough, England. Sadly, it's a bit of a ghost town these days (I recently moved home on a bit of a hiatus to get my career going), but when I was little, I loved spending the summer on the beach by the elegantly crumbling old Spa building — swimming in the sea with my best friend and her sister, and pretending to be a little nymph. It was the perfect backdrop for my blossoming imagination and jelly shoes were the perfect adventure accessory!
Delicate pieces of armor, those little delights protected my tiny toes from sharp rocks and naughty crabs. Made from rubbery jelly, they retained their princess credentials even when soaked in saltwater. Their kitschy, corner shop plastic "play shoe" charm transmorphed into something magical that your mom approved of you wearing out of doors. I guess that, like most girls growing up in the 90s, jelly shoes became part of my childhood identity. They deposited themselves firmly in my memory bank.
This glittering nostalgia is why, when jelly shoes became a women's fashion item, I was incredibly excited. I'm not really a "dedicated follower of fashion," in fact, I actually don't give two flying Brothel Creepers what is "on trend." My belief is that the fast-paced, throwaway mentality of high street trends is wasteful and a little bit brainwashy. I'm all about personal style that evolves organically — influenced by what's being offered, but not dictated by it. However, there is no denying that when things you love "come into fashion," getting yourself some does become somewhat easier. Until I was about 17, when I purchased my first pair of jellies since the age of about 9, I had been too busy lusting over more grown-up items. (Well, "grown-up" to me at the time... black Mary Jane's with cat faces on them and a ghd flat iron to perfect my side bangs — yes, I loved Brand New and had an emotive lyric as my MSN messenger screen name. Read: semi-emo kid.) It was then I saw a lady-size pair of my childhood icons shimmering in the shoe section of a high street store, like a bargain bucket Ruby Slippers and Cinderella's shoes combined. Suddenly, memories of childhood splashing in the white water, collecting tiny pink seashells and sand between my little toes came flooding back in a nostalgic haze. The bewitching enchantment of staring into the resin-like jelly, holding your shoe up to the light, and watching thousands of tiny particles twinkle like they were microscopic fairies fossilized in PVC amber.
Babe Jelly Shoe, $42, office.co.uk
As the weather warms and winter fades to spring, our wardrobes start to transition, too. Legs come out...slowly, hesitantly. Heavy coats make way for cosy layers. Sure, you can't always tell if you need a chunky sweater every day, but that's no excuse not to break out some childlike jellies. Just team them with a pair of Harajuku-inspired socks to channel your inner four-year-old. (You can always wear something more grown-up on top.) There's always room for a little childsplay in your wardrobe, especially now that blossoms are starting to appear on the trees. Spring is the perfect time to work some serious nostalgia. The nights are getting longer and the air smells sweeter — there's a sense of growing optimism mingled with reflective retrospection.
Organza Trim Ankle Socks, $6, topshop.com
As the funny old cycle of fashion turns, it seems that fashionable nostalgia moves in 20-year cycles. Remember a time when leggings and knit sweaters were something your mom dressed you in as a child? You frowned at the lurid combos in your baby photos as a teen — giggled at your friends in their daisy-print jersey leggings in family albums. I remember my friend Tori even sticking an excerpt from a rather mocking article about leggings in my "Leaving Book" at High School. (In England, it was a custom to make a DIY book for your friends to write in at the end of your compulsory schooling at age 16. A bit like a yearbook meets a zine.)
Now leggings, jelly shoes, "tattoo necklaces," Ann Lee–style "cat ear" buns, Clueless mohair ensembles, and turtleneck crop tops have been metamorphosed into covetable wardrobe essentials. Whatever the contemporary twentysomethings were wearing as children has somehow found a new lease of life on the ever-changing racks of the high street. Ten years ago it was the '80s refracting an element of rose-tinted reminiscence over our wardrobes. Turn back through the pages of the fashion mags and you will see it slowly transitioning into the grunge and pastels of pre-Millennium, like a flip book animation.
Sammy Jelly Shoe, $23, office.co.uk
Jelly shoes have really gained first place on the pedestal of sentimental fashion of late, and it's something I am really happy about. Maybe, you could say, it's just because of my fond associations with childhood. However, I believe it runs a bit deeper than that. Perhaps it comes from the reason I was attracted to these gems in the first place — back in those seawater-soaked formative years. Made from shiny PVA (and recyclable, kids!), there is something kind of satirical and subversive about them, that has a wittily playful charm. Their traditional references in shape — the optional heel, the feminine details, the faux shine of the craft cupboard glitter detail — are all elements of sophistication. Yet they are durable, hardy and...cheap! Paupers masquerading as royalty. Just like the $1 plastic slip-on "princess" shoes you'd get with your polyester and lamé dress up outfits from the toy store. They have the same naive allure as the cardboard box castle you made at age six, for which you'd intricately (or so you thought) colored the brickwork with a felt-tip pen. Jelly shoes don't take themselves seriously. They know they're only a bit of fun (as all fashion is), and sure, they pretend to be otherwise, but they do it with a cheeky wink.
Maxi Jelly Shoe, $36, schuh.co.uk
Images: Marc Aitken/Felicity Lynch; Courtesy Brands