Jake Gyllenhaal's 'Everest' Looks Intense Already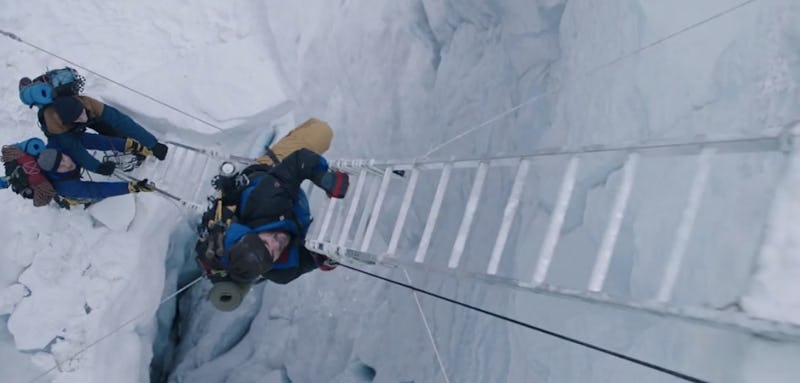 Something about this day has me feeling extremely off balance. Before anyone blames it on a nagging hangover or the aftermath of having a little too much fun at an amusement park, though, here's the real culprit for my sudden case of motion sickness — I just watched the official trailer for Everest, director Baltasar Kormákur's upcoming thriller flick, which features a star-studded cast including Jake Gyllenhaal, Jason Clarke, Josh Brolin, Keira Knightley, John Hawkes, Michael Kelly, Robin Wright and Sam Worthington. Plot-wise, the film sounds intense from the start: Basically, the film follows a group of fearless climbers who dare to brave the face of the perils of scaling Mt. Everest. Now, after seeing the trailer, I can officially say it doesn't look like this film is going to disappoint.
Seriously guys — I promise I'm not exaggerating about the trailer leaving me with a nonstop dizzy sensation. But there are a few good things to come from this experience. For one, I learned that the Everest filmmakers are supporting earthquake relief in Nepal and urging others to do so as well, which is amazing. Secondly, I've found resolve with officially abandoning any hopes of climbing Mt. Everest (or any other peak, for that matter). Consider it a dream dismissed. My final takeaway from the preview is that this movie is visually stunning.
You might want to take some motion sickness meds in advance, but I totally recommend checking out these nine jaw-dropping moments from the Everest trailer:
This Overview Of The Mt. Everest Climbers
How anyone has the gall to attempt this feat is beyond my understanding, but they have my total respect.
A Haunting Shot Of The Mt. Everest Summit
Even though people do it all the time, it's still a struggle to process the fact that people climb this mountain. This scene is completely overwhelming — and slightly dizzying. (I warned you guys!)
This Insane Bridge
Aaaaand... my stomach just dropped.
A Climber Attempting To Cross This Huge Crevice
The fact that I'm superstitious has absolutely nothing to do with why I'm shaking while watching this scene. This is the unluckiest ladder situation I could ever imagine and I can't bear to find out what happens next.
This Scary Moment That I Cannot Even Deal With...
Neither can my muscles, which are completely paralyzed by fear.
And Here Comes An Avalanche
Whew. This is the ultimate of jaw-dropping moments. The suspense is painful.
When The Climbers Finally Reach The Top
Thank goodness, they made it! SIGH. This is such a glorious moment, but for some reason I feel like I need to lie down.
When The Weather Takes A Turn For The Worse...
BIG. NOPE.
And This Happens...
OH GOSH. This exceeds my daily terror limit. I'm done.
Watch the full Everest trailer below. Everest will hit theaters Sept. 18.
Images: Universal Pictures; Universal Pictures/YouTube (9)