Google Added Underwater Areas To Street View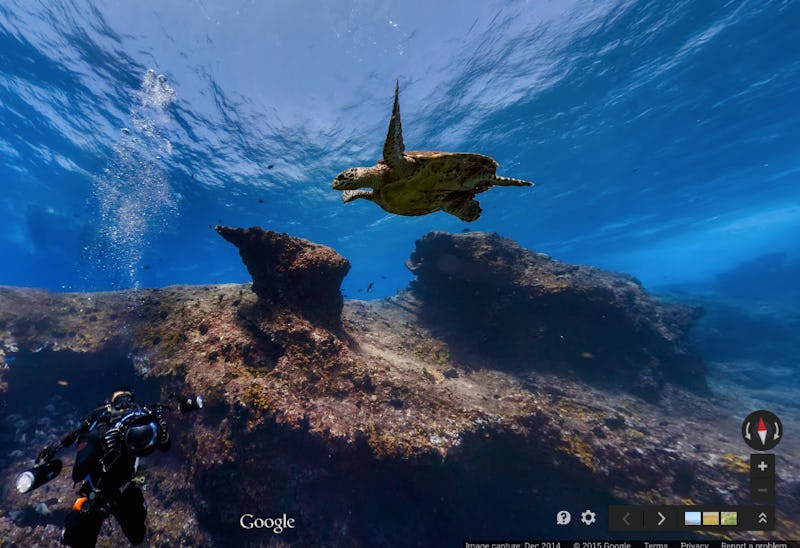 Fans of Finding Nemo and Jacques Costeau can rejoice: Google's Street View is taking a deep dive under the sea. In honor of World Oceans Day on June 8, Google added 40 underwater locations to Street View on Thursday. You can partake in rich, panoramic views of the Great Barrier Reef in Australia, Crystal Bay in Fiji, and the Cook Islands in the South Pacific, among other locations. According to a post on Google Maps' blog, the project is a part of a four-year partnership with Google Earth Outreach, XL Caitlin Seaview Survey and NOAA's Office of National Marine Sanctuaries. Google Earth Outreach has made headlines for helping communities around the world use the Google Earth and Google Map tools for a wide variety of purposes, like visualizing the global fishing fleet or showcasing the culture of the Sherpa tribes of Mt. Everest.
According to Google, each image is a "GPS-located digital record", which can be used as a "baseline" to look at changes over time. For example, documenting underwater sites such as the Great Barrier Reef can make it easier to see the yearly impacts of climate change. According to their site, Google will continue to work with XL Caitlin Seaview Survey to map and publish more imagery in the future.
You don't have to be an aquatics enthusiast to get lost in the sea of images and array of wildlife, which include sea turtles from the Great Barrier Reef, spinner dolphins from Canal da Sela Ginete and humpback whales from the Cook Islands.
Here are 7 images from Google's release that had us looking up flights to Fiji (which, of course, are still way too expensive):
The Coral Nursery, Florida Keys
Marine biologists help foster the growth of new coral reef in coral colonies, such as the Coral Nursery in the Florida Keys.
Pedras Secas
Pedra Secas, a dive site off the coast of Brazil, is known for its jagged volcanic rock formations.
Canal da Sela Ginete
According to Caitlin Sea View Surveys, the spinner dolphins rest in the shallow bays during the day and then move to deeper waters in the evening to hunt.
Ribbon Reef, Great Barrier Reef
Dwarf minke whales visit the Great Barrier Reef every Australian winter, the only predictable meeting of the whales in the world, according to James Cook University.
Yongala Shipwreck
The SS Yongala had 122 passengers on board when it fell victim to a cyclone in 1911, according to The Australian Geographic. The shipwreck has grown into an artificial reef, with huge numbers of marine life feeding on the plankton that grow on its boards.
Galapagos Islands
The Galapagos sea lions are one of only six mammal species found in the Galapagos Islands, according to the Galapagos Conservancy.
Shelly Beach, Sydney, Australia
Shelly Beach, located off of Manly Beach in Sydney, Australia, has been a protected aquatic reserve since 2002.
Images: Google Street View (7)