19 Matching Best Friend Shirts & Accessories That Aren't Cheesy At All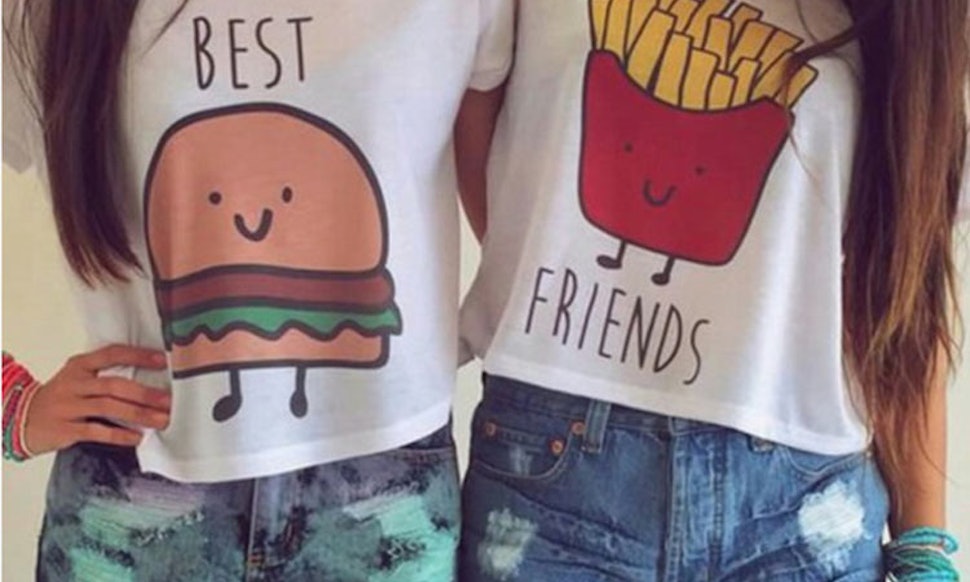 Remember in middle school, when you and your best friend would get matching broken heart necklaces to symbolize your love for each other? Those were cute, but the matching best friend clothes and accessories of today are SO much cuter, not to mention more original. And since National Best Friend Day happens in June, there couldn't be a better time to buy something that both you and your bestie will love.
What better way to show your affection towards your best friend than with matching clothes or accessories? Sure, some of these items might look odd if your bestie isn't standing right by your side, but let's be real — when is she NOT around? Forget about the lame, cliche best friend items of the past; these 19 matching BFF clothes and accessories are so perfect, you'll want to buy them all.
Image Source: Ali Express
Nutella BFF Shirt
Everyone knows that while Nutella and bread are both delicious on their own, they're about a million times better when they're together. Just like you and your bestie. Awww!
Bread Shirt, $25, Swag Girls / Nutella Shirt, $25, Swag Girls
Bae and Boo Tanks
Let's be real: Even if you have an SO, your BFF is actually BAE.
My Bae, My Boo Tanks, $55, Etsy
Best Babes Muscle Tee
Because you and your bestie are babes, obviously. Why not let everyone know?
Best Babes Tank Set, $40, Nasty Gal
Avocado Friendship Necklace
What is one of the only things that's better than an avocado? Your best friend. Show your love for both with these adorable matching BFF necklaces.
Homegirls Bracelet
Uh, do friendship bracelets get any cuter than this? I think not.
Homegirls Friendship Bracelet, $32, Skinny Bitch Apparel
Peanut Butter and Nutella Tanks
Peanut butter and Nutella — they go together almost as well as you and your BFF do. These tanks are the CUTEST.
Nutella Skippy Crop Tank Top, $24, Shop Kollage
Three Best Bitches Necklace
If you have two best friends instead of just one, this necklace is a must. Split into three parts, it becomes instantly cooler than the ones you wore in middle school.
Best Bitches Necklace, $21, Skinny Bitch Apparel
My Best Friend Tank
We're all guilty of stealing clothes from our best friends sometimes… or just never returning them. Buy these matching tanks and be the coolest BFFs ever.
Best Friend Muscle Tee, $15, Forever 21
Partners In Crime Bracelets
If you and your bestie are total trouble twins, then you need these sassy bracelets. If you're really not into the whole BFF label thing, these are great.
Gold Handcuff Bracelets, $32, Etsy
Best Bitches Sweatshirts
These sweatshirts are the cutest things ever. Stay cozy and cute with your best friend by your side.
Best Bitches Sweatshirt Set, $66, Nasty Gal
Best Bitches Crop Top Set
Or maybe you're looking for something a little bit lighter for hot weather this summer. If that's the case, go for these crop tops. So adorable!
Best Bitches Crop Top Set, $36, 8 Cubes Of Sugar
Best Bitches iPhone Cases
Why not express your love for your friend on a really cute iPhone case?
Best Bitches iPhone 5/5s case, $6, Pac Sun
Best Bishes Tank
Into the whole "best bitches" thing, but not into walking around with "bitches" on your shirt? Go for this tank. It's a little bit more subtle.
Best Bishes Tank, $48, Revolve Clothing
To Infinity and Beyond Tops
Best Bitches Beanie
It may be summer weather right now, but you'll be back in beanies eventually. If you have this one, you might even count down to those days.
Best Bitches Beanie, $16, Gypsy Warrior
Burger and Fries
If you and your bestie love to eat, these tops are for you guys. Who knew hamburgers and fries could look so adorable?
Hamburger and Fries Tops, $10, Ali Express
Pizza Heart Necklace
Who doesn't love pizza?! Especially in the shape of a heart?! Sorry for all of the excitement, but OMG I love this BFF necklace.
Pizza BFF Necklace, $30, Etsy
Best Boos
Sure, this kind of reminds me of Halloween. But that's part of what makes it great!
Best Boos Tanks, $23 each, Look Human
Best Friend Tanks
Simple, to the point, cool font, and casual. What more could you want?
Best Friend Cutout Tank Set, $25, Forever 21