The Must-Have Eyeshadow Shade for K-Drama Beauty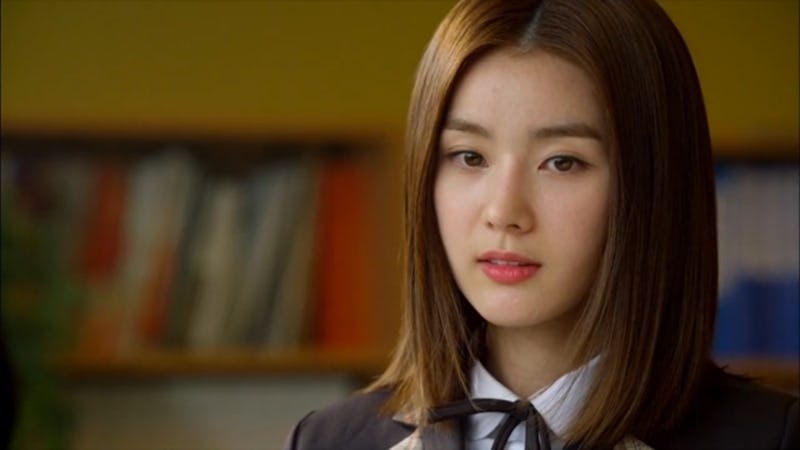 If you're a fan of Korean dramas, you've probably noticed that beauty game is pretty highly variable. In some dramas, it's all about the neon coral gloss stain, while in others, a pale pink lip tint is the look du jour... or maybe one happens to prefer the tiniest dab of eyeliner, while another goes all out with the cat eye swoops — it all depends on the character, drama-type, and setting. That said, there's one constant beauty trick through out all of our favorite dramas (besides the ultra-dewy skin, of course) — and it's light brown eyeshadow. Sure, it may sound like something of an unexciting, plain Jane-esque makeup accoutrement — but boy is it ubiquitous.
Of course, it's not in every drama, but it's in a fair handful of them — you'll see the look on everyone from the ultra-honest TV reporter, to the aspiring pianist, to the international superstar, to the undercover vampire. After all, it's just plain flattering and a great way to naturally add definition to the eyes, while still keeping things neutral and natural. Also, I'm no expert, but based off of personal experience, I'd hazard a guess that the minimal eyeshadow look is especially flattering for those of us with Asian eyes — this isn't true for all Asian folks, but I know I've always struggled with eyeshadow-heavy looks.
No matter your ethnicity, though, if you're a fan of Korean beauty, it's well-worth giving a pale brown (or whatever shade happens to be a tone or two darker than your natural skin color) a try. I mean, take a look at it in action:
Ji-hyun's character Cheon Song-yi was probably most famous for her expertly-deployed neon lip colors, but if you look closely, you'll notice that she's also rocking that barely-there eyeshadow.
Aspiring pianist Seol Nae-il wasn't having a great day in this screenshot (she'd just lost a music competition) — but she still came armed with some on-point eye makeup.
I've only just started watching Orange Marmalade, but Baek Ma Ri's got beauty game to spare, whether she's waking up from a nightmare about drinking the life blood of her classmate/crush, as seen above...
... appearing in said classmate/crushes' fantasies...
... or replenishing her strength with blood out of a disturbingly Capri Sun-esque tomato juice pouch.
Urban Decay Naked Smoky Palette, $54, Sephora
Oh, and Ma Ri's sneaky classmate Jo Ah Ra also happens to go for the warm brown eyeshadow look as well.
As you can see, it's a pretty simple look to get — all it takes a light hand and some blending. Most of these characters have concentrated the shadow onto their mobile lid, with slim to none appearing over the crease — which is part of the reason it looks so natural. You'll also notice that there's a bit of an ombre effect going on in a lot of these looks, where a slightly darker eyeshadow is used directly on the lash line, which fades up into a lighter shade — again, it's a nice technique that keeps things looking drama-free (which is great for certain situations — and for all other situations, there's the new Naked Smoky Palette).
So, where to start on the shopping?
Lovely Me:Ex Eyeshadow #26 Teddy Beige, Price Varies, The Face Shop
Lovely Me:ex Eyeshadow in Teddy Beige (which is apparently "ready to be gentle,") is kind of the cutest thing I've ever seen — and it's absolutely perfect for stealing your favorite stars' look. Here's how it looks on:
It's great for that low-impact touch of extra oomph. The only problem is, it's tough to find, unless you're lucky enough to live nearby The Face Shop.
MAC Eyeshadow in Soba, $16, Nordstrom
MAC Eyeshadow in Soba also does quite nicely for the job, and it's a good deal easier to get a hold of — now, its only caveat is the $16 price tag. If that's a deal breaker for you, I've heard that Milani's Gel Eyeshadow in Bella Cappuccino is a near-perfect dupe, and it's only $4.49.
Neutral eyeshadow isn't exactly groundbreaking, but the ladies from all of our favorite dramas sure know how to do it right. Now, it's just time to take a leaf from their books!
Images: Orange Marmalade, My Love from Another Star, Cantabile Tomorrow/DramaFever; Rosie Narasaki