Who Is' RHOC' Star Meghan Edmonds' Husband?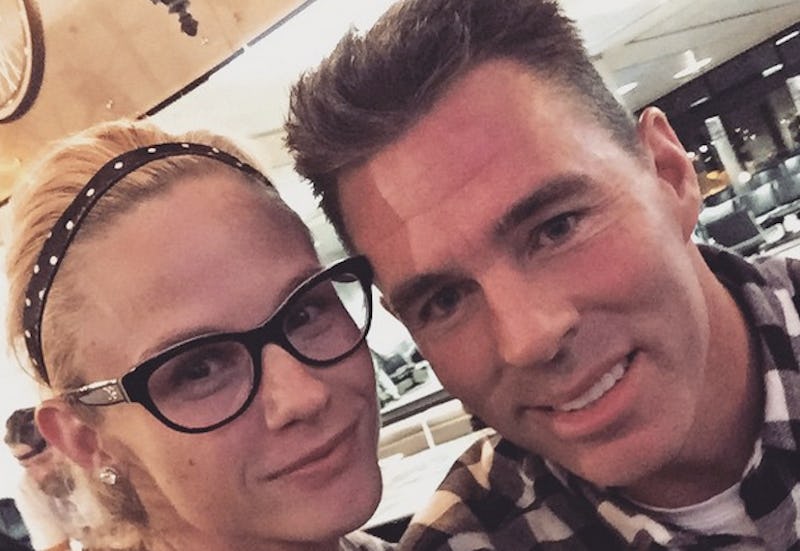 If you plan on tuning in to Monday night's Season 10 premiere of The Real Housewives of Orange County, you might be pleasantly surprised to find a new, fresh face that belongs to a woman who has (a tiny bit) more in common with the down-to-earth Midwestern ladies she grew up with than with some of her new cast mates. Meghan King Edmonds is tall, blonde, and wealthy. She is also a newlywed and the third wife, not of a famous plastic surgeon or hedge fund manager, but of a former baseball player named Jim Edmonds. Meghan King Edmonds' husband has four children from previous marriages, and as his wife admits, he wasn't exactly her type when they first met. Here's the scoop on the new O.C. couple, or at least what we know about them so far.
According to the St. Louis Post-Dispatch, after marrying, divorcing, and moving back to her hometown of St. Louis, Missouri, to begin her career, Meghan reluctantly agreed to go on a date with Jim, who had seen her around and asked mutual friends about her. He was the polar opposite of what she says she was looking for at the time: he had been married, had children, was an athlete, and, at age 44, was 14 years her senior — needless to say, Meghan believed they had zero in common.
But, things ended up working out really well, and they tied the knot on Oct. 24, 2014. Jim's first ex-wife, Lee Ann Horton, who is currently battling cancer, was at their ceremony with their two daughters, Lauren and Hayley. As a result, his new wife and his first wife have developed a friendship, which is great and must make it 1,000 times easier for Meghan to be a stepmom to their children. Hayley, 17, moved to St. Louis to live with her dad and stepmom, a decision she made so that she could take some of the pressure off of Horton while she battles her illness. But Hayley missed her mom, who resides in California, and asked Jim and Meghan if they could move back so she could be closer to her. They agreed — which made it a lot easier for them to accept the offer to star on RHOC (with, what I'm guessing, was a little push from cast mate Heather Dubrow, who was Hayley's real-life friend even before shooting began).
Jim's second wife was Allison Jayne Raski, to whom he was married from 2008 until 2014. The former couple are parents to a son named Landon James and a daughter, Sutton Jayne. Raski hasn't been mentioned much in the lead up to Monday's premiere, so don't expect to hear a lot about her relationship with the couple this season.
As for his life outside of his marriages, Jim was born in Fullerton, Calif., and began his baseball career in 1993 playing for then-California Angels. He has mostly stuck with playing center field and has received eight Gold Glove awards, most of which he earned while playing for the St. Louis Cardinals. Sports Illustrated made no bones about the fact that his fellow Cardinals were worried when he was first drafted to the team — he had a reputation for never exerting himself on the field, being a show-off, and not being a team player. I'm pretty sure his teammates overlooked his pretty face and cocky attitude (which should, at least, make for great TV) when, in 2006, he helped them win their first World Series since 1982.
Jim's baseball career ended in 2010. Following this, he and business partner Mark Winfield opened a restaurant called Edmonds 15 Steakhouse in St. Louis, which they eventually closed and reopened as Precinct Sports Bar & Grill. This year, they debuted a second eatery: Winfield's Gathering Place in St. Louis.
The former baseball player retains another important connection to the Midwest: he joined FOX Sports Midwest Cardinals broadcast team in 2014 and serves as an analyst for all Cardinals pre-game and post-game shows. These facts make me hopeful that we'll see the Edmonds family both living it up in California and hanging out with family and friends in a more laid-back, Midwestern environment, since they've said they split their time between homes.
As far as cold, harsh cash is concerned, Edmonds net worth is reportedly $35 million, according to Celebritynetworth.com. This past February, he sold his mansion in Irvine, Calif., for $6.775 million, the Los Angeles Times reports. (Photos of the pool alone will make you weep.)Thanks to Meghan and Jim Edmonds, I have high hopes for this season — they are the best thing to happen to the show since Lizzie Rovsek.
Image: meghankedmonds /Instagram