A 2009 Lawsuit Could Explain McKinney's Race Issue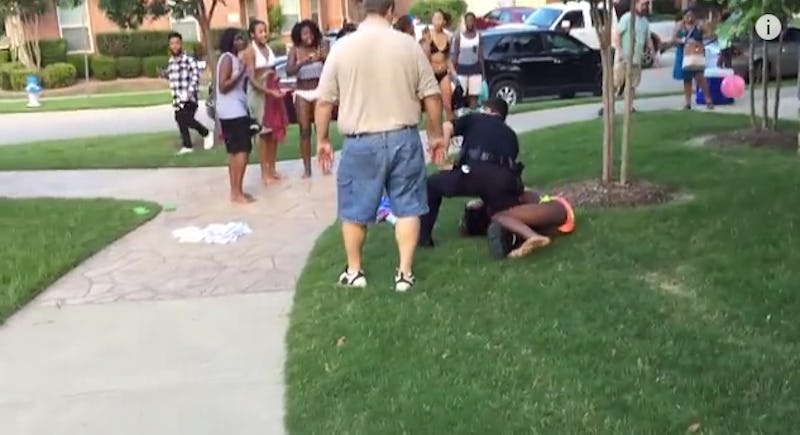 Racial tensions may not be a new phenomenon in McKinney, Texas. The city became nationally known after video surfaced of police violently breaking up a neighborhood pool party, and McKinney appears to have faced race-based issues at least once before. In 2009, a housing equality group sued McKinney over housing discrimination, a complaint that could be connected to an alleged "Section 8" comment that some say sparked the whole pool party incident.
On Friday, police responded to a disturbance at a pool party attended by many black teens in the Craig Ranch North neighborhood of the west side of McKinney, an area that is predominantly white. Witnesses told Buzzfeed things turned violent after adult neighbors began to tell the teenagers to go back to their "Section 8 housing." If this account proves true, racial tensions in McKinney could be at the root of a situation long before a white cop with a weapon showed up.
Section 8 refers to a federal program that subsidizes housing for "very low-income families, the elderly, and the disabled." The Dallas Housing Authority (DHA) gives such qualifying families Section 8 vouchers to help cover housing costs. In 2009, the Inclusive Communities Project (ICP), a Dallas fair housing nonprofit, sued the city of McKinney and the McKinney Housing Authority (MHA) for failing to provide housing for Section 8 voucher recipients in the west side of the city.
In the housing discrimination lawsuit, ICP argued McKinney's housing was segregated and the city had acted to keep it that way. McKinney's west side was 86 percent white, according to the 2000 U.S. census (the most recent census at the time the suit was filed). The complaint contended that in 2007, "2,057 of the 2,485 units operated by landlords willing to participate in the Section 8 voucher program were located on the east side of McKinney," a mostly black neighborhood.
What's more, the lawsuit alleged McKinney and MHA chose not to make a deal with ICP because of the "race of the population that would be eligible for and that would probably be served by the units developed using the financial assistance from ICP." The lawsuit alleged the city and the MHA had refused to negotiate a deal with the ICP to provide more Section 8 housing in McKinney's west side. ICP also claimed it had tried to offer funding to McKinney and MHA for the low-cost housing construction. In other words, there were few opportunities for disadvantaged and minority families to move to the city's more affluent — and white — west side.
Ultimately, McKinney settled the case out of court. But what hasn't been settled yet are the racial tensions that could run deep enough to have incited a pool party seen 'round the world. It's also still unclear what role racial bias may have played in Officer Eric Casebolt's aggression toward some of the party's guests. This doesn't appear to be Casebolt's first time in trouble, either. In 2007, Casebolt, along with other officers, was sued for racial profiling, harassment, failure to render aid, and sexual assault following a traffic stop.
Attention on the suit against McKinney has resurfaced at a time when several communities across the country are on edge as a result of racial tensions. On Monday, a grand jury indicted former North Charleston police officer Michael Slager for fatally shooting Walter Scott, a black man, after a routine traffic stop in South Carolina in April. Whether or not they prove successful, cases like these can make change, and many police departments across the country are already reevaluating their training and policing techniques, including the use of body cameras.
Image: Brandon Brooks/YouTube