Natural Skincare For Your Summer Camping Trips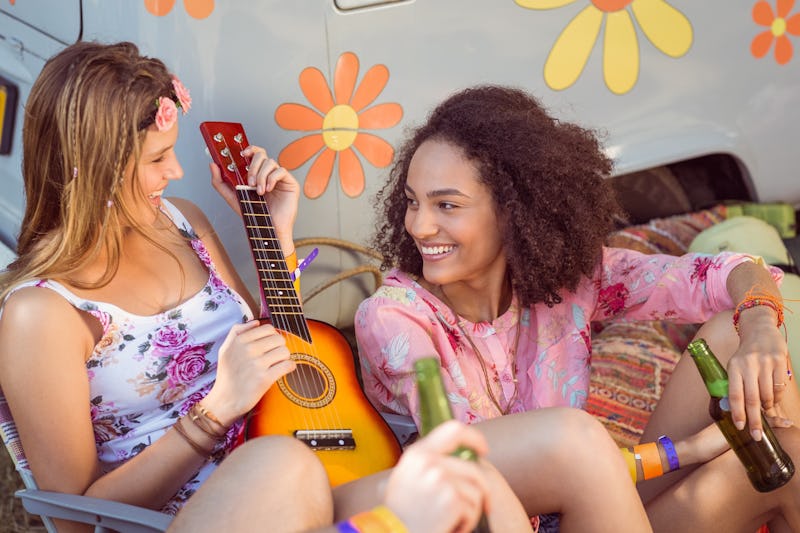 Basking in the summer sun on a hammock, roasting marshmallows over a smoky fire, and counting constellations in the quiet night sky — these are the staples of a classic summer camping trip. Setting up camp in the heart of nature can, in the words of John Muir, "wash your spirit clean," and leave you with a greater sense of your place in the universe, but skincare for a camping trip can also be a bit of an adjustment for your routine. Between sweltering sun, whipping wind, scouring sand, and a barrage of bugs, you'll want to protect your epidermis with products that are both natural and eco-friendly.
"Keep close to Nature's heart... and break clear away, once in a while, and climb a mountain or spend a week in the woods. Wash your spirit clean." — John Muir
If you're an outdoor enthusiast, you more than likely have at least one camping trip planned this season (hopefully more), and whether you're taking to the trails in a full scale, back-country, hiking adventure, or looking for laid back leisure at a local state park, you'll have to leave your daily skin care routine at home.
Of course, a major thru-hike will mean greater sanitation changes, like skipping the use of deodorant (to deter bugs and bears), and changing your fashion according to what's necessary for living out of a backpack. But even at state parks and small campsites, your dependence on running water will be limited, and for the sake of ease and enjoyment, you'll probably want to opt for solutions that don't require hiking off to a camp shower (if there is one available) just to rinse your face.
"Thousands of tired, nerve-shaken, over-civilized people are beginning to find out that going to the mountains is going home; that wilderness is a necessity." — John Muir
But skincare out in the elements includes much more than washing, toning, and moisturizing. Survival basics come into play, and your attention may shift from removing excess oil to preventing infections and discouraging pests. Which sounds a bit daunting (especially if you rock a solid fear of ticks and the diseases they carry, like yours truly), but can be handled with a little preparation and caution.
So, taking the time to plan your skin regimen in advance will make your time outdoors that much more enjoyable. The following tips and products are natural, bio-degradable options that will help you protect, cleanse, and heal your skin during your next adventure.
Argan Cleansing Towelettes, $10, Amazon
These unscented, bio-degradable wipes are ideal for cleansing and moisturizing, boasting all of the beauty benefits of argan oil, grapeseed oil, and olive oil. They're gentle enough to use on your facial skin, and their oil based content provides some natural disinfectant and anti-fungal properties (a big plus if you're on the trail).
Plus, the fact that they're free of cloying, artificial perfumes means less bugs buzzing around your newly cleansed skin than if you were to use standard anti-bacterial wipes (which usually come in a variety of synthetic fresh scents).
Eucalyptus Bag, $16, herbanessentials
Essential oils are pretty miraculous, especially when it comes to antibacterial and antiseptic properties. They smell wonderful, and when it comes to camping and hiking, if you're going to wipe down with something scented, they're the best way to go.
Personally, I don't camp or hike without eucalyptus on my person to repel insects, and essential oil wipes are a convenient way to coat yourself in its soothing goodness (just keep an eye out for ravenous koala's, if you happen to be Down Under). Eucalyptus wipes also double as topical muscle relaxers, and provide decongestant vapors while on the go.
Lavender Bag, $16, Herbanessentials
Of course, not everyone is into the koala friendly vibes of eucalyptus, so for a more calming scent, you might want to consider lavender wipes. Being native to North America, lavender will not be an alarming or overly intriguing scent for most animals in the back country, and works as a disinfectant to sooth scrapes and burns and promote quick healing. In addition, lavender also discourages bugs from bothering you — with the exception of the occasional curious and cute bumble bee.
3. Sunburn Relief Spray
For all natural sunburn relief, consider mixing up some Aloe After Sun Spray (or other natural sunburn remedies), courtesy of Stephanie Tourles, author of Organic Body Care Recipes, before you head out of town. This mix is best kept chilled, so it's better for camping trips where coolers are present.
Ingredients:
1 cup aloe vera juice
20 drops lavender essential oil
10 drops rosemary essential oil
Prep Time: approximately 5 minutes
Blending Tools: spray bottle; shake before each use
Store In: sterilized plastic or spray or spritzer bottle
Yield: approximately 1 cup
Mix ingredients together in spray bottle by shaking vigorously, then spray on skin as often as needed.
If you're looking to avoid itchiness and pain induced by bug bites, stings, and parasitic pests, you might want to bring a bottle of herbal insect repellent. Believe it or not, the right blend can be even more effective than chemical based repellents.
Of course, if you're a DIY camper, you can always mix up a batch of home made insect repellent. Here's a variation that tends to work well:
Ingredients:
1/2 tablespoon of aloe vera juice
20 drops lavender essential oil
20 drops eucalyptus essential oil
20 drops clove essential oil
10 drops cedarwood essential oil
10 drops rose geranium essential oil
1/4 cup of distilled water (or a little less — just enough to almost fill your 4 ounce bottle)
Prep Time: approximately 5 minutes
Blending Tools: 4 ounce spray bottle; shake before each use
Store In: sterilized plastic or spray or spritzer bottle (lasts three months at room temperature, six months if refrigerated)
Mix ingredients together in spray bottle by shaking vigorously, then spray on skin every 4-5 hours.
Here's wishing you happy trails, and healthy skin, in all of your adventures to come!
Images: Fotolia; sarahcapshaw, nps_wear/Flickr; Courtesy Brands