8 Summertime Hairstyles For Wet Hair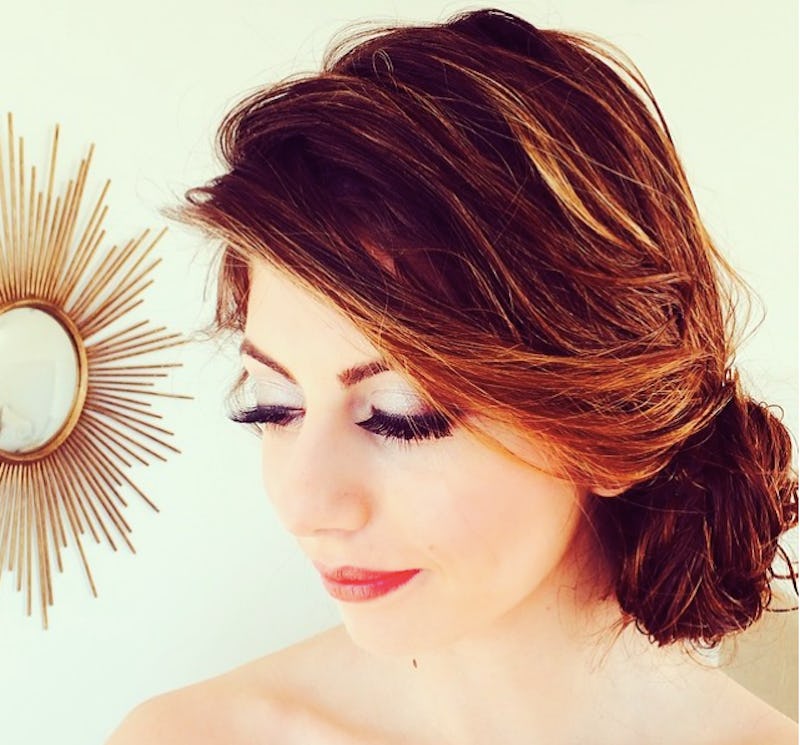 Summertime is all about "wet hair, don't care" vibes, so prepping yourself with an arsenal of go-to styles for wet hair is key. Sometimes drying your hair on a hot, summer day is the last thing you want to do, but that doesn't mean you have to completely forgo a good hair day. Pool parties are the reason for the season (especially now that we have pizza pool floats), and you don't want to end up lost in a sea of topknots. Having a unique style doesn't have to mean spending hours with hot tools. It's time to put the blow dryer away, and break out the bobby pins.
Wondering what styles you can pull off with wet hair? Honestly, it's pretty much the same as what you can do when your strands are dry. Braids, updos, and buns can all look perfect when styled correctly with wet hair, so you really don't even have to learn any new tricks for post-pool locks. Bonus? When your hair dries, you can shake it out into cool, beachy waves. Plus all that time away from the dryer will really help your strands heal from all the damage you built up in the winter. I encourage you to get creative with your wet hairstyles, but these 8 basics are a good place to start.
1. Short Style
Have short hair? This style is perfect for you! Style your wet hair by creating a side-swept look. Simply add gel to keep the style in place.
2. Springy Curls
Summer is the perfect time to let your natural hair breathe. While your hair is still wet, add a dollop of curl enhancing gel to your ends. The get will intensify your ringlets while banishing any frizz. A perfect look for summertime hair.
3. Braided Glory
Looking for an up-do style, but don't want to dry your hair. Braids are your best solution! Start by french braiding both sections of your hair. Once your reach the nape of your neck, twist the braids into a low bun. This style is great for any post-beach adventures!
4. Low Chignon
To be honest, I'm obsessed with this look. Just gather your hair into a low side-bun, and then just slightly pull your front strands forward. So simple, yet so chic.
5. Braided Ponytail
Ponytails don't necessarily look their best with wet hair, however, adding a thick braid to the ends is a great way to punch up the traditional style. This look is very edgy and looks great during the summer nights.
6. Mini-Buns
I've been seeing this style everywhere lately! It's super cute, and gives you beautiful waves when you're ready to take out the buns. Create this style by sectioning your hair into three parts. Simply wrap each section into a low bun, and you're done!
7. Fishtail Braid
For all those girls who love a good fishtail braid, this is for you. These braids look perfect with wet hair. Great for any post-pool or after the beach activities.
8. Beach Chic
Honestly, we couldn't have said it better ourselves!
Images: loose_curls/Instagram (1); Getty Images (3)