10 Hanukkah Dessert Recipes Because There Is More to Life Than Gelt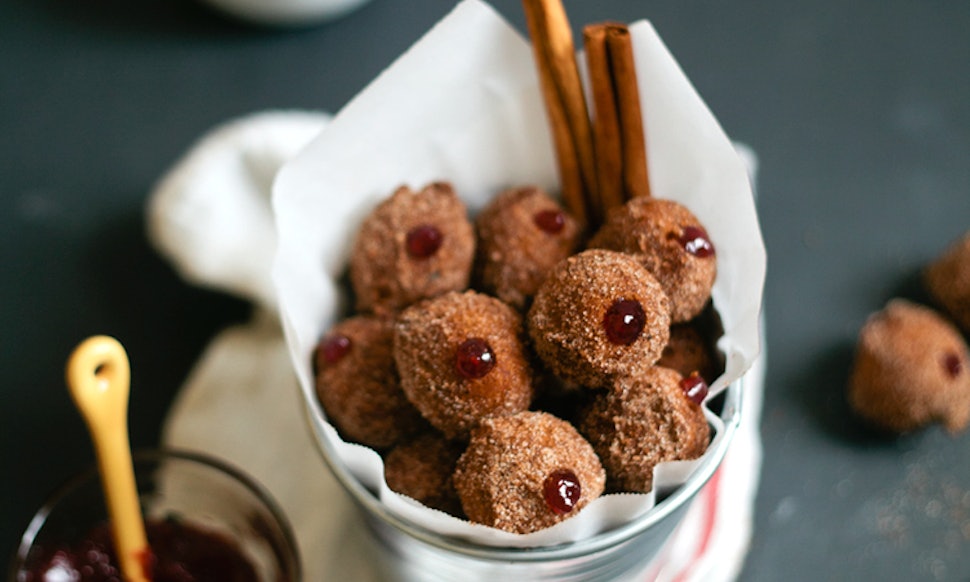 Let me share something important with you: Hanukkah food isn't just about the latke. On the contrary! The Festival of Lights is, among other things, a great way to expand your sweet treat wheelhouse — particularly in the deep-fried category. This year, I'm stretching the 'miracle of oil' thing as far as it will go with banana fritters, jelly-stuffed sufganiyot, and deep-fried levivot drizzled in a sugary rosewater glaze. Running low on oil after all those latkes? No worries. We've also got dreidel cookies, chocolate cardamom rugelach, and a gelt-glazed chocolate cranberry cake that you might just fall in love with. And I hate to spoil the surprise, but… cupcake menorah is a thing. A beautiful thing. Let's Hanukkah!
Image: My Name is Yeh
Chocolate, Pear, and Cardamom Rugelach
Traditional rugelach starts with either a cream cheese or sour cream dough. This recipe from Gnom Gnom goes the extra mile — with both of those things! Rolled up with chocolate, pear, and cardamom, these unique treats are sure to please.
Image: Fiery-Phoenix/Flickr
Dreidel Cookies — With a Surprise!
These deft little dreidel cookies from Couldn't Be Parve lodge a secret surprise — gelt! Who knew that playing with your food could be so renumerative?
Image: Couldn't Be Parve
Easiest Sufganiyot Ever
The internet is abuzz with recipes for these traditional Hanukkah sugar-rolled donuts, but Molly from My Name is Yeh promises that these are the easiest sufganiyot ever. Even if she's exaggerating, these little guys look good enough to put in the extra work. If you're into these, be sure to check out Molly's pumpkin sufganiyots as well.
Image: My Name is Yeh
Levivot with Sweet Syrup
Looking for something else to deep fry? How about these levivot from The Shiksa in the Kitchen? These sweet little pockets of fried dough are drenched in a rosewater syrup for serving. I'll allow it.
Image: The Shiksa in the Kitchen
Honey-Drizzled Banana Fritters
These banana fritters from Nourish Network are another great way to celebrate the Hanukkah tradition of eating foods cooked in oil. So deep-fry away! You are so dedicated to your religion.
Image: Sandy Austin/Flickr
Blue Velvet Cupcake Menorah
Cast aside the traditional menorah this year for this cupcake version from Cleo Coyle Recipes, and enjoy a blue velvet Hanukkah cupcake for each of your eight crazy nights.
Image: Cleo Coyle Recipes
Deep-Fried Doughnuts with Grapefruit-Vanilla Jelly
Okay, last deep-fried recipe. I promise. These doughtnuts from Bon Appetit feature an unusual grapefruit-vanilla jelly. They say: "I like my foods deep-fried and coated in sugar, but I am also sophisticated and fancy."
Image: stevendepolo/Flickr
Cheesy Cherry Blintzes
And then there were blintzes. These blintzes, from Fashion Edible. Stuffed with cottage cheese and topped with a homemade cherry sauce, this dessert is a cause for celebration in and of itself.
Image: Fashion Edible
Caramel Apple Upside-Down Noodle Kugel
I'm pleased to announce that caramel apple noodle kugel is a thing. And here you have it, from Parsley, Sage, and Sweet. Even if egg noodles are not an intuitive dessert ingredient, this dish has more than enough butter, brown sugar, and cinnamon to make up for it.
Image: roboppy/Flickr
Chocolate Cranberry Cake with Gelt
Has a cake ever spoken to you? This chocolate cranberry cake from What Jew Wanna Eat might. It's stuffed full of butter, chocolate, cranberries, and sour cream and then wrapped in a chocolate gelt glaze. Bake it in the shape of a Star of David to make your Hanukkah extra adorable this year.
Image: What Jew Wanna Eat