Why Is Alex Back On 'OITNB'?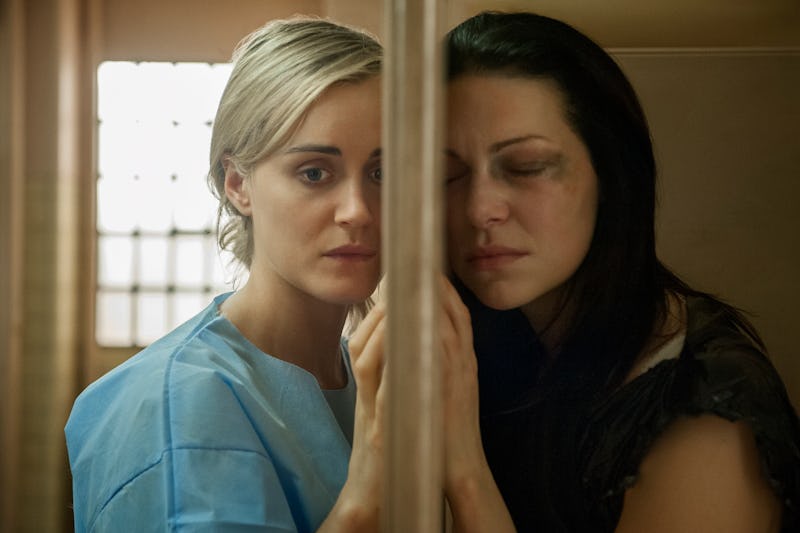 Look who's back in Orange, Alex Voss is back on Orange Is The New Black. Don't think anyone is going to roll out the red carpet for her grand return, and she does not appear to be happy about being back, either. Why is Alex back in Litchfield, anyway? She was mostly MIA during Season 2 of the show, but now she's back behind bars, and also Laura Prepon is once again a starring cast member. Not that I'm complaining, because this is great. But how exactly did it happen? We know the answer, we just haven't seen it play out on the show yet.
Alex was released from prison at the beginning of Season 2. If you can remember back to your marathon last year, in the first episode Piper and Alex wind up at a brand new jail where they're awaiting trial; they're in Chicago to testify against Alex's drug dealer. That's where things get a little messy. Alex lies on the stand, and in exchange she is released. Piper doesn't think Alex is going to lie, so she tells the truth. Big mistake. Piper gets to watch Alex go free, while she returns back to Litchfield, and needless to say, Piper is PO'ed.
Now fast-forward to the beginning of Season 3 (spoilers ahead), and Alex makes her grand return. What did she do this time? It's actually not what Alex did. It's what Piper did to her.
So here's your quick OITNB refresher, to prime you for what brings Piper and Alex back together. (Once again, still not complaining.)
At the end of Season 2, Piper — in true Piper fashion — had a moment where she spiraled out of control. Larry and Polly had literally just told her that they were running away together. Alex was still a free woman while she was incarcerated. Piper was the only one really, and truly, trapped. So, Piper did something bad. She called Polly and asked her old pal to call Alex's parole officer. Polly agreed, and made the call. It should have just been a non-issue thing. It was really meant to scare Alex more than anything else. Piper did it out of her own misery, and wanted to share that misery with someone else for a second. Except, it totally backfires on her.
Alex had a gun on her when the parole officer came a-knocking... which is in complete violation of her parole. Piper just unknowingly sealed Alex's fate.
We don't actually see the aftermath of that at the end of Season 2, so prepare for that big Alex reveal at the beginning of Season 3. She's back because of Piper. I bet that Alex doesn't know she's back because of Piper, so that's going to be a really fun thing to deal with. Do you think Piper will admit that it's all her fault? Knowing Piper, she will. But that will backfire in her face, too, because that's Piper's MO.
And though Alex will not be thrilled to be back, I'm ecstatic to have her back. Just think about how much chaos is going to happen this season with her around...
Images: JoJo Whilden/Netflix; Giphy (2)