Margaux Ballet Flats Have Quite The Backstory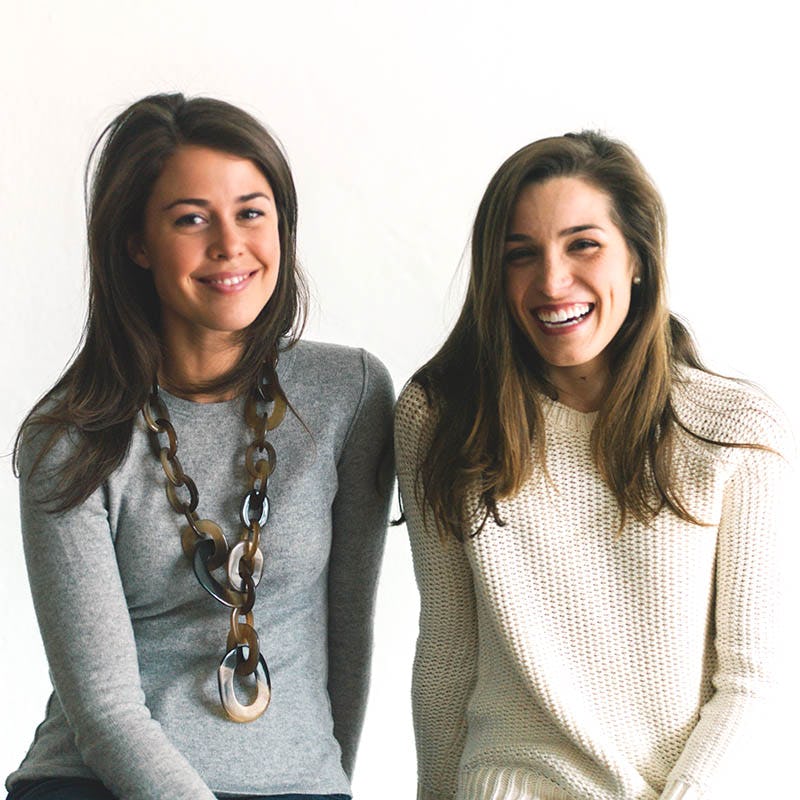 Although heels may sometimes be mandatory on red carpets (ugh), making a second (or third) Starbucks run in sky-high sandals, or waiting at the subway platform while wearing platforms just isn't practical. More often than not for most ladies, it's a choice between looking polished and avoiding crutches. But thanks to Margaux founders Sarah Pierson and Alexa Buckley, you can now have made-to-measure ballet flats that have already been vetted by Vogue.
Both women graduated Harvard in 2014, with degrees in — get this — History and Government, and traded Beantown for the Big Apple right after graduation to set up their très chic brand.
They opted to open with one style only, a ballet flat dubbed The Classic. "We not only wanted to make this silhouette our signature, but also wanted to make sure that every aspect of the shoe — from the height of the heel, to the shape of the toe — was absolutely perfect. You can only make one first impression," explains Buckley.
And impress, they did. On their e-boutique, customers can choose from a rainbow of colors and purchase Spanish-made standard sizes (think: RTW) or opt for a custom-fitted pair — like couture, without the price tag. Both options are $195.
Margaux provides the DIY measuring kit, you provide the measurements, and shoe makers in NYC provide your very own pair of made-to-measure flats. Consider your off-duty look all but perfected. And exhibitionists, rest easy: The design allows for a coy peek at some toe-cleavage.
Next up for the brainy, ballet flat-loving babes? "For the time-being, we are focused on perfecting the ballet flat," says Buckley "We have hopes of introducing new color wheels and texture pallets in the coming months and years, but want to make sure that we perfect this product before moving on to anything else."
I had a chance to catch up with both women to chat about starting their brand, catching up to the competition (Chanel isn't an easy brand to beat!), and just who the Margaux woman is.
1.) It's all about the vision, baby
"For us, the first step in starting Margaux was defining our vision for the brand — and the woman we wanted to serve," co-founder Sarah Pierson says. Pierson and Buckley started by laying out their priorities — a timeless aesthetic, smart design, an elevated experience and an accessible price point — and the rest started to fall into place.
2.) A good pair of flat shoes is a city-girl essential (as long as they fit well)
"The ballerina flat is a — if not the — definitive staple of the modern woman's wardrobe," Pierson explains. "But too often, ballet flats are ill-fitting, or too unstructured to carry this woman every place she needs to go. For Alexa and I, they are a uniform! I can't remember the last time I've put on a pair of heels."
3.) There is no actual Margaux
The brand isn't named after a relative, friend or literary heroine. It was chosen for the aesthetics. "The name Margaux is a more of an ideal than a person," Buckley reveals. "We were drawn to the aesthetic of the M and the X, and thought the name was bold, strong, and classic — just like the Margaux woman."
4.) Sometimes an awesome shopping experience trumps name recognition.
Margaux may not have the history that brands like Repetto, Chanel, and Lanvin have, but what they can offer up is a customized experience at a très friendly price. "Those brands have incredible legacies and incredibly loyal brand followings. But because we're new and small, we can provide an experience that none of these brands can: a made-to-measure product, executed with the same exacting craftsmanship and attention to detail at a fraction of the price."
So now all that's left is to pick a color. Good luck with that — they're all so delicious!
Images: Margaux