Sasha Pieterse Stands Up To Body-Shamers Perfectly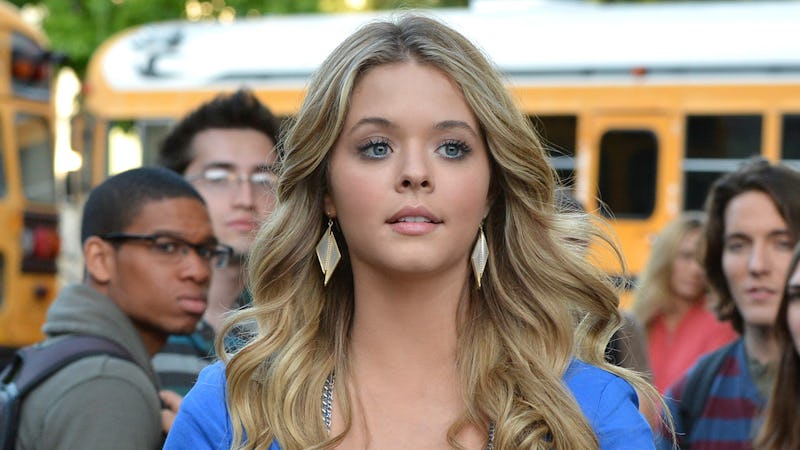 Sasha Pieterse, better known as Alison DiLaurentis on Pretty Little Liars , was just 14 years old when the show premiered in 2010. As is normal, healthy, and to be expected, her body has changed over the past five years as she's grown. Unfortunately, a number of critics have taken to social media to shame her body. No one, celebrity or otherwise, deserves to be body-shamed or bullied. In an impressive display of maturity, confidence, and general badassery, Pieterse posted an inspiring message to the haters on Instagram. The fact that Pieterse has been criticized in this way in the first place is pretty mind-boggling to me, but unfortunately, we live in a society that consistently idolizes one body type: usually quite thin, with any curves only showing up in the "right" places.
It's incredibly troubling that people choose to spend their free time insulting a human being whom they've never even met. I think people often forget that celebrities are real people just like the rest of us, with real emotions. They do read what's being said about them and it's bound to affect them, no matter how secure and confident they may be.
We may have become accustomed to seeing actresses who fit a certain mold, but there is hope, as many stars have spoken out against Hollywood's standards, shared their own experiences, and encouraged more body diversity. In 2012, Pieterse's PLL co-star Lucy Hale spoke to Cosmopolitan about her eating disorder and recovery, giving any fans struggling with their own issues someone to look up to. Last year, Oscar nominee and American Horror Story star Gabourey Sidibe put body-shaming trolls in their place with one epic tweet.
Like Sidibe, when Pieterse saw the callous comments online she chose to take the high road. She Instagrammed the below message to her nearly 3 million followers, many of whom are impressionable teens and young women who likely look to her as a role model.
I'm not ashamed to admit it: This post made me tear up a little. Like most teenage girls, I spent years struggling with body image and comparing myself to the super skinny females I saw on the TV screen. I'm not saying the media alone has the power to cause or heal body image issues — they are extremely complex. However, seeing extremely thin women constantly and exclusively glorified on the screen, while people with different body types are attacked like Pieterse, can fuel eating disorders and trigger individuals who are already suffering.
Bravo to Pieterse for neither letting Internet trolls get her down, nor stooping to their level. She took what had to be a negative and hurtful personal experience, and used it as an opportunity to send a positive and inspiring message to her many fans: health is about way more than a number on a scale. As she notes, it's far more important to surround yourself with individuals who support you and want only the best for you.
While Pieterse's message is empowering, it's upsetting that she felt the need to explain her weight at all. Her body is no one's business but her own, and we should instead focus on her talent and accomplishments as an actress. The biggest change I've noticed in Pieterse over the past five years is not in her appearance, but her growth and improvements as an actress.
Pieterse's post is bound to strike a chord with her fans and hopefully they will be more inclined to accept their own bodies as they are, rather than focusing on so-called flaws. No one should be criticized or encouraged to change their lifestyle just because they don't perfectly fit society's cookie cutter definition of beauty. Pieterse recognizes this, and I hope her fans, as well as influential celebrities like her, remember this message.
Image: Eric McCandless/ABC Family