Ritter's Return to 'Parenthood' Is Bizarre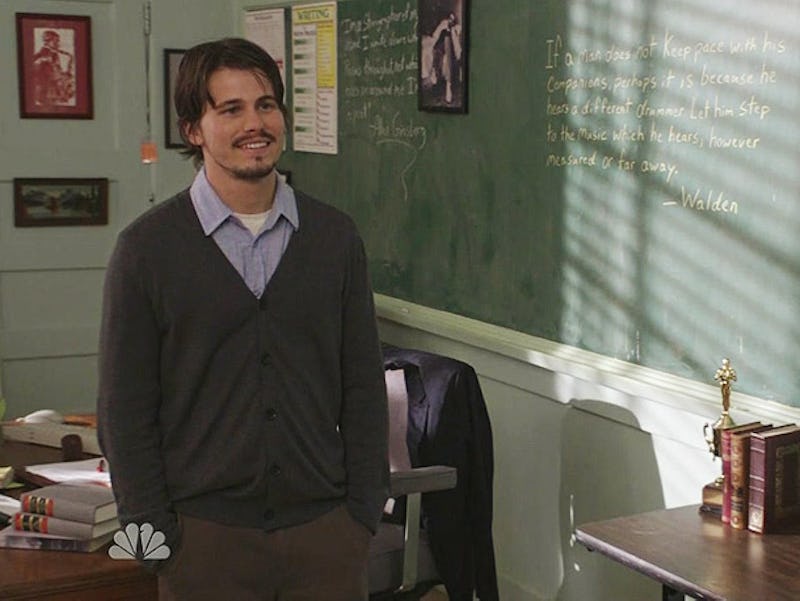 Well, we all know which Gilmore Girl Jason Ritter likes best. After leaving Parenthood — and Lauren Graham — to star alongside Graham's former TV daughter Alexis Bledel in Us & Them , FOX's probably-cancelled midseason show, the actor is returning to the show starring Lorelai the elder. According to TVLine, Ritter will be reprising his role as Mark Cyr, the high school teacher who romanced Sarah (Graham) in earlier Parenthood seasons. He's scheduled to appear in an episode set to air on April 24.
No details have been released yet about the purpose or length of Mark's reappearance, although it's easy to assume that he's there to win back Sarah, or at least reconnect. Sure, he could also be back to talk some sense into Amber (college! Go to college!), but it'd be kind of ridiculous if he returned to the show after a season away, only to never cross paths with his former fiancé.
Still, it seems odd that the show's writers would have Mark return to Parenthood in order to get back together with Sarah. Graham's character got a lot of flack from fans and critics during the show's first few seasons for having too many romance-centered plotlines, and the love triangle she found herself in with Mark and Hank (Ray Romano), while fun to watch at times, quickly became repetitive and dull. Besides, Hank's still on the show, and while it's not likely he'll get back with Sarah anytime soon, the drama would undoubtedly be re-started if Mark came back in the mix.
Still, while it'd be a strange choice from the writers, maybe it wouldn't be an entirely unexpected one. Although Sarah-in-love was annoying, Sarah-alone is even worse. She's been sidelined this season with nothing to do, her only plotlines are about unclogging toilets and fighting with Amber. As much as viewers don't want to her love triangle re-start, it might actually turn out to be more interesting than what she's doing now — nothing.
So we're excited to see Mark come back, even his intentions are unclear. Maybe it'll prove disastrous for Sarah, but hey, at least it's give her something to do.
Image: NBC