Say Goodbye To Stains With Hydrophobic Fabric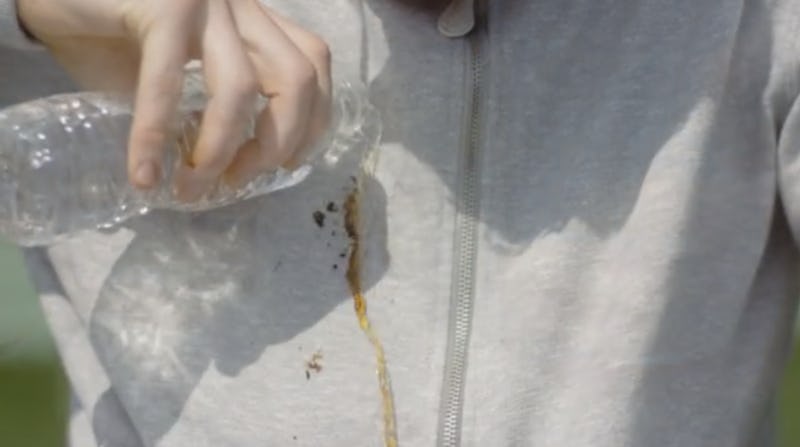 Everyone knows the awful feeling of finding a coffee stain on your shirt or witnessing the contents of your brunch plate spill on your favorite dress. Time slows down as you bow your head in disappointment. You think to yourself, "Nothing will ever be the same," because your clothes are forever ruined. Thankfully, stain-proof clothing from Dropel Fabrics is on its way to change fashion forever. Speaking at the second annual New York Fashion Tech Lab Demo Day, the startup company's CEO and co-founder Sim Gulati talked about the ever-increasing need for stain-resistant fabrics.
"We live in a world full of stains, but we don't have to," Gulati said. "Unlike other treatments, our fabrics maintain the plush softness of cotton we love to wear. Wine, beer, soda — not even soy sauce stands a chance." Dropel Fabrics has already partnered with retailers like menswear line Kelby & Co. and various home furnishing industries, but it's looking to expand into other arenas such as womenswear and children's clothing soon.
Dropel Fabrics achieves its stain-repelling nanotechnology by adding an ingredient to cotton fabrics about midway through their production process. The company is not actually designing a line of stain proof clothes, but rather supplying these treated textiles to create products that will allow stains and liquids to roll off the fabric. According to co-founder Bradley Feinstein, production of Dropel Fabrics' is both cost-efficient and energy-saving. "This is everyday wear, but better," he said.
Watch a video of Dropel Fabrics in action below:
Image: kelbyandco/Vimeo