Engraved Rolling Pins For Your Fancy Cookie Needs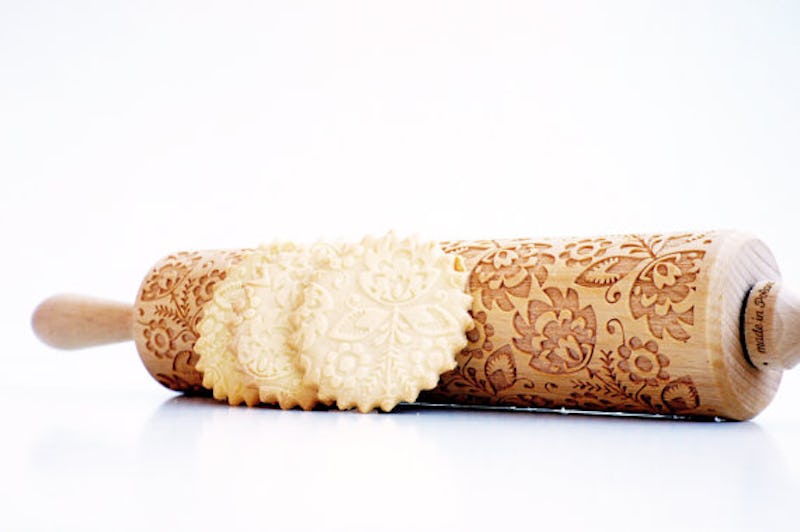 It's time for us to grow up. Rolling pins aren't just for those dopey TV couples. We could all benefit from having a little more order in our lives and, most importantly, in our cookies. If you're like me, your idea of "cookie management" is beat it up like Play-Doh and hope for the best. But what if we were better than our laziest self? What if we transcended into the well-adjusted 20-somethings we know we can be? Which brings me back to: Rolling pins. More specifically, engraved laser cut rollings pins, which you can buy on Etsy, thus fulfilling your dream kitchen before you even have an electronic mixer.
"Dream kitchen," you ask? Sure, I'm at that point where my toaster is more of a glorified symbol of dishevelment, hardly a feature. My oven is mostly there for legal purposes and the occasional Trader Joe's frozen pizza. It's time to do better. Not just "better"—personalized laser engraved rolling pin better. This is the stuff of the future. The Jetsons would be proud of me. George has already ordered one from Etsy.
Even if you're just using Toll House cookie dough, this is going to elevate your cookie game and make you the talk of the lazy 20-something crowd.
1. Flower Power cookies
For the music festival inclined 20-something.
$34.73, Etsy
2. Owl cookies
I want to make an owl pun, but they're escaping me.
$34.73, Etsy
3. Word cookies
For the literary scholar/Bustle writer in all of us.
$46.31, Etsy
4. Fleur de Lis cookies
To channel NOLA, or celebrate Mardi Gras the right way.
$34.73, Etsy
5. Reindeer cookies
Because 'tis the season...for Christmas in July.
$34.73, Etsy
Now you can feel good about inviting your parents over for cookies. So fAnCy.
Images: ValekRollingPins/Etsy