Vans x Disney Is Finally Available To Shop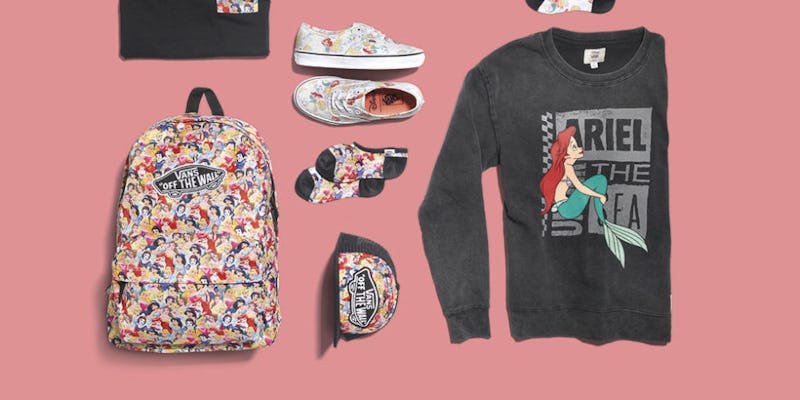 It was announced that Vans and Disney were collaborating on a capsule collection featuring Disney's most iconic characters. Now, the Vans x Disney collection is officially out and it literally will fulfill all of your childhood dreams.
The capsule collection features an array of Disney princess-printed items, including footwear, clothing and accessories. From Little Mermaid sweatshirts to a backpack featuring all of the princesses (well, not all, but the old school ones like Ariel, Snow White, Belle, Jasmine and Aurora), each piece in the line is less than $75.
While the entire Disney princess collection is pretty awesome, I'm partial to the shoes because that's what Vans is known for. There are patterned slip-ons, your basic low-top tennis shoes, and a truly sweet pair of high-top kicks showing off the Disney princesses with a fun pattern.
The Vans x Disney capsule also has pieces featuring classic Disney characters, like Mickey and Minnie, Winnie the Pooh, and Donald Duck. For all of you Disney fanatics out there, this is your chance to get some Disney merchandise that doesn't look like it came from a gift shop in Florida. The full collection is available on vans.com, but you can peek at a few of the items below.
Disney princesses have never looked so good.
Images: Vans.com (4)