Disney For Vans Will Make Your Inner Child Smile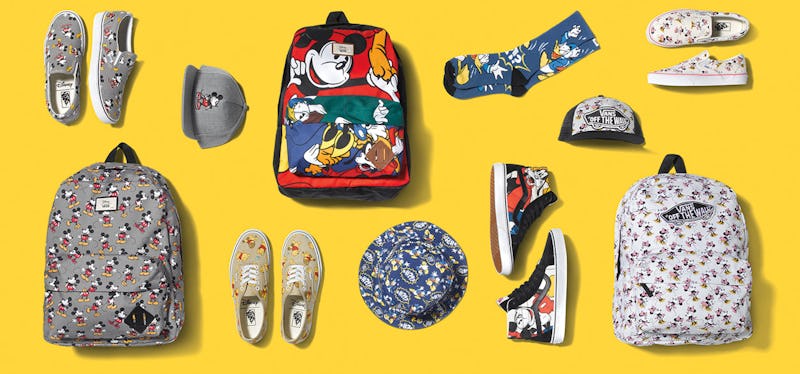 If a dream is a wish your heart makes, then someone must have wished pretty hard for this stylish collaboration. Disney and Vans have paired up for a footwear, apparel, and accessory line this coming fall, and the magical collection is sure to be a hit with Disney lovers as well as fashionistas.
Although all that's available so far is a sneak peek, nostalgic fashion goers will be sitting patiently as they await this magical adventure to begin. The two companies have teamed up to bring both signature aesthetics together on everything from hats and socks to tennis shoes and backpacks. The line highlights Pooh Bear, Mickey, and Donald Duck, but the future character possibilities are endless.
With small characters in all over prints and bold, cartoon-esque creations, the line will appeal to every Disney lover's sense of style. The line has already gotten some people excited across social media platforms, and I can't help but think Walt Disney himself would be proud of how his creations look. The brand teased their followers with an Instagram post previewing the Vans x Disney line.
Mickey Mouse
To no surprise, Mickey made the cut for this fashionable collaboration. With his cheerful personality and bright colors, the mouse embodies the light-hearted nature of the line.
Minnie Mouse
There couldn't be a Mickey without Minnie!
Donald Duck
Donald is pictured yelling and showing his off loud personality — this one is for all the rebels out there.
Pooh Bear
With Pooh comes a sweet and simple approach to style. He brings a softer side to the collaboration.
Gang's all here!
Whether you're wearing just one or buying them all, the characters all bring with them a different style and attitude. There's some Disney for any occasion and each reflects a different vibe.
Once they add some Disney princesses to their collection it'll be a fashionista's dream!
Images: Vans