Martha Stewart's Got Nothing On Sweet Paul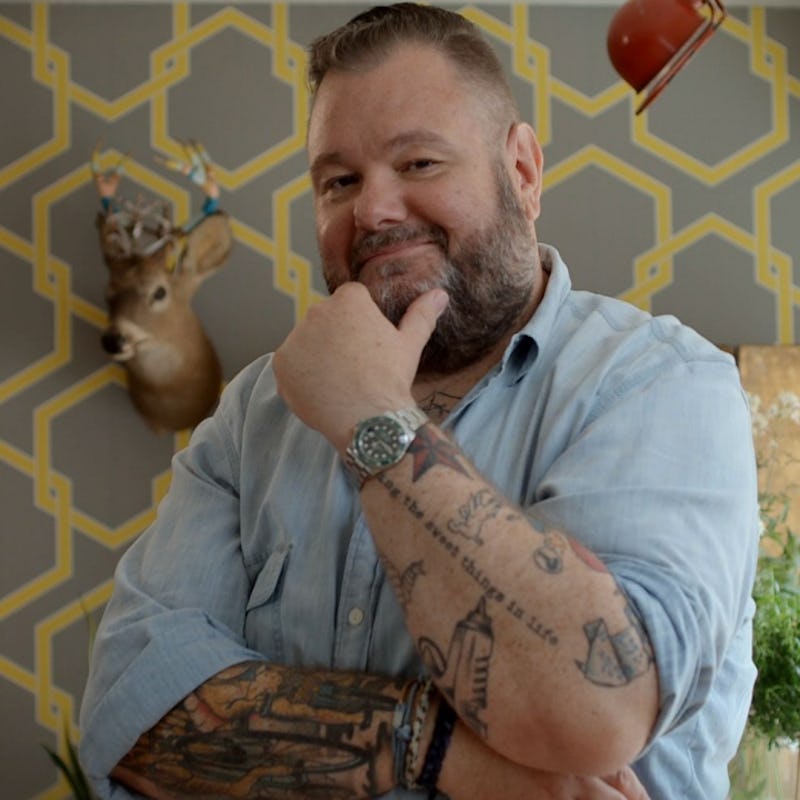 In the past few years, a certain celebrity chef and stylist has slowly but surely started to grow a small empire. While his name is not yet as well known as the likes of Martha Stewart, I hope one day this affable, brilliant, amazing designer will reach those heights. His name is Sweet Paul, and he needs a television show immediately. For those of you who are unfamiliar, "Sweet Paul" started out as Paul Lowe, a food and craft stylist living in New York. He started a blog called "Sweet Paul" to showcase some of his work, and it wasn't long before the site was getting 200,000 hits a month. He parlayed this success into the creation of his own style publication — Sweet Paul Magazine — a quarterly print magazine whose recipes, crafts, and articles are as inventive as they are accessible. As Sweet Paul puts it:
"I strive to put out a magazine that is as creative and visually stunning as any other food and craft magazine out there but without being weighed-down with impossible recipes and projects developed for expert chefs and crafters."
Sweet Paul's recipes are simple but amazing, all of his shopping and style tips are practical and helpful, and he makes super cute jewelry. What is lost in the magazine and blog, however, is the fact that Sweet Paul himself is one of the most approachable, quirky, self-possessed personalities in the business, and he's great on camera. He's perfect for television. He's Martha Stewart if Martha Stewart was a kind, burly, married gay Norwegian man living in Downtown Brooklyn co-parenting a French bulldog with his husband of many years. WHAT COULD YOU POSSIBLY NOT LOVE ABOUT THAT?
Here are the top reasons that Food Network, PBS, NBC, or somebody needs to put Sweet Paul on our TV screens. Make it so, Hollywood!
1. His French Bulldog Hugo Would Be The Cutest Co-Host EVER
Not only are Sweet Paul and Hugo the greatest love story ever told (second only to Sweet Paul's relationship with his husband and fellow human), but Hugo would make a great model for Sweet Paul's pet-related crafts and clothing (which is very much a real thing).
2. He Makes His Delicious Recipes Seem Super Easy... Because They Are
Did you know that a savory pumpkin pie with a hazelnut crust is actually not that difficult to accomplish? Neither did I, until Sweet Paul showed me the light. He makes every step of the recipe feel super approachable... plus his Norwegian accent is simply delightful.
3. His Inspiration and Early Cooking Experience Come From His Norwegian Grandmother and Great Aunt
At 6 years old, he was making homemade pasta sauces alongside his family's matriarchs in Oslo, Norway. He was raised by these amazing women, and, along the way, his grandmother instilled in him the Norwegian phrase "fullkommenhet er kjedelig..." — "perfection is boring" — and, now, it's his company's guiding philosophy. How's that for a backstory? Rachel Ray's got nothing on this guy.
4. His Crafts Are Beautiful
His crafts might not be as accessible or easy as his food recipes, but they're nothing compared to difficulty of Stewart's. Stewart makes it so that you basically need an engineering degree and a welding license to make something as simple as a pine cone christmas tree. Not so for Sweet Paul, and — as you can see from his holiday brunch table spread — his designs are absolutely gorgeous.
5. His Style Ideas Are Just As Great
It's not all pies and table settings. He has a million DIY jewelry, clothing, and accessory ideas and they're all super cute.
6. He's Just So Damn Likable
Who wouldn't want to have a cocktail with this man?
7. In Addition to "Perfection is Boring," One Of His Mottos Is "Chasing The Sweet Things In Life..."
...and it's one of his many tattoos. As Sweet Paul puts it, "Sweet things can be love, it can be good food, it can be a fun project, travel... What can I say, I like the sweet things in life." Amen, Sweet Paul!
Images: FYI; BooStyle