Which Park Shin Hye Drama Should You Watch?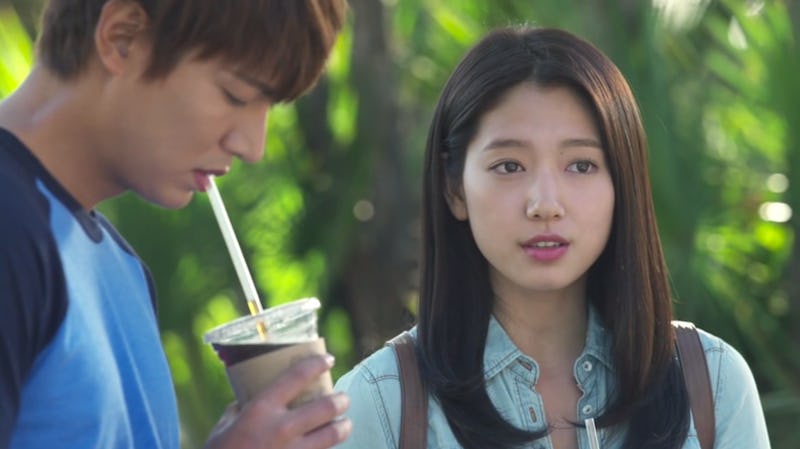 If you've been keeping up with your Korean dramas, you've probably noticed that actress Park Shin Hye is having quite the year: She's headlined three of the most popular dramas over the past couple years — in 2013, she played the main characters in both Flower Boy Next Door , as well as Heirs, and most recently, she starred in Pinocchio (which just had its finale earlier this year). Add that all together with some awesome beauty game, and some arguably even more awesome fashion game (she had the best look out of all the hallyu stars at the Chanel Cruise Seoul show, IMHO), and you've got a star majorly on the rise.
Have you watched any of her latest dramas? Because if you haven't yet, it's definitely worth taking a break from your Orange is the New Black Season 3 marathon party. Although all of her dramas fall into the romantic comedy category, each one has a very different personality — so if you haven't gotten a chance to catch up on any of Park's latest and greatest, here's a little primer to help you choose which one to binge-watch first:
Flower Boy Next Door
Flower Boy Next Door is the story of a reclusive freelance copy editor... who just happens to live next door to some very handsome young men. Styled as a "modern-day Rapunzel," the ultra-quirky Go Dok Mi is perfectly content to admire from afar (with the help of some binoculars, of course) — until she happens to get caught.
Watch this if you like...
Heirs
If Flower Boy Next Door is Rapunzel, then Heirs is more of a Cinderella story: It follows Cha Eun Sang, a working class girl with two minimum wage jobs who happens to get swept up in a world of... well, heirs. There are lots of picturesque rides in convertibles, palm-tree studded views, glamorous clothes galore, and of course, a lot of adorable eye-gazing.
Watch this if you like...
Gossip Girl
Pride and Prejudice
Ever After
Pinocchio
Choi In Ha has harbored a life-long dream to become a reporter like her estranged mother... the only thing stopping her is her Pinocchio syndrome (an in-show disease, where the afflicted hiccups each time they tell a lie... rendering them brutally honest). Add in a roguishly handsome adoptive uncle, and you've got yourself some romantic comedy gold.
Watch this if you like...
The Newsroom
Ugly Betty
The Devil Wears Prada
Which one do you think you'll be watching next? I say just go ahead and watch all three in a row!
Images: Heirs/DramaFever