11 Affordable Ways To Get Out Of A Style Rut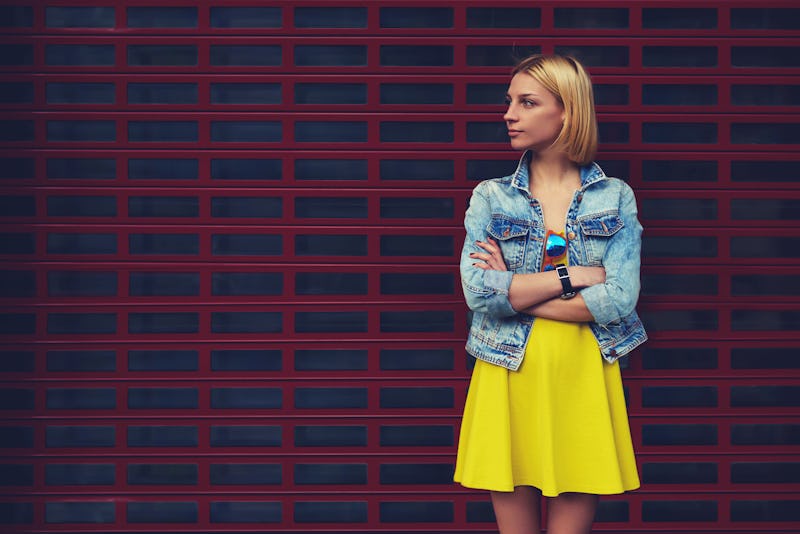 Unless there's something new hanging in the closet come Monday morning, how many times do you get ready at the start of a new week and think, "I have nothing to wear!" Getting into a style rut is so easy, but getting out of a style rut is so hard. To help those with the nothing-to-wear blues, I've put together a list of 11 ways to get out of a style rut whenever a shopping spree is just not an option. Because if we all could afford to shop every time we couldn't find something to wear in our closet, there would be no reason for a term like "style rut" in the first place.
By logical definition, the term "style rut" refers to having nothing to wear for long periods of time. Symptoms include, but are not limited to: Taking 20 minutes or more to pick out something to wear for the day, being completely unimpressed with the clothes hanging in your closet, and hating every outfit you assemble.
Unfortunately, we've all been there. And unfortunately, buying a new shirt or dress pants is not always in the budget. For those times you're about to throw out your entire closet and start from scratch, try these ideas before giving up complete hope on your wardrobe.
1. Clothes swap
I'm convinced that Cher and Dionne from Clueless were best friends simply because they both had revolving closets. When you have an amazing wardrobe, your friends also tend to have pretty great options to choose from. Take a breath, gather all the items you truly don't think you will wear anymore and put them in a pile. Ask your friends to do the same, then invite them over for a clothes swap! You might love items they have grown tired of wearing, and vice versa! This is the most inexpensive way to put new items in your closet!
2. Simply borrow
Girl Code definitely includes a rule for sharing clothes, right? For those days you are bored with you closet, go to a friends house before getting fully ready to go out. She can still from you and you can steal from her. It's like shopping without spending all the money. Plus, let's not pretend like your BFFs don't have the best style.
3. Suck it up and dress up
Unfortunately, our closet is our closet. We may get tired of our clothes, but we liked them at one point in our lives. Put on the pieces that make you feel the most awesome and strut them all day. I guarantee you people won't think you look as blah as you feel.
4. Take new risks
You know that shirt or dress you secretly love but have been afraid to wear in public? It's time to take it out of the back of your closet. It will be something new and it could be the first step to completely reinventing your wardrobe.
5. Accessorize
Nothing can reinvent an old outfit like a statement necklace. Accessories can make or break an outfit, and in this case, you need them to make the outfit. Try a new necklace with a shirt you normally wouldn't. Or wear your glasses for a day, your hair in a different way, and you'll appear #flawless.
6. Layers
Don't like anything in your closet? Put on everything. Shirt + cardigan + a long necklace + a skirt + tights or printed hose + socks + shoes. That sounds like the perfect Zooey Deschanel outfit to me.
7. Take a day off
Let's be honest, usually when we can't find anything to wear or are bored about our closet, that stress is usually coming from something else. Take a day off from your closet, wear sweats, and sort out what's holding you back from feeling your most fabulous.
8. Mix and match
Black is easy. Too easy. Don't get me wrong, I love it. But whenever all of your black things are translating into blah, try some prints! And I do mean the plural. If mixing and matching prints is done right, you could be mistaken for Eva Chen.
9. Polyvore
Go onto sights like Polyvore or Shopstyle and browse clothes that are similar to yours. This is an easy way to see different looks you can try with similar clothes without having to actually go through the exhaustive process of trying on different items. Be careful with this tip, however. Only search for items that are like yours. Otherwise, you'll see tons of things you don't have and the temptation to shop will be too overwhelming to handle.
10. Strike a pose
Even if you're not feeling your outfit, put on a mini-fashion show for yourself. Catwalk toward your mirror and strike a few poses before catwalking back. Maybe a new perspective, or a new angle, could make you see the outfit in a different light.
11. New beauty routine
Maybe the problem is not in your clothes at all, but in another routine that's getting old. Instead, try a new lipstick with an outfit. Or maybe it's the eyeshadow. And, you know, you have talked about getting that new haircut for awhile.
Images: GaudiLab/Fotolia; Giphy (11)