Nancy Whittington Reminds Us About Healthy Vanity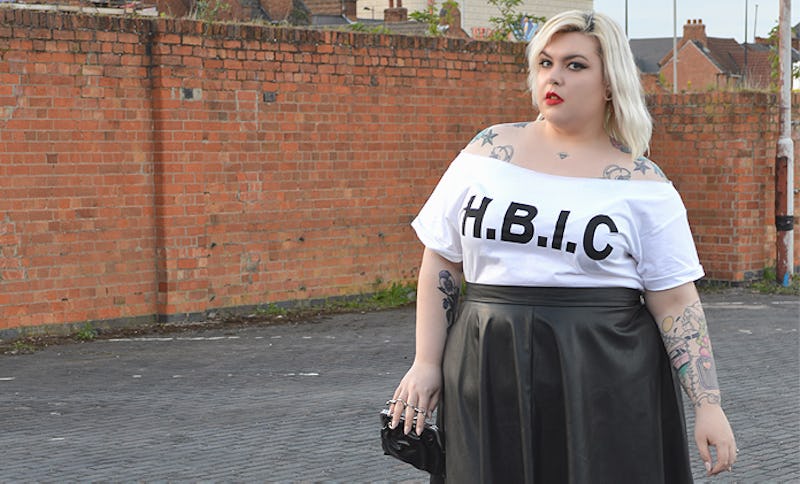 A recent Instagram collage featuring several mirror selfies by plus-size blogger Nancy Whittington of the U.K.-based fashion and beauty blog Sugar, Darling? is making a compelling and honest statement about loving yourself.
While posting pictures of yourself in an already selfie-inundated culture may not seem like a brave or important thing to do anymore, the reality is that it takes guts and confidence to post tummy pride photos for the troll hole known as the Internet to see. But perhaps especially when you're a plus-size woman.
Wearing a lace crop top by Torrid — which looks like the stuff pinup dreams are made of — Whittington captioned the collage simply: "So vain." And those two words speak volumes about healthy vanity. Or in other words, filling yourself with self love and acknowledging that you're sexy and beautiful in a world that still thrives off of promoting one singular image of beauty.
In each photo of the collage, we see Whittington's slight tilts of the head and different facial expressions that, to me at least, reveal a subtle nod to the love she has for herself and her bod. When body-shaming and negative self talk towards our own bodies are still such prevalent forms of existence, it's refreshing to see someone — no matter her size — treating herself with such tenderness and fondness.
In fact, the bottom right photo in the collage is my favorite, because of that little smile of contentment. Whittington is essentially promoting the ability to see yourself in a positive light. And along the way, she is embracing her own beauty, and encouraging others to do the same.
Right on, girl. Keep doing exactly what you're doing.
Image: Sugar, Darling; misswhittington/Instagram