Does Cannabis Perfume Actually Smell Like Weed?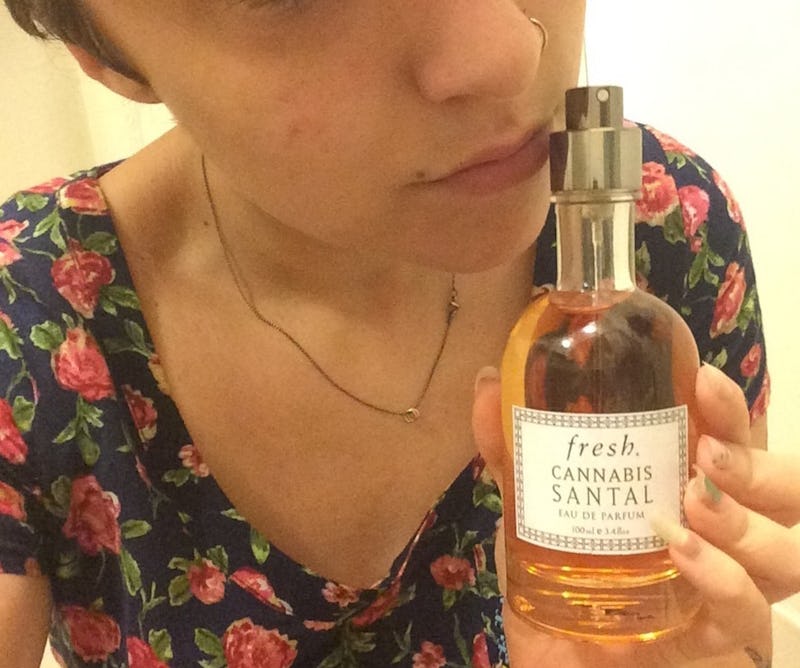 A couple of months back, I wrote a story about some wacky perfumes on the market, including perfume that smells like weed. And ever since then, I've been wondering: What is cannabis perfume really like, and does it actually smell like weed?! As a supporter and long-time lover of all things 4/20, I was irrevocably intrigued by the idea of perfume that smells like one of my favorite things. Personally, I'm not opposed to the smell of marijuana, and as a perfume junkie, felt it was my duty to try out this super unconventional-sounding fragrance. That is, of course, assuming cannabis perfume smells like the stuff you smoke. However, I would learn that "weed perfume" would definitely have its downsides as well, even for lovers of the bud.
Depending on the strain, weed tends to smell super dank, oftentimes comparable to a skunk. And even if you're in love with the way it wreaks, is it really work-appropriate (or appropriate at all) to stink of weed? Usually after smoking, people go to great lengths to disguise the smell of the evidence. A smell that is quite potent and pretty universally recognized as the aftermath of some mildly illegal chill time. The idea of mass-marketing a perfume to intentionally smell this way seemed a little, well, insane. So I decided to find out for myself.
Malin + Goetz Cannabis Perfume Oil, $50, malinandgoetz.com
The cannabis fragrance I included in my story, Malin and + Goetz's Cannabis Perfume Oil, comes with a disclaimer that no part of the cannabis plant is involved in the fragrance. Damn. So I went in search of another cannabis perfume that was bold enough to actually include the plant in its ingredients and/or notes. Not surprisingly, there are not very many perfumes on the market advertised as smelling like weed. But eventually I found a little something.
After browsing through Sephora's fragrances, I came across Fresh's Cannabis Santal perfume. The notes on the website's description included wild strawberries, kumquat, dark plum, patchouli, magnolia, rose, chocolate, vetiver, and vanilla musk. But no "cannabis." Disappointed, but not entirely ready to give up, I checked out the same fragrance on Fresh's website, and did a happy dance to thank the weed gods. Specifically mentioned in the notes, between patchouli and rose, was cannabis.
I decided to poll some friends (and strangers) about what they expected the perfume to smell like. After showing them the picture of the bottle, with the word "cannabis" in full view, I had people write down their reactions and predictions. I couldn't imagine anyone saying anything beyond "weed." But the results were surprisingly varied.
My mom was taken aback by the idea of the fragrance, and assumed it would smell of "skunk." There were some other interesting olfactory predictions, including "expensive dirt," "unflushed toilet," and a "beachy California boy in New York for spring break." Most people, including myself, expected the fragrance to smell pretty strongly of the weed smell we're all familiar with. Or, as my good friend Erin puts it, "Marijuana, mary jane, dank kush, bud, that stank, weed pot." However, I soon discovered that we were a bit off about that.
Once the precious perfume was in my hands, I could finally find out for myself! Upon smelling it for the first time, my first reaction was: This does not smell like weed. Disappointed after the first waft, I went deeper. And after spending more time sniffing the fragrance, I realized my friend Winnie's prediction was pretty on point: There was a tiny hint of cannabis smell surrounded by "like seven different flowers."
I wouldn't necessarily be quick to deem this "cannabis in a bottle" (the scent certainly doesn't get you high, unfortunately). But the earthy, musky elements are very reminiscent of incense and a yoga or meditation class.
Weed or not, I fell head over heels for this fragrance. As it's often hard for me to be apart from a new beauty product after a recent purchase, I carried the gorgeous bottle around with me all day. And maybe for a few days after that. I even brought it out for dinner in Williamsburg with my partner, pictured above. I also wore the perfume for a few days, and let anyone and everyone who seemed remotely interested smell it and weigh in. Everyone noted immediately that it didn't really smell like weed, but that they were as obsessed as I was.
You may be wondering: If there's weed in this perfume, does it chill you out? It does, in fact. I wouldn't necessarily be quick to deem this "cannabis in a bottle" (the scent certainly doesn't get you high, unfortunately). But the earthy, musky elements are very reminiscent of incense and a yoga or meditation class.
So what's more: The fragrance is definitely work-appropriate. "Cannabis" may be in the perfume's title, but I can guarantee that you definitely won't smell like you just stepped outside to smoke an L with your friends. It's actually very versatile, and its sensual aroma is bound to make you feel sexy and confident at any formal or informal event.
Cannabis Santal's vanilla musk is definitely prominent, and intermingles with hints of chocolate and rose as well. The overall earthy and musky scent is grounded by a patchouli foundation, and buried deep in these musky scents is the cannabis. It's very subtle, and very much a middle note, as Fresh's website states.
If you spritz the perfume onto your skin and breathe in deeply enough, you can detect the distinct and herbal quality of the cannabis. It is very subtle though, and the overall impression of the fragrance is that of a sweetly rich musk. I love musky fragrances, and wasn't sure how I'd feel about this one with its apparent fruity and citrus notes. But, to my relief, I found that I couldn't detect any plum, orange, or strawberry. Fresh's Cannabis Santal is also very masculine and a bit more like a cologne, which is perfect for anyone who loves more masculine scents.
Images: Meg Zulch; Courtesy Brands; Getty Images